Keiko
D-rank
Accidents. Coincidences.
It felt like everything in the world was beyond any one individual's control; in which fate determined every step that's taken, every decision and course of action that is made … even deciding on who lived to take their first breath, and who died before the 'time was right'. But then again, who could decide when the time was right for death? For anything? What was it that scheduled so-called 'accidents'? Others may beg to differ, to strongly dispute the belief that the locus of control was so far out of their own reach, but for the magenta-haired kunoichi … she wasn't sure what to believe any more. Everything that made up her life - that made up her as a person - felt as though some unseen force dictated every detail, from the most trivial to those with significant impact to her world.  And one of the particular elements in her life that she felt had been entirely decided for her was the fact that she seemed to have an unimaginable affinity towards medical ninjutsu.
To her, everything about the art of Iryō-ninjutsu was contradictory - the very core of the four clauses governing all medical-nin were ideologies that she didn't believe in.
"No medic ninja shall ever stop medical treatment until the lives of their party members have come to an end."
In theory, it made sense. To put in one's upmost effort into ensuring that everything possible had been done to help, repeatedly trying everything until the patient was deemed no longer among the living. But in the case of a war, an ongoing battle, what was it that stated saving the life of a single soldier was more important than prioritizing the lives of others? Giving up on one soldier in order to fight and avoid more unnecessary sacrifices made sense to her.
"No medic ninja shall ever stand on the front lines."
The second clause was likely the one she disagreed with the most. It didn't make sense. Medical ninjutsu was one of the specializations that required excellent chakra control, control that could otherwise be channelled through offensive techniques to further increase accuracy and power. Being the headstrong individual that she was, to convince her to stand off in the back instead of fighting in the front lines was the same as telling her not to be kunoichi. It was absurd, illogical. Just because she had the skills to be a medic didn't mean she didn't possess other talents - talents which would undoubtedly be effective against opponents, helping to fight off those who were
causing
injuries and death in the first place.
"No medic ninja shall ever die until they are the last of their platoon."
The idea of being protected until the very end could be considered appealing ... if she wasn't so against the idea of being protected in the first place. Being a kunoichi was bad enough; despite the fact that there was an increase in the number of female shinobi, there were times that they were still looked down on, and the fact that her size made her look frail and helpless didn't tilt things in her favour.
"Only those medic ninja who have mastered the Strength of a Hundred Technique of the ninja art Creation Rebirth are permitted to discard the above-mentioned laws."
It was perhaps the final clause that served as a source of motivation. A positive incentive for her to push through with the other expectations in order to achieve the level where she would finally be able to learn one of the most highly noted medical techniques - Creation Rebirth. Not only would it allow her to stand in the front lines, the technique itself was said to allow her to heal any and all non-permanent damages to her own body, even potentially fatal wounds. If it's that … as selfish as it is, I'll push through. And it was selfish. But she had lived most her life learning to be selfish, to spoil only herself, to allow others to give her what she wanted, but not to give anything in return. Qualities that a skilled medic shouldn't have. Even up to this point, she had only used her healing techniques whenever she felt like it, whenever it was convenient, occasionally when sympathy struck. It was all whim-based, depending on the situation and her mood at the time.
-
Kitahara Keiko weaved among the trees that generally made up the wilderness of Mizu no Kuni, quite a far distance from the village of Kirigakure. It was uncharacteristically cold, frost weighing down on the already cold-resistant plants. Thick, rolling waves of mist floated just above eye-level, making it nearly impossible to see anything beyond what was right in front of her person, something she didn't quite mind - it obscured her vision, but also made her considerably less visible to the naked eye. What she was doing out of the village in the middle of the war was known only to her, having not been assigned to a mission yet. The majority of the people she had been briefly acquainted with during the course of the battle against Seven Bells had been sent off in various squads to corner one of the two enemy lieutenants - Io, the one who supposedly specialized in medical ninjutsu, and was responsibly for many of the abominations she had witnessed in the past few days. Even the super soldier, the giant of a man that she had taken down with her sense, was rumoured to be one of his various test subjects. She would have very much liked to meet that particular individual, but seeing as she wasn't assigned to a mission, she had decided to go for a little walk of sorts, seeking to continue her solo training session that she had started the other day.
It was quiet, the mist a funeral shroud over the deathly still earth, but for Keiko, it was a source of comfort, away from the chaos that was the village and its surrounding area. The absence of sound was only broken as she neared the river, still flowing free from the restraints of cold, moving now at a languid pace as it neared the mouth that would open up to the lake she had been training in. Drawn - as she often always was - to the source of water, she began walking at the edge of the river bank, knowing that it would eventually bring her to her destination. One step after another, the cool breeze nipping playfully at her exposed face, but was unheeded, the chill not a concern for the naturally cold body temperature of the Aisu clan member.
It was the unnatural break in the river's steady flow that caught her attention. The sides moving faster than the middle, creating a strange parting that could only be explained by one logical thing - if it wasn't chakra induced, then there was something large obstructing the water upriver. Could it be that the enemy had done something with the water? Or perhaps a large weapon of sorts to use against the village? Brows furrowed, all previous decision to take a moment to herself and train was abandoned as curiosity got ahold of her, retracing her steps and heading against the flow of the river, lilac eyes scanning ahead for any sign of … well, whatever it was that she was looking for. A sparkle, the reflection of light off … it was unmistakably ice. She would recognize it anywhere, the smooth, crystalline form of the very ice that she herself utilized. Two suiton whips materialized as she ran towards the large chunk of ice that was slowly making it's way down the river, reaching in front of her and wrapping themselves around the perfect rectangular shape that the ice had formed, gently pulling it out of the water and up to the bank.
This is ... ! She was frozen, rooted to the spot as she stared down at the ice, eyes wide in shock and disbelief. Facing up at her, beautifully encased in the coffin-like ice, was the Mizukage herself. Solstice Ayakashi. It was unmistakably her, with the signature Mizukage robes and the intricate mask that obscured her face from view. But what was their Mizukage doing in the river, with herself frozen in a block of ice? Hardly the most appropriate thing to be doing considering that the village  was a war. A quick glance down at the body answered her - a visible wound that pierced right through her chest, the most severe out of a couple visible wounds that she could make out. Was she … dead? Truly dead? Finally moving out of her frozen state, her hand reached to rest gently on the surface of the ice. Or maybe … I see. The ice would help to stop severe blood flow, keeping her in a frozen state that could act as a form of self-preservation. As long as the cold had yet to reach the vital organs, there was a chance that she was still alive. Almost as though taking her time, Keiko regarded the form of the Mizukage as she ran her available options through her mind. She could simply choose to leave her in this state, go back and find help. Or perhaps break her out, even heal her. Or … Or I could do nothing. And pretend I didn't see this at all. Why? She wasn't quite so sure herself. As a Kirigakure kunoichi, she shouldn't be hesitating over this. Shouldn't even consider her final option. Letting out a soft breath, she would place her other hand on the ice as well, applying pressure that she hoped would be enough to break the ice without causing damage to the precious cargo it held within. From what she could tell, the ice lacked any form of defensive properties, created solely to protect the Mizukage from natural forms in addition to keep herself in a suspended state. Upon the breaking of the ice coffin, she would kneel down beside the body, hand hovering over the mask, but deciding against removing it. There was a large chance that the mask served as some sort of breathing tool, something that allowed the Mizukage to have a source of oxygen despite being enclosed within the ice.
"Mizukage … sama?"
To think that a moment like this could occur, with their Mizukage dead … Or maybe not.
Chakra: 290/300:

Name: Water Release: Gemini - Aquarius Dance 双子座 - 水瓶座舞
Canon/Custom: Custom
Rank: D
Type: Offensive / Supplementary
Element: Suiton
Range: 15 meters
Specialty: Ninjutsu
Duration: Maintainable, -5 chakra per post after activation.
Cooldown: 3 posts after jutsu is broken / stopped.
Description: The user creates two long, flexible, whips made entirely out of water suspended into a rope-like shape that each stretch to about 10 meters. They are not physically attached to the user's body, and are controlled purely with chakra, but have a maximum range of 15 meters (meaning they would be unable to move anywhere more than 5 meters away from the user). These flexible whips may be used offensively to cause 1-2 inch deep cuts, and can also be used as a form of binding someone or something - it is enough to hold someone of equal rank for two posts, slow down a single rank higher shinobi for one post, and can easily be broken free by anyone two ranks higher than the user. Any jutsu of equal rank or higher used directly on the whips can break the bind or cause the jutsu to dissipate.
---
Training: Advanced Recovery Method
1759/1800


Last edited by Keiko on Sun Dec 22, 2013 2:43 am; edited 1 time in total
____
Kitahara, Keiko (#cc3366)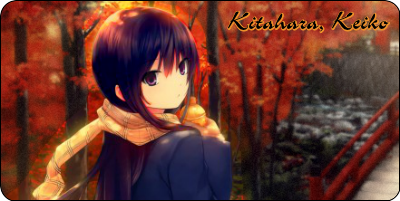 Ninjutsu (S) | Med. Ninjutsu (S) | Bukijutsu (D) | Suiton (S) | Fuuton/Hyouton (S)