Strafe Aisu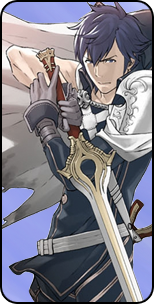 Dual colored eyes beamed with hate as they searched the area for the enemy. They were going to pay for this. So much death. Many of the bright faces that made Kirigakure so wonderful were mauled and tattered when they entered the hospital to meet their death. Those faces were memories he would never forget. Not to mention that he had been close to death himself. Mizuru....the witch that had cause so much pain and destruction during this war. Strafe could only hope that she died painfully and slowly. He shook his head to clear his mind of those thoughts as his dark blue hair rustled in response. He dawned his usual attire of white and blue. On his back rested two staffs in the shape of an x, and behind was just an empty space. Unfortunately, Momaru was not with the Sannin on this day. He was defending the hospital, at Strafe's request. After seeing it become an attack target on a regular basis, he couldn't leave it defenseless. Not after everything those people had done for him. Then the memories started to flood back to his mind. It was like he was reliving some horrible nightmare that would not fade away from his mind. Her face was all he could see and his body trembled with anger in reaction. The bitch would die, if not by his hands, than by another of his allies. They would not win. They couldn't. He wouldn't allow them to.
Flashes of that battle raced through his head as he moved towards the shore line. How could he have been so stupid? He left one small opening and she almost killed him for it. He could remember the reflection of the sun off her blade as it shot through the air. The horrid sound of steel mauling flesh as it entered and exited his own body. The sound of Mamoru's voice roaring with anger as he realized what happened. The strength being drained from his body almost instantly as he slumped to the ground, clutching his side. Had he not been close to the hospital, he would have surely died that day. He owed everything to Mamoru who carried him there and the medical ninja that healed him. Some of them he taught personally. It would not happen again. He would not be on the sidelines for any more of this war. He had missed too many days because of injury. This time, it would be his enemy who fell to the ground in defeat. This time, he would be triumphant.
As he came back to reality from one of the many flashbacks he had, he saw the pearly white sand, and the streaks of blood that polluted it's beauty. He saw a glorious ocean filled with the torn remains of vessels and bodies. He increased his speed, moving towards the water without hesitation. He had been informed of an unusual techinque that Seven Bells' Army had been preparing. He was asked personally to make sure everything went according to plan here, and he would do just that. As his sandals were coming down to touch the water, the started to glow with chakra. The Supernatural Walking Practice. A basic but important jutsu in the art of fighting. His hand reached back to a weapon that still seemed unfamiliar to him in a way. It was a blade that represented so much, it was the double edged staff known as Raidaichi. The fact that this staff was in his possession meant that he was a Seven Swordsmen of the Mist, despite the fact that he did not feel like one at the moment. In some odd way, he felt like he had to prove himself to everyone that he deserved the honor that had been bestowed upon him. Something he planned on doing before this war ended. The staff was spun around stopped in front of him as he rushed forward, actively searching for the man that was described. He didn't get to do that for very long though, as he instantly saw why his presence was needed.
In what seemed like an instant, the older looking man on a distant boat summoned what looked like to be a giant squid of some sort. Strafe's eyes narrowed in thought as he immediately started to study the creature and it's appearance, movements, and any other piece of information that could be helpful. He saw as a Kirigakure ninja jumped towards it only to be swatted away like a ragdoll by one of it's many tentacles. It seemed that the Sannin now had a very big target to take care of, which was fine with him. He had been needing to let off some steam anyway. This was the perfect time to try out his new weapon. He grasped the staff loosely with both hands and started to spin it, smiling as it started to crackle with raiton energy. While he personally didn't use raiton jutsu, he knew how effective it was on water based jutsu and creatures. If he was successful with this attack, he could help avoid allowing this creature to do great amounts of damage to the ninja around him. He rushed forward, still spinning his staff with precision as he darted towards the creature. He was a good few meters away, but hopefully the creature would notice him. He needed to distract the squid so he didn't annihilate the forces that were here. All he needed were a few minutes and this creature will be dead.
Word Count: 938/4000
Chakra 335/350:

Name: Supernatural Walking Practice (不自然歩く型 ~ Fushizen Aruk'kata)
Canon/Custom: Canon
Rank: E
Type: Supplementary
Element: None
Range: Self
Specialty: None
Duration: -5 chakra every 3 posts (every 2 posts if using on water)
Cooldown: None
Description: Supernatural walking Practice is a basic ninja technique. It involves using chakra flow to channel chakra to one's hands or feet, allowing him/her to walk on surfaces that normally do not allow it. This includes, but is not limited to, walls/ceilings, trees, and even water. Should the flow of chakra stop for any reason, the user will immediately fall off of the surface they are walking on, or plunge underwater.

-10 for the first charge on Raidaichi
____
Locker
|  
Profile
|  
Jutsu List
D - 2 | C - 0 | B - 3 | A - 1 | S - 1 | SS - 0
[Ninjutsu ~ S] | [Medical Ninjutsu ~ S] | [Bukijutsu (Bo) ~ B] | [Suiton ~ S] | [Fuuton ~ S] | [Hyouton ~ S]