1 Kumori on Sat May 31, 2014 7:37 pm
Julius
Genin
Symbol:
Clan:
Kumori
Kekkei Genkai:
Ribinguāto (Living Art)
Elements:

[Suiton]

[Doton]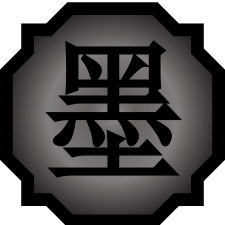 [Inkurirīsu]
Specialization:
Ninjutsu [Primary]
Location:
Konohagakure
Clan History:
History:

Hundreds of years ago, the Kumori clan left their lands in the western continent after their lands were no longer livable. Back in their home continent, the Kumori clan was a nomadic tribe, however they were not savages. They actually were quite intelligent and had a deep respect for nature. One of the clansmen wanted a way to create physical representation of what Mother Nature had to offer. He had discovered how to make organic ink from local berries and herbs and used cleaned, animal pelts as his canvases. Afterwards, the clan all became incredible artist, expanding their horizons beyond what they knew getting a better grasp on life. As such, they began to create works of art that seemed life like, as if their paintings could literally fly off and live as actual beings. Soon after the rise of the legend of the Sage of Six Paths, they came to what is now known as the elemental shinobi countries. How they arrived here is unknown and is more or less left unquestioned.

Upon their arrival, they found things they possibly couldn't imagine. It sent their creative levels through the roof. Using what they discovered to be scrolls, they began exploring; documenting each and everything they've seen and heard. When Era of Shinobi really had gotten started, they learn how to manipulate chakra. Doing so, they were able to discover that they possessed a unique kekkei genkai which they called the Ribinguāto which means living art. With their new found abilities, life became good for those of the Kumori clan. They began to make a name for themselves, no longer being known as another group of artists.

During the first ninja war, the clan remained neutral, deciding not interfere with the Hidden Villages' matter as they destroyed many forms of art; at least most of the clan did not, few deserted the clan to join in the fight under false surnames. The rogues were brought back forcibly. This caused tension to arise within the clan. When the second ninja war came about, about half the clan wanted to join in, but the clan elders would not allow it. Enraged, a war broke out between the two factions. By the time the second ninja war ended, majority of the clan was wiped out. A new leader took hold of both factions, which were laughably small in number, and united it once more. This new leader was called Shu. The new leader allowed the members to travel freely but they could not learn further into the shinobi arts aside from the basic and they could not join any hidden village. A seal was placed to cause instant death should the rules be broken.

For the next few decades, the Kumori clan remained uninvolved in the shinobi world, however one woman was able to overcome the Kumori clan curse seal, well at least for a while. That woman birthed the shinobi known as Sai, however no one knew of his true lineage, not even the accursed Danzo since his mother died in the process and the father left her when she became pregnant. Sai made a name for himself and much of the Kumori questioned whether or not he was a descent of the clan. Those 'idealists' were dealt with and the idea was soon forgotten. Sai did not teach anyone his abilities as no one was able to beside the Kumori but he was unaware of them. He died without any children.

Hundreds of years later, those of Shu's line ended and so another war broke out within the clan. Again their numbers dwindled once more. It was a bloody war however nobody possessed knowledge of it as the clan had long since moved several countries away. Neither side had one. Those who survived the aftermath decided to live under new ideals and possibly one day, show the world what the Kumori clan could do. So they began working around how their Ribinguāto worked as well as learning the ways of shinobi, settling into Konoha roughly a century ago.

Current Affairs:

Current Clan Affairs:

The Kumori clan is known to be quite a wealthy, standoffish family, practicing traditional methods. To expand on that thought, tea ceremonies or etiquette are a commodity within the clan. Women are also known to be not allowed to enter the workforce, much less the military force unless they have shown acceptable prowess but even then it's begrudged. Most men are either politicians, traders, or blacksmiths. The politicians are power grabbing cliche shady characters trying to make a name for themselves in the village. The traders deal in fine silks, fabrics, clothing, spices, artwork, and wine; behind the scenes they deal in information and illegal black market items. The blacksmiths are exactly what they were, crafting weapons and armors per usual known to be the less strict with tradition.
Clan Head and Elders:

Current Clan Head:

Izanari Kumori, former A-rank Jounin and current Shinobi Council; retired from the military forces at the age of 40 after being offered a position on the council to dedicate himself to it, current age 55. He is known to be a soulless clan head, worse than the typical Hyuuga, sexist and manipulative not having the best reputation but is respected due to his excellent work as a shinobi. Behind the scenes is a ruthless power manic who deals with underworld figures time from time such as Enaka however brief but he has no ill intent towards the village he wishes to make routes.

A rumor is going around that he is adept in curse seals but they have yet to be proven

Clan Elders:

Mizushi Kumori, former A-rank jounin, retired at 55, current age 65. Known to be very manipulative, easily angered, arrogant and advises for politics.

Shima Kumori, former spec jounin, retired at 35 due to losing his left arm, current age 60. Known to be stubborn, traditional, sexist, wise and advises for trade.

Yuna Kumori, former blacksmith, retired at 25 to take care of her children, current age 75. Known to be fierce, traditional, and violent with a keen eye and abnormally high strength. Advises for blacksmith.
Kekkei Genkai Description:
Inkurirīsu or Ink Release is an advanced nature kekkei genkai that is a combination of manipulation of Suiton and Doton. Suiton and Doton are both key elements of regular dyes, and in this form ink which is imbued with the user's chakra as they can create it from scratch in any environment. The user is able to use Ink Release at any rank however the ranking of the Ink Release is the same as the secondary element, Doton. For example, Suiton could be [S] and Doton [C] then Ink Release will also be [C]. Whenever Doton is trained then Ink Release will be the same rank.
*Suiton must be primary, Doton secondary and Inkurirīsu as tertiary
Drawbacks:
Due to Ink Release being the same rank as Doton, the user cannot use Ink Release Jutsu higher than their Doton element. For example: a Kumori cannot use B-rank Ink Release jutsu if they have C-rank Doton. Kumori are dedicated to their elements and cannot learn a fourth however they may not take Hesitant [Element]. Ink Release is neutral towards all elements except Katon, being 1 rank lower in power against Katon jutsu and receive +1 in damage.
Members:
-
Kekkei Genkai Jutsu:
Concealment:

Name: Ink Release: Concealment
Canon/Custom: Semi-Cannon
Rank: C-A
Type: Supplementary
Element: Inkurirīsu
Range: Self
Specialty: Ninjutsu
Duration: Maintainable
Cooldown: 7 posts
Description: The users wraps their body up in a thin layer of ink that will blend into the surrounding scenery and suppress their chakra. At C-rank it cost 5 chakra per post to maintain and can be detected by B-rank sensory. At B-rank it costs 10 chakra per post to maintain and can be detected by A-rank sensory. At A-rank it cost 10 chakra per post to maintain and can be detected by S-rank sensory. User must be the same rank as the level of the jutsu (i.e a genin cannot use the jutsu, a chuunin cannot use the b-rank level, a spec jounin cannot use the a-rank level)
Binding:

Name: Ink Release: Binding
Canon/Custom: Semi-Canon
Rank: B
Type: Supplementary
Element: Inkurirīsu
Range: Up to 3 targets within 10m radius
Specialty: Ninjutsu
Duration: 4 [1 target] 3 [2 targets] 2 [3 targets]
Cooldown: 5 posts
Description: The user creates snakes made of their ink to bind up to three targets within a 10m radius of the user. Each target is bound by two ink snakes that are 5m long and weigh 215 lbs pounds each. Requires A-0 STR to break themselves out or any B-rank or higher katon jutsu. The user cannot move or use any other jutsu while the jutsu is in effect or else the snakes will dissolve.
Twin Gods:

Name: Ink Release: Twin Gods
Canon/Custom: Semi-Canon
Rank: S
Type: Offensive
Element: Inkurirīsu
Range: 30m radius
Specialty: Ninjutsu
Duration: Maintainable
Cooldown: Duration + 5 posts
Description: The user takes one post prep to paint two gods. The user must be absolutely still during prep post. Afterwards with an activation cost of 30 chakra the user animates the drawings to life with a maintenance cost of 15 chakra per post. The Two Gods are Raijin and Fujin who stand at 8ft weighing 320 lbs each. Each god can move at S-rank speed [18 meter per second sustained running speed at full sprint] and can deal blows that can crush bones to dust and render people apart with ease. They can be dispelled with 2 S-rank jutsu each or 3 A-rank jutsu each. They can both withstand blows B-rank and below.


Last edited by Yuko on Fri Mar 25, 2016 8:42 pm; edited 7 times in total