Ayakashi

~THE ASSASSINS OF THE DAIMYO~
Zhao Yun:

General Information:

Name: Zhao Yun
Alias: The Spear of Heaven // The Red Thunder
Age: 35
Gender: Male
Sexuality: A Sexual
Birthplace: Across the Sea

Physical Appearance:

Age Appears: 30
Clan: N/A
Rank: SS
Height: 6'0"
Weight: 84kg
Physique: Lean, slender and flexible, Zhao is built for speed far more than that of strength, given titles alone for his speed. Notably has the Agile, Reflexes, Frail and Pharmacaphobia Special characteristics.

Hair: Long brown hair tied back in a ponytail with a mid length fringe which can fall just past his eyes.
Eyes: Deep brown - black eyes which seem dimmer in the heat of the day, though at night, not underneath the direct sunlight, the deep brown hidden to his eyes can be seen under pale light. Though his eyes seem foreign, he does not look like a ninja from this land
Skin: Fair, and covering his body, though not pallid. His skin and physique appear to almost be royal.
Scars: Far fewer battle scars cross his body than one would expect, he seems to do very well in battle, and is seldomly wounded by his targets.
Other: N/A

Abilities:

Techniques: Zhao knows a plethora of lightning and fire ninjutsu and bukijutsu techniques between B and A rank, though many of them are basic energy manipulation or weapon auras. His B rank Techniques are able to deal 3rd degree burns and tissue damage, while his A ranks are able to deal heavy third and light 4th degree on direct impact. Zhao bares A single S rank technique which gives him Jade fire wings which have the same effect as his spears flame, as well as giving him the ability to fly at his speed and block one S rank technique and 2 of A rank.

Elements: Katon (SS) // Raiton (A)

Specializations: Bukijutsu (SS) // Ninjutsu (A)

Strength: B-3
Endurance: B-3
Speed: SS
Reaction Time: SS
Perception: A-3

Equipment:

Jade Dragon: A potent weighted SS rank spear which is able to pierce through any opponent. The spear at its full length is 6' tall within which it bares a one foot bladed jade tip which, when enhanced with 30 chakra, and 20 per turn, creates a green flame which sticks to what the jade touches which cannot be extinguished by techniques for 6 turns, dealing second degree burns on contact, increasing by 1 degree of tissue damage per turn. (Fire that spreads from the green flame is normal flame and spreads at a rate of 1m per post dealing 1 degree of tissue damage per turn the ninja is exposed to it.)

Throwing Daggers: A set of 20 1/2 foot long throwing daggers, all B rank and able to cut 2" deep into an opponent.

Modus Operandi: Zhao is supremely loyal and religious, almost worshiping the cause he works for and a person whom he calls 'The Emperor.' He is solemn, and loves conflict although he has a firey temperament. Often cocky, though highly tactful when pushed to be, he is not a warrior to be overlooked or thought of as anything other than a brilliant assassin. Though, unlike the other Assassins of the Daimyo, he seems to relish, and know about the formula which is administered to him often, loving the feeling of painlessness and making him feel invulnerable and godlike.

---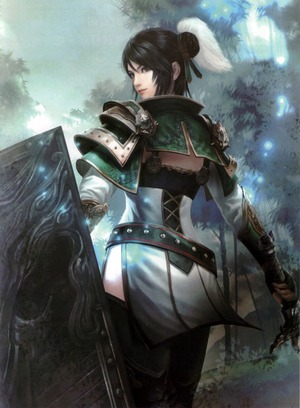 Xingcai:

General Information:

Name: Xingcai
Alias: The Shield of Heaven // The Black Gate of Xio-Fu
Age: 31
Gender: Female
Sexuality: A-Sexual (Hetero Sexual)
Birthplace: Across the Sea

Physical Appearance:

Age Appears: 25
Clan: N/A
Rank: SS
Height: 5'8"
Weight: 70kg
Physique: Beautiful, but well defined muscles covers the surface of her body, moving one step further from sleek elegance into practical muscle which is tempered from lifting weighted clothing and heavy weapons.  

Hair: Medium length night black hair which is tied into hair buns at the sides with a red ribbon.
Eyes: Notably foreign looking, Xingcai has emerald green eyes under the pale light of the moon, like shimmering gems, though, under sunlight, they seem dim green-grey.
Skin: Fair, and covering his body, though not pallid. His skin and physique appear to almost be royal.
Scars: Very, very few, even among the assassins, Xingcai barely has a scratch to her body, though always in the front lines, her strength is something which is sung of in her home country.
Other: N/A

Abilities:

Techniques: Xingcai is known to use a plethora of less offensive and more displacement jutsu, though she has basic energy manipulation ninjutsu techniques, all of which are A rank. She uses Doton to displace herself, erect walls, create quicksand, and tremors to stall, defend and push-back opponents. While her fuuton is usually used as basic weapon enhancement, pushing back enemies and using bladed slashes or raw force offensive jutsu which are capable of breaking bones. Xincai's lone S rank jutsu allows her to body flicker to a location and create a 10m radius shield which pushes all enemies outwards allowing her to protect allies from 1 SS rank technique, 2 S ranks and 3 A rank techniques.

Elements: Doton (S) // Fuuton (A)

Specializations: Bukijutsu (S) // Ninjutsu (A)

Strength: A-2
Endurance: SS-2
Speed: B
Reaction Time: S-2
Perception: A

Equipment:

The Warlords Ambition: A Remarkable 1.2m long Black and engraved Kite shield which is stunning to the eyes. The shield has but a single property for its legendary SS rank status, the user does not feel any impact from any jutsu blocked by the shield, and with 30 chakra, once every 3 turns, the shields defensive properties can be extended into a chakra wall spreading out from the shield to 3m in each direction. It's to be noted, this shield, after eons of combat seen, bares not a single dent in its visage.

Harmony A Chinese hooked blade of A rank quality. Able to take off limbs and disarm weapons with its unique design. The weapon is 1m long in total, making it not the longest weapon, but it has a 4m length of thin, high quality chain which wraps around the users arm, and can be useful, attaching ultimately to the weapons hilt.

Modus Operandi: Xingcai does not like the numb feeling of the medication, nor is she a willing applicant of it, more or less enslaved by the will of the mysterious emperor that some of the others talk about. She is often depressed and sluggish in her movements and her vocal tone though, as she is compelled and ordered into action she becomes a monstrous wall of absolute defense which pushes the front lines back in order to give her allies attacks of opportunity. Among the assassins however, she is noted to be kind and generous in her spare time.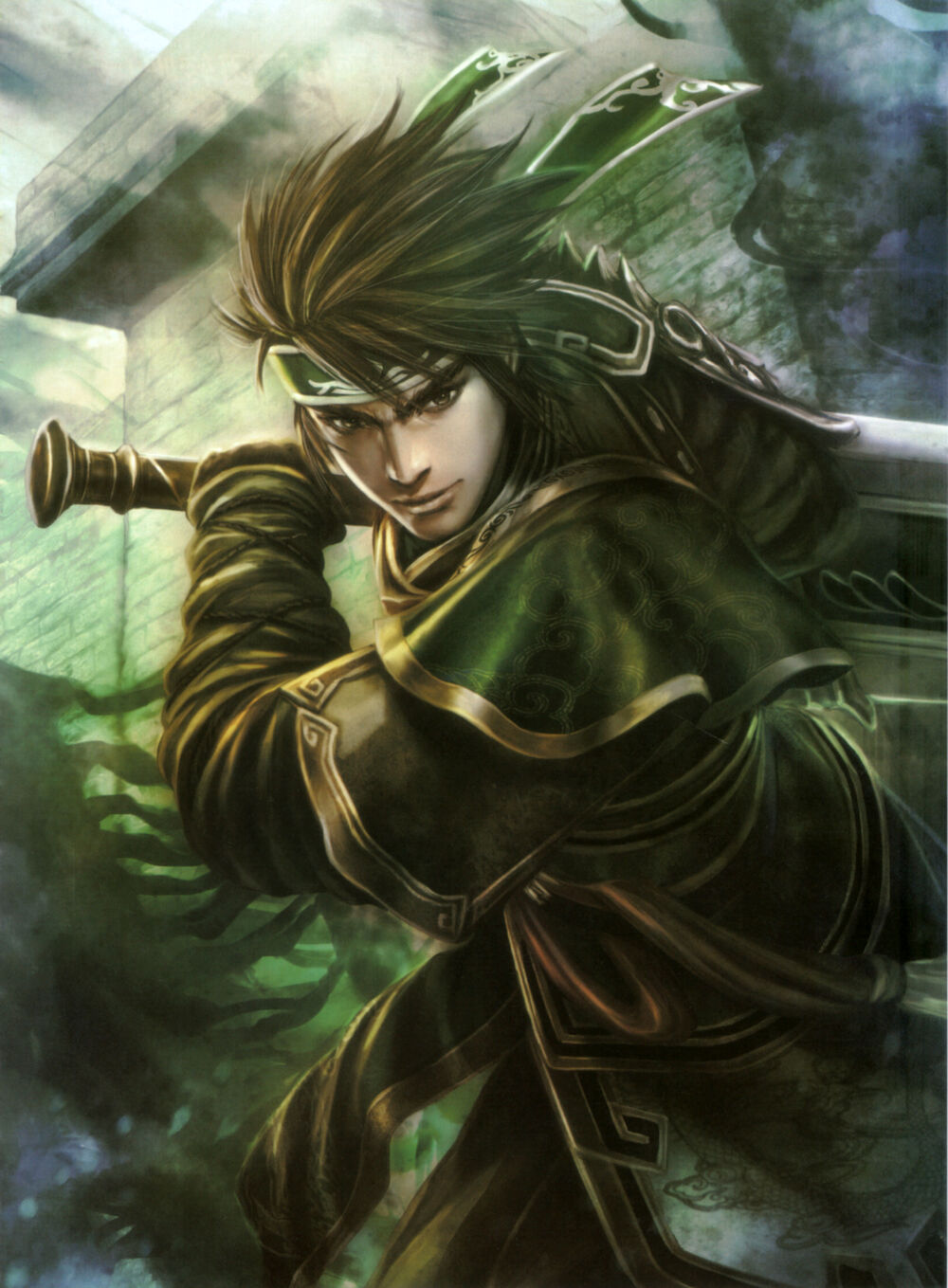 Guan Ping:

General Information:

Name: Guan Ping
Alias: The Fledgling Dragon // Son of the God of War
Age: 40
Gender: Male
Sexuality: Heterosexual
Birthplace: Across the Sea

Physical Appearance:

Age Appears: 40
Clan: N/A
Rank: SS
Height: 6'5"
Weight: 110kg
Physique: Bulky and masculine, Guan Ping is a paragon of physical might, ripped muscles cover his form denoting incredible strength all across his body.

Hair: Guan Ping has short brown hair pulled backwards with a wax to keep it from his eyes.
Eyes: Deep tigers-eye coloured eyed radiating a deep multi-staged brown under the light of the moon, though like his bothers in combat, the colour of his eyes does not come out under sunlight.  
Skin: Sun kissed Tanned
Scars: Guan Ping has many scars over his body, though only one across his face, a nick across the side of his jaw.
Other: N/A

Abilities:

Techniques: Guan Ping is not an expert when it comes to exterior magic, meaning most of his abilities stem from his Bukijutsu and the use of his Young Wyrm. A wildcard and believer of raw power trumps all, Guan Ping uses one use jutsu with his massive swings in order to trigger huge shock waves and explosions of fire which can break bones and deal heavy 3rd degree tissue damage, all of which are A rank move at 30mp/s and hit 15m radii. Guan Ping's signature ability, creates a Copy of his chosen weapon out of chakra, which bears the same abilities as the weapon he copies, allowing him to dual wield Young Wyrm's at incredible speeds. Rumored to be able to spin with them so fast, he's able to elevate himself.

Elements: Katon (A) // Doton (A)

Specializations: Bukijutsu (A) // Ninjutsu (A)

Strength: SS-2
Endurance: S-3
Speed: A-3
Reaction Time: B-1
Perception: B-3

Equipment:

Young Wyrm: Young Wyrm is a Legendary SS rank Zanbato, a weapon made for cleaving armored cavalry in two with relative ease. This monstrous 2m long 1 foot thick sword cannot be blocked by any one handed weapon or by a ninja with lower than SS rank strength. Additionally with 30 chakra the weapon can be slammed into the ground flowing with Doton chakra capable of triggering a 12 richter scale earthquake instantly on impact within a 40m radius capable of causing incredible destruction and terraforming, as well as shattering bones and obliterating any defensive jutsu of B rank and lower within range.

Mystic Headband: An S rank headband which at the cost of 20 chakra per turn can increase the wearer's speed by 3 tiers. Though cannot be activated any longer than 2 posts, requiring a 2 post cool-down which reduces Guan Ping's speed by -2 tiers.

Modus Operandi: Guan Ping is lover of combat, to a psychopathic extent. A wild card even among the assassins he does not work well with many of the others. Often not thinking before he charges head first into conflict. Zhuge's medication noted to having done something to his mind, pushing it to the precipice of breaking once and for all. Though through it all, he has still retained some of his immense skill, though, according to some of the other's he's nothing compared to what he used to be.

---
Ma Chao:

General Information:

Name: Ma Chao
Alias: The Defender of Justice
Age: 39
Gender: Male
Sexuality: Pansexual
Birthplace: Across the Sea

Physical Appearance:

Age Appears: 36
Clan: N/A
Rank: SS
Height: 6'0"
Weight: 101kg
Physique: Slender but masculine, Ma Chao has a fit and athletic build similar to that of a dancer or a gymnast under his armour. Very well defined, and strong, but sleek and slender.

Hair: Two very long platted dark brown ponytails which come out of the back of his helmet in a similar style to pheasant plumes.
Eyes: Under the pale moonlight Ma Chao has brilliant amber-gold eyes which almost shine like kilns of molten steel. Yet under the light of the sun, the eyes seem almost black and void of colour.
Skin: Ever so slightly touched by the sun, enough to give the skin a bronze pigment to avert from what would normally be a near pure alabaster.
Scars: Ma Chao has a single long scar over his right eye and many over his back.
Other: N/A

Abilities:

Techniques: The Techniques performed by Ma Chao tend to be used in sync with his companion. An opportunist by nature Ma Chao employs charge tactics and jutsu at the cost of 25 chakra to allow him to move at speeds of up to 90mp/s for powerful chakra enhanced thrusts.

Elements: Raiton (S) // Fuuton (A)

Specializations: Seijutsu (SS) // Bukijutsu (S)

Strength: A-3
Endurance: A-3
Speed: S-2
Reaction Time: A-3
Perception: SS-3

Equipment:

Hex Mark: A legendary S rank Seijutsu Combat pet, known for being the fastest horse the Daimyo possesses. Hex Mark is an unbelievable fast horse with SS-3 rank speed and A rank perception with S-2 on all of its other statistics. Hex Mark has 170 chakra and is capable of using one of two jutsu, one, which is similar to body flicker, costing 20 chakra and can be used once every 4 turns to maneuver to any position within the area of combat. The other is a incredible stomp which sends out a stunning shock-wave which moves at 50mp/s, stunning all those within it's 15m radius range for a turn. Additionally, given a 15m run up, HEx mark is capable of moving at sprint speeds with no negative cool-down.

Stallion Fury: An S rank spear with a brutal barbed point capable of piercing through an opponent, on the opposite side of the weapon is a 1.5 foot long blade which is able to bisect an enemy. each of these two sections can be removed on small chain links to form a sanjiegun. (Three section staff.)

Armours: Both Ma Dai and Hex Mark are coated with A rank Armour which covers their heads, shoulders, torso's arms legs and backs with gaps for movement. The armour is considered light armour, and has the base defensive stats for A rank light armour. (As seen in the item guides.)

Modus Operandi: "Ma Chao was once known as a champion of justice before he was caught by the net of the Sleeping Dragon. In that single instant, Ma Chao became a soldier who detests life, seeking the ninja who can end his life and cease the control of the Dragon which lead him astray and into villainy and assassination. Ma Chao often announces his presence and weaknesses at the beginning and even during fights, often warning his opponents of his actions before they happen in an attempt to give his opponents an edge. Though, even in him attempting to lose, the famed duelist has never lost a battle. "

---
Bao Sanniang:

General Information:

Name: Bao Sanniang
Alias: Doomspinner
Age: 23
Gender: Female
Sexuality: Saddist
Birthplace: Across the Sea

Physical Appearance:

Age Appears: 20
Clan: N/A
Rank: SS
Height: 5'4"
Weight: 49.4kg
Physique: Incredibly slender and lithe in an acrobatic sense with very little body ft on her person, making her look more like a girl than a fully grown woman. Her athletic body creating a juxtaposition to some of her more feminine features, accentuating them more to the eye than normal. Has Ace Eye and Frail.

Hair: Mid length brown hair done up with a floral hairpin in the style of a lotus sutra
Eyes: An elegant garnet red which resonates dimly in pale moonlight, looking more like a pink than a red, though that begins to change to a more royal red when she is angered. However like all her countrymen, in daylight, her eyes are dim and black.
Skin: Natural, fair, pink skin not pallid white but touched by the caress of sunlight
Scars: One very large scar across her back from right shoulder to left hip.
Other: N/A

Abilities:

Techniques: Having a greater range than many of the other assassins, though not quite as powerful, as the other 5. Her techniques usually surround large bladed gusts of wind, waves or electricity and enchanting her weapons with a range of techniques, all which move at 40mp/s and are B-A rank. Lastly, her focus on techniques with her death-spinners uses B rank suiton to hide them from sight, or raiton to electrify the webs and fuuton to guide the shurikens to fly where she wants them before pulling on the anchors, turning ninja into cut cheese. Her three signature techniques share a common scene, creating a huge 10m radius cyclone of either water or wind, and enchanting it with Raiton to create either a storm tornado or a raiton cyclone, she can move these two jutsu at 15mp/s at will. These A rank techniques on contact cause rapid heavy 3rd degree electrical burns before throwing ninja out at speeds capable of breaking bones. Throwing weapons and ninja within 10m of either cyclone who are not using supernatural walking practice are dragged into the tornadoes.

Elements: Fuuton (A) // Raiton (A) // Suiton (A)

Specializations: Taijutsu (A) // Bukijutsu (A) // Ninjutsu (A)

Strength: B-0
Endurance: B-0
Speed: S-2
Reaction Time: SS-2
Perception: SS-1

Equipment:

Tatsumaki & Arashi: Two 2m long legendary SS rank bladed war fans with the unique capability of combining into a single massive fan all of which with edges capable of cutting through ninja. Separate, at 10 chakra per turn, the fans are able to launch a chakra projectile as a ranged basic attack with each swipe of their bladed edge at 40mp/s for up to 20m. Together however, with 30 chakra and a single swipe of the weapon, the bladed projectile is colossal, launching a huge scythe of fuuton chakra in a 180 degree radius up to 100m in range at the same speeds. The wind-force around the combined wind scythe capable of breaking bones and throwing ninja if they're even within 5 meters of the blade.

Lastly, if thrown, these fans act as boomerangs.

Vortex Death-Spinners: Possessing seemingly and infinite number of these small steel, A rank windmill fans. Though, each of these seemingly interesting shuriken have a secret in the form of a wound wire which links to them (making them more like a yoyo.) ending in a small anchor. When thrown the projectiles spin, leaving the wire behind them tightly potentially leaving fields of razor sharp wire capable of cutting through a ninja. Each spinner can have up to 30m of mono-filament steel wire come from it, making them lethal trapping tools, able to make lethal webs which can cut nina, trees, and other things to ribbons.

Modus Operandi: Bao used to be a wondering monk and a capable adviser to others in spiritual needs. Though, when she was tainted by the control of the Sleeping Dragon Zhuge Liang, she discovered a deep seeded lust within herself for causing the torturous pain in others, while the medication numbs her body from her own. One of the few which serve Zhuge willingly now, she still enjoys the free feeling of not being in control, and is addicted to the drugging technique which is cast on her. She's coy, and known to enjoy playing with her victims as much as possible, preferring to maim them and break them down slowly over time rather than eliminating them quickly, like a cat to a mouse. To the unknowing onlooker, one would say she's a very happy girl of her age enjoying life, none being the wiser to the brutal truth.

---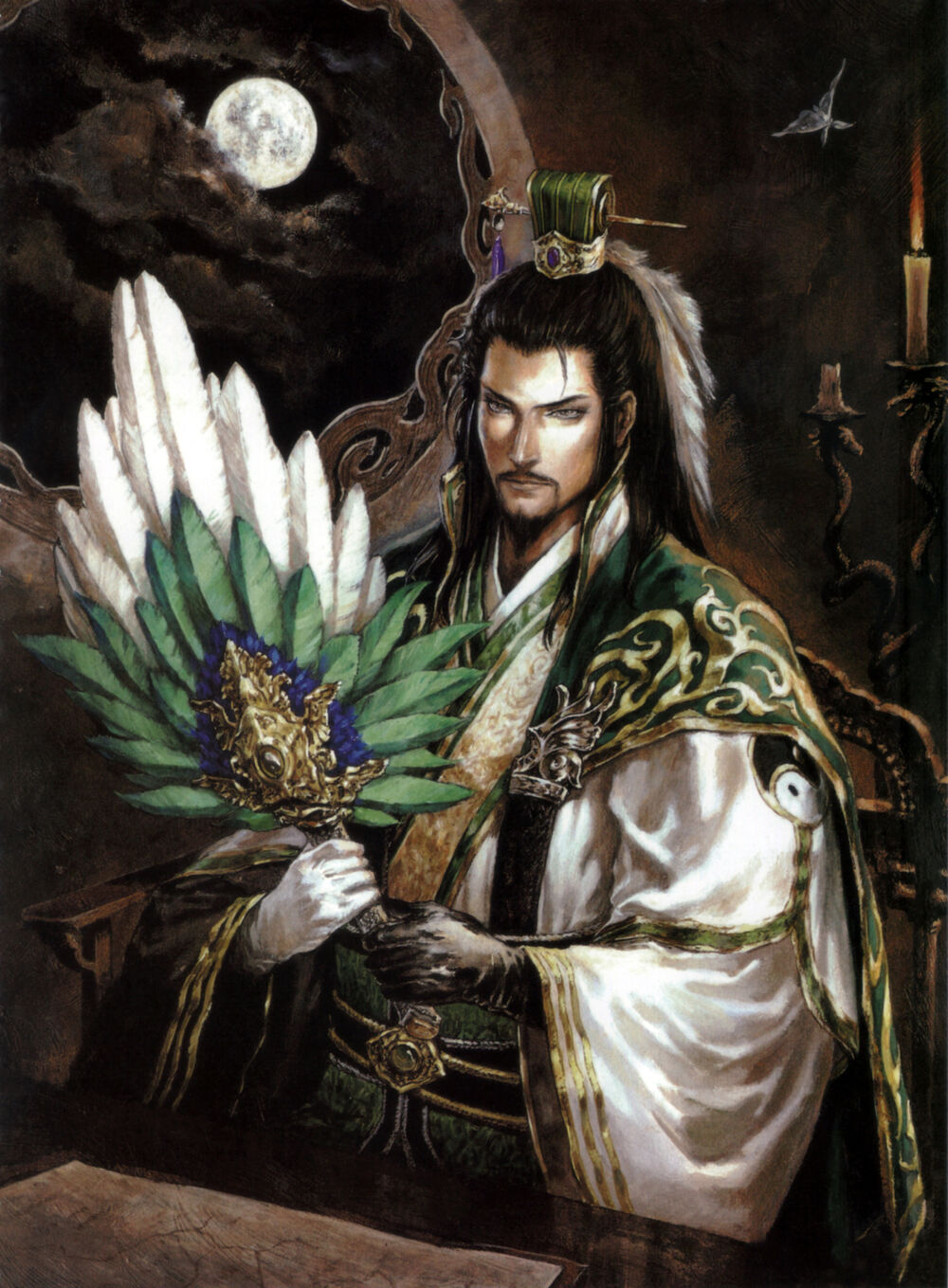 Zhuge Liang:

General Information:

Name: Zhuge Liang
Alias: The Sleeping Dragon of Jing.
Age: 58
Gender: Male
Sexuality: Heterosexual (Married)
Birthplace: Across the Sea

Physical Appearance:

Age Appears: 55
Clan: N/A
Rank: SS
Height: 5'11"
Weight: 67kg
Physique: Older, with some level of fitness remaining, though nothing compared to what he once was. Has the frail special characteristic

Hair: Long and black, with a long whispy beard which falls to his waist. very rarely tying it up or doing anything more then brushing it into perfect straight strands. which fall elegantly over his shoulders.
Eyes: Under moonlight, Zhuge's eyes are the deepest and darkest of sparkling night blue, with galaxies swirling in his pupils, almost unnatural and demonic on sight. Though during the day, they are the same dull black as his countrymen.
Skin: Fair and royal white
Scars: None which can be seen.
Other: N/A

Abilities:

Techniques: Zhuge Liang's ninjutsu focus in weather manipulation, the ability to create tornadoes, lightning, storms and even call down comets. Ranging from 10-60mp/s in speed depending on the technique. Able to maintain rain, clouds, and even lightning Zhuge is a powerful mage. With Fuuinjutsu, Zhuge uses seals defensively in order to bind techniques and opponents with A rank seals in order to set up his powerful weather manipulation, his seals able to carpet large areas in attempts to stun his enemies with a crucial technique. Though his most powerful technique is his summon. Hitsuji The 8th branch of the Zodiac.

Hitsuji is an SS rank Raiton summon who is 15m tall and 30m long, capable of casting down horrific lightning in its area, which is able to pierce through ninja at speeds of up to 60mp/s. Bearing a rams front which becomes a tail, Hitsuji is considered by some to be a storm god, who swims in the clouds. Hitsuji is able to fly  as if it were swimming and move at speeds of up to 35mp/s. All of Hitsuji's techniques are considered S rank, and drain Zhuge's chakra.

Finally, Zhuge's most signature ability uses Doton, Raiton, and Suiton to create a drop of water which when placed on the back of a persons neck, reels them under his direct control for 2 days before it needs to be re-applied. This jutsu can be maintained and used on multiple people, single drops coming down each of his five fingers once per turn. (Hitting a PC character with this, stuns them for 2 turns.)

Elements: Suiton (SS) // Raiton (SS)// Doton (SS)

Specializations: Ninjutsu (SS) // Fuuinjutsu (SS) // Kuchiyose (SS - Sheep)

Strength: D-1
Endurance: D-1
Speed: D-1
Reaction Time: S-1
Perception: SS-3
Intelligence: SS-3

Equipment:

Jade Hairpin: An SS rank Item of fierce power, made from a legendary Green stone of Gelel, unique to his own country from across the sea, granting Zhuge +200 chakra to their chakra pool and the ability to break the item, on which restoring full chakra to the user.

Glove of Ma Dai: A silk glove which with 5 chakra per turn, can cast a single Fuuinjutsu or summoning symbol by waving the user's hand in the direction they will the symbol to be. Symbols made by this glove take 1 second to form and a second second before they can activate them.

Modus Operandi: Nobody knows why the sleeping dragon does what he does, some say he is under the command of a far away emperor to which he is indebted, other stories say he is a missing ninja from blood country with his fellows. But one thing is for certain. Zhuge Liang does not fight for himself, but for a shadow behind the scenes who is stationed in a far away place. Zhuge Liang is a mastermind unlike the world has ever seen, able to stay 20 steps ahead of most opponents mentally, and though he is not a strong fighter, he is a potent sorcerer and daoist to which some have claimed he can even change the weather and call down the heavens on his enemies.

Using his foreign techniques, Zhuge has control of the Daimyo and 5 near legendary warriors from his own country to defend his claim as he slowly attempts to rule over Mizu no Kuni, as the power behind the throne...

---


Last edited by Ayakashi on Sat Jun 17, 2017 4:13 pm; edited 4 times in total
____
~ Jutsu List
~ Aya's Stats ~
Item Lockup ~
Jutsu Rej ~
Theme Song
Taijutsu SS-Bukijutsu SS-Senjutsu S || Fuuton SS-Suiton SS-Hyouton SS
EP:
5