Daremo~
Genin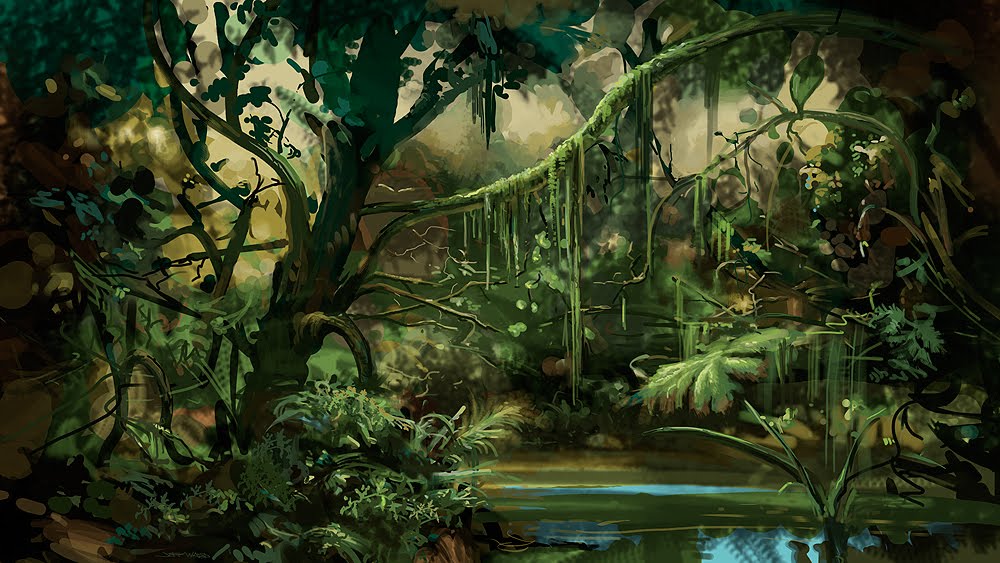 The boy had been here in the dense jungle wilderness for three days and counting. It had only been three days since he had awoken in this place with no memory of who he was. It was completely bizarre and he had no idea what to do. A small bug like creature had been there, he seemed to understand it's clicks just like human speech. The boy had given the creature the name "Ikimono". The creature could not tell him what was happening and seemed to be in the same predicament that he was in. It was a troubling event, but at least they had eachother.
The pair of them had spent the last few days securing the basic requirements for living. A nice little hole underneath a large umbrella of tree roots made for a cozy hideaway. A nearby stream gave them a fresh water source for drinking and washing. Food had been a little harder, finding edible fruits and roots was a challenge. Ikimono seemed to have some innate knowledge when it came to these matters, such as "don't eat the little red berries". When he was asked, Iki wasn't able to be explain where he had learned these things from. The boy himself had some internal direction, whether it was instinct or something else, he could not tell.
Man I am hungry. I don't want any more old dirty roots to chew on either. I want some meat. The boy grumbled in unison with his stomach. Ikimono gave a few clicks in agreement and scuttled around his neck. The pair were out about a kilometre from the home base, out searching the vicinity for food. They were slowly mapping the area, expanding the known universe with every passing day. There were birds up in the trees, but he doubted that they would be able to catch them. Just as the young male was about to suggest giving up for the time being, he spotted a little grey rabbit dart across their path. Oh did you see that? The little bug chittered in excitement. Yeah! But how can we catch it? Ikimono climbed up on top of the boy's head. There it is, maybe try and sneak up on it? The boy secured the cap on his head and bent over to pick up a rock the size of two fists. The target was munching on some leaves, large ears outstretched about 20 metres away.
The pair of hunters remained silent as they slowly crept up on the little animal. He only took a few steps before the rabbit perked it's head up and scampered off. Dang it we'll never be able to catch it. Iki scuttled down his neck and arm and onto his hand. The boy raised it so they were looking at eachother. Maybe we can try that thing from yesterday... What had happened yesterday still scared the two of them, it was some freaky event that he would rather not repeat. Then again, he was hungry. Alright, I guess it may help. Let us try at least. The two were on the same page, infact the human and animal seemed to have the same thoughts and ideas. Again the pair found the furry target, this time keeping their distance.
Ikimono and the nameless boy closed their eyes and concentrated. This had happened yesterday by accident, today they are trying to will it. They both focused solely on their task which was catching their prey. They wanted speed and lethality. Together as one, they would become something new. The boys olive skin started to bend and stretch. The little bugs body started to warp. His hand and Ikimono's body blended into eachother and their combined form shifted. The human male's clothes started to change colour. A tail started growing from the boy's back, a thick carapace grew on his skin. His arms stretched down to the floor and protruded wicked claws. His head stretched forward and stretched out into a snout, long spear shaped teeth filled his mouth. The pair had combined into something completely new. There he was, a creature with spines sticking out of it's rock hard outer skin. He was half way between a dog and a cow in terms of size and weight, but was unlike any species that could be found throughout the world.
(500kg, 1.5m nose to tail)
He was still. The beast that they had become was hunting, his instincts took over, crawling towards the rabbit with surprising stealth. He managed to creep up to within 10 metres, where the bunny perked up in warning again and looked the fearsome beast. It was stunned at the size of the predator, turning to run as the beast pounced upon it's kill. The claws went through the little creatures stomach and killed it instantly. It then bent it's head up to the sky and roared, the primal scream reverberating through the forest.
[865]
____