Maigo
Jounin


Imada, Seiryu


The trigger happy guy, you're glad to have on your team



Hyuga, Reiko


The girl who is angry at Maigo for what he did to someone else



Ishido, Daraku


The guy who could easily kill Maigo but didn't



Nara, Shinako


The girl Maigo became friends with then betrayed in the exams



Osada, Sero


Should the Grim Reaper ever need an assistant...



Sarutobi, Mitsuo


It's... probably too soon to forget who he was, right?





Suzuki, Ryota


Maigo's first battle and first friend.



Uzumaki, Riss


A compassionate and anger prone red-head



Uchiha, Teru


Special eyes, a Kracken, and endless sarcasm. They'll definitely get along



Himitsu, Nozomi


Maigo may be a tool, but not everyone can be naturally adorable...



Kitsuchi, Aizou


A lost crazy? Well not lost, vanished. And not even vanished. Just crazy...



Sangotatsu, Alwen


Someone who would question why the world's biggest fool is bad at leading them to a place





Koga, Akarui


The one with lots of sand in his pockets



Hattori, Yasutake


The boy with lots to say



Lane, Elin


A Chuunin Exams opponent with an unbeatable foresight



Jet, Yuurei (Pending Interaction)



Katonrai, Lin


A sweet and innocent Guanyin met an edgy™ and perverted Uchiha. And for some reason that... didn't fall apart instantly?



So, go ahead and post, I welcome it, let me know where you want to be and I'll add you (granted it's not ridiculous), just know that I'll be watching as you post. Always watching...Also message me if you want to get involved in some plot or want Maigo involved in yours~
http://www.narutosaga.com/t16281-maigo-s-rank-tracker#167382
Current Plots:
The Pain of a Forgotten Family

Maigo lived a happy and peaceful life in Kirigakure, becoming a ninja and advancing his skills. One day while training with his sensei, he was pushed beyond his abilities and ended up unlocking his Sharingan. An ability he didn't even know he had, and now his world is turned upside down to learn he was adopted and from a sect of the Uchiha clan outside the Land of Water. But beyond that, the mystery would have to be put together on his own.

Old Plots:
Death and the Underworld (Halloween Event)

Waking up on a mysterious island Maigo finds himself in a small test to hone his skills against others. Unknown are his reasons and motivations, little else is given or explained, but Maigo doesn't need much. His urge to combat is unbridled and angst unmatched, he'll see how that goes.
A Confused Death


Maigo is dead, killed in his urge to test himself by an entity that arrived suddenly and without warning. Still, if he's dead, then why didn't he stay that way?



The Past. The Present. And the Future.


In a weird turn of events, Maigo isn't dead. Rather, he is in hell? There he finds an unlikely soul who will reveal so much to the poor child and leave so many more questions and concerns in the wake. Closure on his ancestry and knowledge of his sharingan is a nice trade off though.



The Sannin Sensei and Team Maigo


Last edited by Maigo on Mon Aug 21, 2017 7:37 pm; edited 26 times in total
____
:29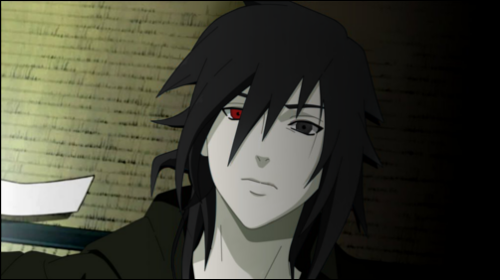 I was trying to figure out which was worse, Ignorance or Apathy. And now I realize that I don't know and don't care. -Maigo Mugetsu

Missions:D-7|C-6|B-4|A-3|S-2|SS-0