Ameryuu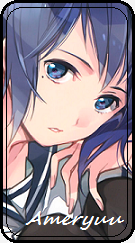 Chuunin
Clouds swirled around the mountain peaks, making their daily appearance above the village of Kumogakure. They were thick grey clouds, teetering on the edge of downpour but not quite there yet. Ame had grown up with that kind of sky above her, and it had never fazed her before. Today however, something felt different. It wasn't a particularly good or bad feeling, but the air was thicker than she was used to and the breeze carried something metallic on it's palette. She couldn't attribute it to the foreigners who had dominated her homeland, as they had been gathering for too long a time. This strange feeling had begun today. She was sure of it. Part of her thought that she was just being paranoid, and the the extra people around were just putting her on edge. It could very well be that. Whenever she descended into the crowds her perception made her get dizzy. The sheer number of electrical signatures was just a bit much for her to handle all at once.

Here in the clan compound it was still quiet. The Ryuzoji lived a secluded lifestyle and it fit most of their personalities well. Ame found that she was starting to prefer being at home more than she liked wandering the streets. It was a strange revelation for her. Her mind was at ease here, and her perception was just a quiet buzz, having already grown so used to the signatures here. She was already dressed for the day, her mother having managed to get her into a more traditional outfit than usual. A pale blue kimono with an intricate silver obi. It fit her like a glove and was easy to move in, something Ame had never associated with the ridiculously pompous outfits. She had been asked (more like commanded) to go out and make good on the family name that day (Ame wasn't aware as to her mother's exact reasoning, but it had had something to do with Ame being her only daughter and never finding a decent husband if she kept on as she was). Her mother had basically ordered her to take a day of from her shinobi lifestyle and visit Mt. Ikkyu for the day. The woman had already left for the resort earlier that morning, stating that if she didn't see Ame there she would personally make sure she was stripped of her rank. The blue-haired girl wasn't sure how her mother planned to accomplish that, but she wouldn't put anything past her. 

Ame got up and decided that she didn't have much time to waste. The resort was outside of Kumo, and in her current attire she couldn't run. Walking there would take her time, and her mother was expecting her for lunch. She glanced outside at the swirling clouds, that feeling akin to dread settling firmly in her stomach. Before she left she grabbed a parasol. It was the waterproof kind, as all objects tended to be in Kumo. At least if she was caught in a downpour she'd have something to protect herself with. Fellow clan members barely looked her way as she left home and before long she was among the tourists, barely able to keep her eyes forwards. The constant change was actually beginning to give her a headache, but as soon as she neared the gate the crowd thinned. It seemed that not many people were heading out to the resort that morning. Ame had thought that it was in fact one of the main attractions of the events, but it seemed that people had been wary of the storm clouds and decided to skip it altogether. It only made her journey more bearable.

The path was damp but not muddy and in no time at all Ame was through the woods and into the resort grounds. It was a huge area, filled with shops and hotels and people. Despite living in Kumo her whole life Ame had never visited the resort or any of it's famous attractions before. There were plenty of waterfalls and hot springs to choose from in Kumo, and Mt. Ikkyu was a bit out of the way for her. Despite the overcast weather there were many still milling about along the main plaza, seemingly not bothered. It surprised her, after she had thought that people had not been interested in visiting the resort due to the weather. She was tall enough to see where she was going, thankfully, and already had a place in mind.

Maybe it would be best if she took her mother's advice and take on a day of relaxation for once. She was honestly worn out from Sanosuke's tough training and her own drills. No one could fault her for going to the hot springs. Ever since the surprise of having to train in her underwear with Sanosuke Ame had always brought along a swimming costume with her whenever there was even a hint of water being involved. Knowing her sensei he could pop up out of nowhere and tell her it was training time then and there. She laughed and made her way to where the hot springs were located. They were quite fancy compared to the usual ones she'd been to when in the village. It seemed as if they had one large hot spring rather than separate ones for men and woman. Ame wasn't too confident about that fact, but she knew she was certainly not going to be the only woman in there. She'd just have to deal with it. 

They did have separate changing rooms thankfully and Ame hurried to get her kimono off and bathing suit on. She'd have trouble re-doing that obi later, but that was something she'd worry about after she was done. A few other women passed through as she changed, putting her more at ease about the situation. She wasn't one for showing off, and her simple once-piece swimsuit only had a single sets of ties - behind her neck. She knotted it carefully and grabbed one of the complimentary towels before stepping out of the change room.

It was very warm and steamy, so she couldn't see much. She moved off to the side of the pool and set down her towel, slipping into the water carefully. Nearby a group of woman chatted and on the opposite side she could hear a man's laughter. It was a quiet and relaxed atmosphere, and Ame let the weariness soak right out of her. 

---

Words: 1108
____
Character sheet
|
Locker
|
Jutsu List
|
Stats
Missions: 2-D|4-C|0-B|0-A|0-S|0-SS
Speed ~ C-1|Strength ~ C|Endurance ~ D-3|Perception ~ C|Reaction Time ~ C-2