Light up the lantern

Akai stepped out of the hot shower, after which she finally felt relaxed enough to take some rest. She tossed herself onto the bed carelessly and was lying there frozen for a decent amount of time. Only her eyes were jumping from one detail of this room to another in pretty slow manner, as if they were searching for something interesting enough in order to lock onto it for much longer. Wooden ceiling, wooden ground, wooden table and wooden chair, everything was made from natural material causing the room to seem so simple, but cozy at the same time. This room was nothing close to the one Akai used to live in, when she was still at their Hyuuga mansion. Walls made of the finest stone, decorations covered in gold dust, best quality porcelain items resting on pretty much every surface, several servants trying their best to make every piece of it shine, these were the things she could recall best. And now there she was, a Hyuuga princess, lying on the hard wooden bed, being completely by herself, only several kimonos and yukatas, which she had bought earlier in the market street, and this inherited golden hairpin, were the last bridge connecting her to the quality of life she was used to back at home. However, the memory of an image of their mansion caused a feeling of slight disgust. Wealth was never something the red head sought for or found enjoyment in, especially when this wealth was used in order to cover the whole nastiness, which dwelled deep underneath it. After remembering certain events of the past, this simple room was becoming more and more comfortable for Akai. Be it made of wood, rock or even mud, as long as it is far away from her golden cage, it was totally satisfactory for her.
Shaking her head in denial of bothering thoughts, Akai pushed herself out of the bed immediately. She gazed at the clock, which caught her attention for a second there.
"Midnight already."
Even though Akai was exhausted, the atmosphere was too noisy for her to fall asleep easily. The red head went by the window, leaned herself against the side of the wall and peeked outside. The room she was staying in was on the second floor of this building, which was located in the middle of the market street of Mount Ikkyu resort. The first floor held quite a popular bar, which caused the whole place to be very loud. Akai could almost hear every conversation, which would occur at the table down below her room. Most of those conversations were of drunken men; trying to prove their manliness to the squeaking women they had ordered company from.
Even though it was midnight already, while gazing outside the window, Akai saw that the street was crowded with people and it seemed as if a festival of some kind would be taking place. The street was decorated with red lanterns, which were glowing in the dark, putting the whole street under this dim light. The red head noticed that most of the people were wearing colorful yukatas, carrying red or yellow lanterns in various sizes themselves, buying all kinds of souvenirs or simply eating while enjoying their walk through the resort. Suddenly, Akai backed away from the window and grabbed the first yukata, which was resting on top of the wooden chair. It was a black one, rather simple looking, with some floral patterns on it. The red head fitted herself into it quickly and turned to head out of the room. She could not get any sleep anyway, thus it would be pointless for her to stay alone in this shallow room, when she could be enjoying the time outside by mixing herself into a crowd of strangers instead. Or deeper reason behind it was that Akai simply tried to avoid remaining alone with her own shallow thoughts, she needed some distraction and needed it fast.
After locking up the door, Akai went down the stairs and appeared at the bar. She was somehow disgusted by the image she saw there. The place was full of old, nasty looking men, who were drinking sake and shamelessly groping young girls, who were sitting on their laps, lighting up their cigarettes. This image was something Akai had not seen in her life, as she grew up in this very formal and of closed circle environment. No one from her family line was allowed to visit such places and in case men needed to have some manly fun, they would organise their own party demonstrating their splendid taste for luxury. Akai remembered seeing some of the girls in her mansion, but at that time they looked like a royalty of some kind and she mistook them for someone's wives or sisters. Only later she got to know that those were the women who came to entertain Hyuuga men.
Trying to make her way out of the bar, Akai felt a tight grip onto her hand pulling her to the side at the same time.
Hey, sweetie, compared to how much we payed for you, you kept us waiting for too long, don't you think? Now be a good girl and do your job!"
She turned her gaze to her hand and followed the one which was holding a tight grip of it slowly, right up to the face of that person, whose hand was squeezing her own. Akai found a nasty face of drunken man, arrogantly staring at her, with three more similar faces supporting the stare. She pulled her hand out and squeezed it into a fist, which immediately appeared hitting the man's nose pretty badly.
"Keep your disgusting hands to yourself, you bastard! You're disgusting!"
His nose started to bleed and he shouted in reflex, other three were trying to stand up and give Akai a lesson, though they were too drunk to make at least one stable move. The read head looked around as the place got so quiet all of the sudden. As it appeared, she caused a scene and now everyone's attention was drawn to her and this unlucky bleeding man. Soon after some woman came running to the table, mumbling something like "this was not the right girl", "they're my best clients here" and "are you insane, what is wrong with you". Akai understood that it was a mistake to get so hot-headed, especially for someone who was in a situation when keeping a low profile was the matter of life and death. The only way out of this mess was to disappear without getting herself deeper into the process of making explanations.
Once the red head got outside, she mixed herself into the crowd of people, who were taking their walks in the street. Seeing that no one exited the bar, she took a deep sigh and felt the whole pressure vanishing together with the oxygen she breathed out. Her body loosened up a little and Akai started looking around the stalls, hoping to find something she would like to buy. Nothing seemed to catch her eye, however, after some time spent walking, the red head saw something interesting in the horizon. There was a tiny pond, with a narrow bridge crossing it and a couple of people standing on it as well. The pond was full of lit lanterns, making it look even more magical, than the market street was. Only now Akai figured that it was already past midnight and most people had already lit up their lanterns, as well as released them to carelessly float on the water or fly up in the sky. It was an old tradition practiced during festivals. One supposed to think of a wish before releasing the lantern and after it was done, the wish was considered to come true for sure.
However, the time for releasing lanterns had already passed and those couple of people on the bridge were only admiring the magical view. Even though Akai knew that she already missed her chance, she went to the stall with lanterns and bought two for herself. One was meant to be released on water and another one into the sky.
"In my type of hardship, I probably need double luck."
The red head giggled to herself and after grabbing both of bought lanterns, she rushed onto the bridge. Akai stood there for a minute or so, gazing at round paper items in her hands, simply trying to figure out how to light them up. After noticing a tiny piece of thread in the middle of one lantern, she assumed that it works just as simple as a candle. However, Akai had no source of fire with her. She threw her gaze to the side attempting to ask the same couple of people she saw before getting onto the bridge herself. Perhaps they had any lighter or matches at least. Though the couple was in the middle of passionate kiss and Akai turned her gaze away immediately, feeling as if she would be disturbing them even by simple gaze. Due to the embarassment of seeing two people kissing, a slight blush appeared on Akai's face.
After looking around and finding that she was nearly alone on this bride, the red head leaned her body against the rail and gazed down at other floating lanterns. She imagined that other people's dreams were dwelling within each of those flames and as long as the flame kept burning, the dream existed. The longer they were burning, the more luck they brought for the dreams to come true.
"Yeah…so much of my luck. Ended without having a chance to begin."
Words of disappointment escaped her mouth while squeezing her own lanterns in hand. Akai bit her lower lip without even feeling it as if she would be trying to get rid of this feeling of bitterness. Suddenly, the urgent desire to put all of those tiny flames out got awakened somewhere deep within Akai's self.
"Silly people with their silly dreams."
_________________________
WC
1686


Last edited by Akai on Fri Mar 11, 2016 3:42 pm; edited 1 time in total
____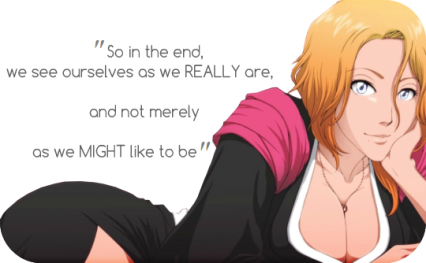 [D]- 4  [C]- 1  [B]-1  [A]-0