Keiko
Jounin
The sun was now out at its maximum height in the sky, powerful rays of heat and light shining down on the deserts which Sunagakure rested upon. Two empty cups and plates rested on the table of an outdoor table, belonging to a cafe restaurant. With food and tea in her system, Keiko was finally ready to tackle the remainder of the day, having gotten a really late start. Not that she minded, taking into consideration the reason she had slept in in the first place. A smile crept onto her face, and she snuck a glance at Seiryu, once again losing herself momentarily in admiration of his features. The hunger and hangover that dampened her mood earlier was now dissipating - though the latter was still an occasional sore throb in her head, a physical reminder of the amount of alcohol that had been consumed the previous night. But there were no regrets, not at all.

Standing up, Keiko would straighten the black skirt that she had put on before leaving her apartment with Seiryu this morning. The short skirt did little to conceal her legs, which were bare up until her feet, where she wore a pair of comfortable flats. But Keiko didn't have many reservations with what she wore, and as cocky as it sounded, she was relatively confident with her body. Although short, her body proportions were fair, not having the problem with shorter, stubbier legs that some vertically challenged individuals were faced with. She really was getting used to trying out different outfits, finding that she enjoyed the task of trying to match from top to bottom. After determining that Seiryu was free for the day - a fact that gave her immense relief, knowing that they wouldn't have to part ways just yet - they were now left to determine where they would go. To be quite honest, it didn't particularly matter to Keiko, as long as they stayed together. But the thought of going around the village with a local was promising; after all, she had spent most of her time here exploring the village alone. As she looked over at Seiryu once more, a thought struck her.

"Did you want to go home and change first? As good as you look in that, it would probably be more comfortable if you got yourself some clean clothes." While Keiko had gotten the chance to change, Seiryu was still wearing his clothes from the night before. She couldn't resist throwing in the compliment, because it was still true. Visually, he still looked as good as ever. His clothes looked fine, albeit a little wrinkled, reminding her of the activity they had done prior to the shedding of clothes. Now that she thought about it … if her neighbour really had seen them last night, although she couldn't remember much of the lead-up to her room, it might explain a bit about why he had been so irritated. Walking around the table to where he was seated, Keiko would reach to try and smooth out a small wrinkle on his shirt, near his right shoulder.

"If you need me to, I can meet you somewhere else if you need some privacy." Part of her suggestion really was to help Seiryū get more comfortable, but the other reason was largely because of her own agenda – she was curious about his living quarters, and hoped that she would be able to learn more about him if he let her tag along. And so the added bit about giving him privacy was spoken purely out of courtesy. Keiko genuinely hoped that he wouldn't mind if she tagged along. If only she could just get him to talk about himself a bit more … Then again, she hadn't shared much about herself either. And given how he knew she wasn't from the village, it made it slightly more difficult to know exactly how much to share.


---

661 | 661 Total
____
Kitahara, Keiko (#cc3366)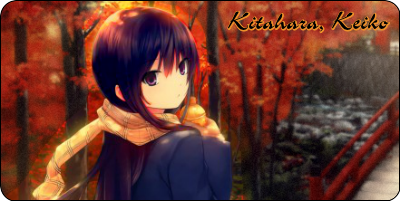 Ninjutsu (S) | Med. Ninjutsu (S) | Bukijutsu (D) | Suiton (S) | Fuuton/Hyouton (S)