1 Jōruri on Thu Aug 11, 2016 11:19 am
Mahikari
D-rank
Symbol:
Clan:
Jōruri
Kekkei Genkai:
Human Puppet Anatomy
Elements:
Any
Specialization:
Kugutsu
Location:
Scattered
Clan History:
Once it had been realized that the human consciousness and chakra system could be stored away into vessels, it didn't take long for many to attempt the ghastly process. As time has passed, the technology and ability to do this has only improved, and it has now been seen accomplished in a few rare cases scattered all about. The origins of these strange individuals are all incredibly unique, as the cases of this human puppet transformation are very few and far between. To some it is horrific, to others it is art.
This is not a bloodline or a clan. The last name of the character created with this concept is up to each individual.
Kekkei Genkai Description:
Puppet Anatomy
Members of this clan are, in almost every way, puppets. Every part of the body is made out of the same materials as any puppet would be and reflects the same durability and damage capabilities as what an item of that rank would be capable of. The stats of the clansmen are reflected by the values of the rank their body is.
C-rank: C-0 stats
B-rank: B-0 stats
A-rank: A-0 stats
S-rank: S-0 stats
Every clansmen begins with a C-rank body and two free equal to or lower puppet modifications (Senbon launchers, flame-throwers, armored plating etc)
As a concession for the user, if they wish to, they may app modifications in place of a weapon slot (C-rank puppets can have up to 4 modifications etc) that can maximize a stat to tier 3 of their current rank. They may only do this with available mod slots of EQUAL rank to their body.
Example: An A-ranked puppet may have 2 A-ranked mods. The rest are lower. This means an A-ranked clansmen could only possibly trade in 2 of his total modifications to gain 2 A-3 stats.
In addition, any previous modification which raised the base stat can be simply upgraded to the next rank up, as they become useless when the user does a full body upgrade.
Immune to Human Error
This is in fact a double edged blade, which ought to be considered among the benefits and drawbacks of puppet anatomy. As they are not organic in any way, the stats of the clansmen cannot be increased or decreased by means of buffs and debuffs which interact with a human anatomy to gain effect. They are also wholly immune to any form of medical jutsu, positive or negative.
This Isn't A Body
Impressively, because they do not possess an anatomical body, they cannot use Taijutsu in the sense of specialty, but they may use Kugutsu to accomplish many of the same feats. For instance, one may harden and strengthen their puppet arm to deliver an enhanced punch. Kugutsu takes on new properties once the user himself becomes a puppet.
Chakra Core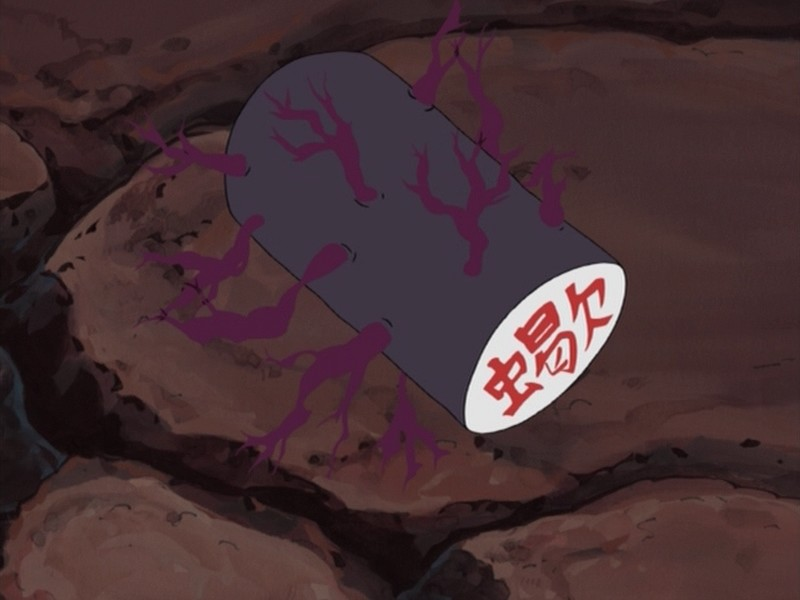 The users consciousness and chakra is stored within the core. This core typically sits within the chest of the user, but can be anywhere on the body. It is what gives the puppet life, and contains everything the user ever is or ever will be. If destroyed, the character is dead. End of story. Strikes from things which interrupt chakra flow, if applied directly to the core will have the same effect, shutting down the Jōruri clansmen as if pulling the batteries out of a robot. This does not kill them, only renders them unconscious.
The core has a durability equal to the rank of the users puppet body. It is a 6 inch cylinder, with a girth of about 3 inches.
Drawbacks:
Locked In
Once a human has sealed his/her "soul" or consciousness into the chakra core, they surrender the ability to learn new elemental natures. Members of this clan begin with only one chakra nature, the one they were born with. The second chakra nature they possess exists, but lies dormant within them. They may access this upon reaching Chunin, and it will begin then at D-rank. They may never learn a 3rd or 4th element.
Living Weapon
Once biological anatomy is given up, there are certain aspects of life one may never touch again. Biological evolution and improvement are two of those aspects. As a living weapon, every physical aspect of the clansmen's body is dependent upon how the body has been apped. They may not increase stats through mere training, but must app and purchase upgrades to obtain higher ability.
Unfeeling
Without a nervous system, the clansmen must take the negative SC Numb without balancing it with a positive.
Unnatural
The living puppet would classify as a monstrosity to most, and is outside of nature. They receive +1 level of damage from both Senjutsu and Fuinjutsu. They may also never take Senjutsu.
Members:
Mahikari
Kekkei Genkai Jutsu:
Name:
Reformatiom Technique
Canon/Custom:
Custom
Rank:
C
Type:
Supplementary
Element:
N/A
Range:
Personal
Specialty:
Kugutsu
Duration:
Immediate
Cooldown:
3 posts
Description:
This technique is particularly important to the Jōruri clan, as they have no ability to heal themselves outside of making repairs to their puppet bodies. This technique uses the dozens of chakra strings which stem straight out of the core of the user, gathering even the most minute piece of them which has been blasted away, or otherwise broken off, and reattaching it perfectly. This essentially renews the user, but DOES NOT restore function to any weaponry the user lost function of when they were broken.
Name:
Final Resort
Canon/Custom:
Custom
Rank:
C-S
Type:
Defensive
Element:
N/A
Range:
Personal
Specialty:
Kugutsu
Duration:
Maintainable up to 5 posts
Cooldown:
Once per thread
Description:
This is the last resort for a Jōruri clan member. When no other avenue exists without death, the user withdraws from whatever is left of his or her puppet body, their consciousness retreating fully into the chakra core chamber. The core is then reinforced, utilizing all but the bear amount of chakra necessary to stay alive, the defensive barrier it projects around itself is as strong as one of a rank higher, being able to defend itself in that same way. (One Jutsu of a rank higher, two Jutsu of equal rank, three of one rank lower)


Last edited by Mahikari on Thu Aug 11, 2016 8:39 pm; edited 2 times in total
____