Maigo
Mission Details:


Name: Pest Control.
Mission name: Pest Control.
Mission rank: S (Can be SS)
Objective: Extermination.
Location: Nisemono no Kuni
Reward: 5 EP (S) 10 EP (SS)
Mission description: Some very dangerous creatures are beginning to pop up around the underworld. Choose one of the following and hunt it down (S Rank) or hunt down all of them at the same time (SS Rank).

Mission details: Furutsubaki is hunted in the forest outskirts.

Gashadokuro is known to roam the Deadlands, but no one actually knows where it is....

Aosagibi is rumored to appear in settled areas.

Akkoro is found near the marshy areas around the surrounding rivers.

Aosagibi:


Name: 青鷺火 Aosagibi, the Heron of Blue Fire.
General Appearance: Its azure feathers, almost like scales in appearance, spectacularly reflect any concentrated light cast upon them.
Personality: Rather easily spooked, but otherwise benign. It is actually unknown what made this majestic beast hostile to the denizens of the Underworld.
Abilities: Passively blinds those that look at it, causing a -3 in Perception. Possesses little offensive ability other than pecking and clawing equivalent to a B-rank weapon, as well as a kick that can send one flying up to 20m but does little damage.


It exhales a golden mist onto anyone who comes too close to it, and thus puts them under a Genjutsu which may be broken by A-rank pain or by using A-Rank Kai. The illusion is a dreamland where everything the victim could ever want is present and every wish is fulfilled, making it very difficult to want to break out; it leaves the afflicted in an unending slumber if unbroken.


If one pursues after escaping, it will attempt again but with a bluish-purple dust, wafted over a 30m radius with its wings. This mimics the Hell Viewing Technique on a grand scale, and centered on the target, causing them paralyzing pain and mental trauma that caters to the fears of each person. In contrast with the golden-mist genjutsu, this pain is even greater, and is boosted by 1 rank.


It will continue this cycle, increasing its illusionary power as such cumulatively. The beast requires an A Rank jutsu to immobilize it. Killing it will result in the mission failing.

Other:  By using a paper fan crafted in the Underworld, one can waft the dust back onto the Heron, allowing you to capture it unharmed. Obviously, if you are unable to free yourself from its illusion, it escapes and you fail the mission.

Maigo sat in the tea shop, a few others around but he didn't pay much attention as he sat at a raised stool at the bar, an old woman who served him was behind the counter and ranting as her husband shook his head in annoyed dismay at her stories. She ranted in a raspy tone at him, "Oh yes, yes! The bountiful beast flies often now! It reflects the very city on itself and back down towards them with a beautiful call all the same! I stay awake every night for it, resting on a rocking chair on my porch to see it ever since it started entering into the city." she ranted onwards, the biggest smile on her face for some reason, reminiscing to the bird and it's appearances over the skies of the city. It was evening now, just after dinner and Maigo was wasting time in the city before calling it a night but this old woman's stories were keeping him interested, or rather occupied for the time being as he sipped away at his drink.
Her husband called out while shaking his head, using a ladle to boil a stock of noodles, his voice as fettered as hers if not worse, "Oh leave those guests alone! They don't want to hear your crazy stories and ideas while they eat and relax." Maigo shook his head and waved with a single hand, "No no, it's fine. Better than sitting here with my own thoughts..." he held the same stupid half smile as he always did. The old woman took this as her sign, calling out she leaned over the counter slightly to get into Maigo's face, "They even say that the bird's feathers have magical properties!" she laughed on, Maigo would have loved to ask about it, but he wouldn't have the chance to truly interject.
"I even heard that the police force will pay or reward anyone who can capture the beast and turn it in for them!" she led on with a growing smile... her wrinkled face stretched as she seemed to have some... underlying goal or pitch to sell here. Maigo would raise an eyebrow as he was finally intrigued, he cleared his throat and spoke up, "Well, I suppose I should find this bird for myself, turn it in for a prize and maybe get a few magic feathers while I'm at it... if they're that important and all." he nodded along, her husband turned back to him now, yelling from the other side of the bar, "Oh boy, don't mind her fairy tales! There's no such thing as magic feathers and that birds more trouble than you'll ever care to deal with!" he seemed grumpy. Maybe it was that he didn't want to lose the sight of that bird either, in old age, it would keep him entertained, but here in this underworld age was truly but a number. Perpetually lost in his demeanor and mood, Maigo shook his head in acknowledgment.
The wife though, grew tired of his arguing, she shook her hand at Maigo, "Ooooh, don't mind his anger! If you do find that bird and its feathers, bring me a few would you? Then we'll show all of these skeptics the truth around here." she glanced from the corner of her eye to see her husbands reaction. He grunted along and pretended not to care, Maigo found it a bit adorable, the old couple just ranting and rambling around day to day. It was admirable, living life day to day unlike a ninja, part of the reason he wanted to retire from it and escape it all. But still, even in death, he still found himself intrigued with weird missions and putting himself in danger, even if he couldn't really be hurt, it seemed his personality to seek that thrill, as much as he might hate the underlying tones and themes to it all. It was really the only way he knew to make his living, he couldn't cook, and wasn't a great businessman, couldn't build things or other goods, so he did what he could to get by.
Still, Maigo leaned in the bar a bit, "Alright then, I'm game, when does the bird show up and do you know where it comes from or goes to?" he glanced to the old woman with a devious smile across his face. Waiting for her response with information about the legendary bird, a good place to start hunting it and where to go, otherwise he'd be waiting around for it to show itself and then tracking it from there. Furthermore, he'd have some trouble, since his ninjutsu and weapons were all meant to kill, he'd definitely need to find another way to deal with capturing and restraining the animal.
[824 words]
____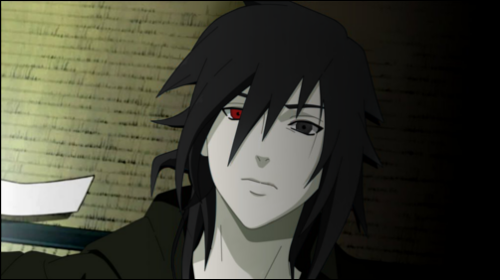 I was trying to figure out which was worse, Ignorance or Apathy. And now I realize that I don't know and I don't care. - Maigo Mugetsu