Raiu Mizuki
Special Jounin
Mission:


Mission name: Escort duty
Mission rank: B-rank
Objective: Escort the merchant to his small village.
Location: Kumogakure
Reward: 250 ryo
Mission description: You are to guard a merchant as he returns to his small village on the border of Kaminari no Kuni. There may be bandits, or something along those lines so please keep all senses on alerts.
Mission details: About halfway through the route, 5 bandits will jump out from the forest which you are passing through. Kill them, and make sure no cargo is damaged in the fight, they will not pull punches, but you are being payed to protect the cargo and merchant.

Bandits:


Name(s): Kagami, Yosei, Gang Guo, Akinobu, Masaru
They are members of a newly formed gang of 'honourable bandits' , that has risen in popularity of late. They call themselves "Shirai" (Purple Thunder) after the image of a purple lightning bolt striking a globe.
Age(s): 22, 21, 26, 32, 25

General Appearance(s): The 'Shirai' dress very much like privateers - a certain militaristic elegance mixed with a hint of a roguish life. While not all of their clothes are equally clean or exactly fitting the typical privateer's looks, all of them proudly wear the symbol of their group - the purple lightning bolt striking a globe.

Personality: All of the Shirai, no matter their personality, seem to hold a certain sense of honour. They generally do not resort to violence right away, entering the scene with a diplomatic sense of robbery. While they hold up passing merchants, they usually ask for all of the valuables in a polite fashion. Only when answered with refusal, they draw their weapons to press a little harder on the request before resorting to violence and death.
Motivations: Money and glory.
Fears: Death

Abilities:
Kagami - B rank Cutlass & C rank Water
Yosei - B rank Yari & C rank Wind
Gang Guo - B rank Sickle & C rank Earth
Akinobu - B rank Bow & B rank Thunder
Masaru - B rank Katana & C rank Thunder

All bandits know their respective element/rank library on jutsu

____
---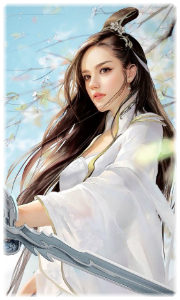 MIZUKI RAIU
☯ ID Card
☯ Techniques
☯ Arsenal
☯ Stories
☯ Growth