Senju Airi
D-rank
Invite: Hanbei
Konoha's forest on a cloudy day was a soothing place to be. The silent guardians stood quietly next to each other, their leaves blocking out most of the pressing warmth of the sun as they cloaked all those under it in shadows. Here and there, the sun beamed through, bringing a clear reminder why the leaves were needed. Animals were busy hunting, birds chirped happily and various insects were buzzing off on an endless quest for nourishment.
Airi wore nothing but a simple dress, as was typical for her. A bright green one, this time, with the lower parts depicting patches of grass, coloured in a dark green/turquoise. A brown bag filled with herbs and a few flowers was thrown over her shoulder, doing little to hide the content she had gathered so far. Naturally, sandals were of no use to her, as her callous feet loved to feel the earth and grass below her feet, and so she was running around bare-footed this time as well.
As was often the case with such good weather, Airi was rummaging around in search for flowers, medicinal plants and roots. She mostly used those for tea, herbal medicine and various sorts of concoctions to create natural shampoo, tonics, skin balms and more. She liked nature and it's bounties, and preferred therefore to stick to the most natural products as possible.
Walking from one spot to another while humming, Hippie-chan analysed the plants carefully, seemingly deciding on a whim which ones would do or not. Diligently, she put them in her bag and then moved on to yet another spot in an endless search for whatever ingredients she considered missing.
She had been foraging for hours now and was glad to see a familiar clearing rise up in the distance. Just a little more, and she'd take a break of it all to see down and sniff the scent of the wild flowers that grew there, have a bite and sip some of her self-made ice tea. Then after a bit of leisure relaxing, she'd return the same path and work on finishing a few of her balms and concoctions - she was quite eager to try out a new recipe for hair nourishment.
Finally finishing the last bit, Airi walked over to the circle of stumps that made the 'seats' in the clearing, removed her herbal bag and placed it against one of them before sitting down herself. She rummaged in the bag, digging her fingers between all the roots and stems, and pulled out a prepared meal box and bottle with a translucent yellow drink in it. With a smile, and a softly growling stomach as if on cue, she took a sip of the lemon tea, enjoying the sugared sour taste as it refreshed her thirsty body before digging in her meal.
wc 479
____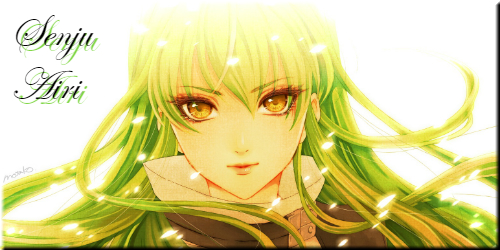 The Trees
The Branches
The Leaves
The Blossoms
The Nutritions
---
Passive - Distinctive Scent:


Description:
Passive [Permanent cost of -10 max chakra].
Airi has a distinctive scent about her that is quickly recognised and easily lingers around. All scent-based (non-tracking/detection) jutsu against her suffer a -1 rank in effectiveness, while all scent-based tracking/detection is done with a +1 rank in effectiveness.