Souji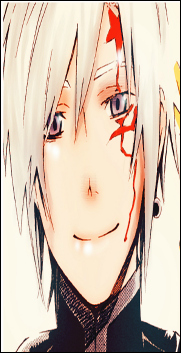 D-rank

Scars, the scar on his face so gruesomely fashioned by the man that assaulted his family, and the scar on his right shoulder that almost killed him. It was those two things that he saw before witnessing the sun rising, as his eyelids rose up, waking up. The boy stood up, prepared his bed, and went to the bathroom. Supporting his weight with both hands holding each side of the sink as he looked into the mirror with his two eyes as the mirror reflected his pale white skin and pale white hair. He moved the fingertips of his right hand over the scar on his left eye tracing the wound. Feeling it pulse with anger and hatred that he denied on the day he confronted the one that ended his happiness.




Souji smiled as he slightly tilted his head to the side. He would let the water gather in his hand and splash his face refreshing him and a slightly gloomy morning. He wore his uniform and headed straight for work after eating his breakfast and making breakfast for his lousy teacher who's oversleeping and would not wake up. His teacher was sharing apartments with him, but it was more like him babysitting a child, except this child drinks a lot.




He rushed outside after leaving a note for his teacher telling her that it's her turn to do the dishes today. He smiled as he let left prepared for another day. He realized he was late for work, and rushed crazily towards his job "Oh! crap I'm late!" He would reach his workplace only to get praised for being late? His overly lovely attitude would just draw that nice treatment from people and it was just how he was. A usual customer came and as she took a pack of tea that's been quite popular lately, but still was expensive.




Souji packed her stuff and handed them to her and watched her leave. He would keep looking at her as he noticed two men approached her harassing her regarding the tea. Souji scratched the back of his head as he asked the owner to cut his salary this month in exchange for another pack of that dragon tea. He then rushed to where the girl was and handed the men the tea "Haha, sorry sirs! But you shouldn't harass young girls! Anyway, sir here would you please accept this? Please, sirs, consider your actions! It would not do for men with such gracious auras like yours to act like that!" He praised the man and bought him a pack of the tea. While it was to save the girl, he was also sympathetic to the man. Wondering what pushed him to commit such actions. If the police saw him he would most certainly be taken to jail. However for some reason here was none today. He wouldn't let the girl fight.





As the man left he turned to the girl and spoke to her "Hello there. Are you okay?" A sweet calm voice, tender and gentle yet manly. He would ask the girl and make sure she is okay before getting back to his duties the girl's safety was far more important to him than some salary, even if she was a stranger. Was there any other possible way to push away the attacker? Yes, and Souji was very much capable of fighting. He simply wouldn't resort to violence as it fixed completely nothing. He hoped the man would learn from his mistakes, and that the girl would be kept safe. Sadly, he wasn't the type of "cool" guys. He wouldn't kick the two men's asses and look cool and triumphant. Aside from his looks, his actions would mostly be criticized by girls as not cool or badass. By the guys as a weakling and a coward, despite him being stronger than most people his age.
____