Haka Osada
Shuffling around without any real purpose, the wolf spider had been wandering around the manor restlessly. Her mind was filled with riddles pertaining to humanity. Its weapons, the clothes, its manners. There was a lot that made no sense to her, troubling her as it contradicted both her nature and the need to abide by Sero's desire to get to know humanity. She had come to the realisation that on her own, she was unable to learn all about it. And though the servants of the house were rich in knowledge, they were spiders first and foremost - no real humans - and thus not the 'real thing' for her to observe. Even though they could mimic just fine, they were just that - mimics. No, the wolf spider needed a real human to observe and experiment on. An original from which she could copy.

There had recently been an influx of humans seeking out Sero's attention, but Haka had yet to really pay them much attention as she had mostly been trying to figure out the puzzle that was fuinjutsu. The mystical symbols were keys to something greater, requiring an inkling of chakra to reveal their power. She had been able to replicate its effects for her own, but was now left with wanting more. This need was enhanced even more when she had been exploring Sero's armoury and saw how a windmill shuriken had randomly left and reappeared with blood on it, its vanishing trick remaining an unresolved mystery even now. Eventually, the wolf spider decided she would have to find Sero again so as to ask him for more. During her aimless wandering, she had not spotted him as of yet and decided therefore to make her way towards the highest floor, hoping to catch him in his private quarters.

Instead of finding Sero, a variety of unfamiliar muffled sounds was heard behind the door leading to his throne room. Haka halted for a moment, holding completely still as she listened that what transpired. Then, as if on cue, she opened the door without knocking, seeing a half-spider half-human being rather pallid in countenance. There was no trace to be found from Sero, though she had a vague impression her Creator had just been here very recently. The sharp scent of vomit and the taste of terror lingered in the area, and as Nova was the only being in the whole room currently present, Haka's stoic gaze fixated itself apathetically on the spider-human-person, her amber eyes a glint of warmth in comparison to her general cold and distant attitude.

Not for a single moment did it cross her mind to clean up Sero's room or ask Nova what she was doing here by herself, nor did she wonder if she was well or needed help. The spider-in-diguise knew not such empathy, for survival during her growth as an Unmei had not taught her such. Considering the spider-human-being in front of her did not bleed nor edged the verge of death, Haka was fairly certain she would be just fine. Fine enough to reply to her question.

"Where is Sero?", she asked with a soft, almost hushed voice that reflected the forlorn feeling of Kirigakure's quiet mists. A sharp contrast to the ever-present dreaded aura she carried wherever she went, yet all together her voice emphasised the hiding presence of death - her name did mean, 'grave', after all. Once her question was asked, Haka patiently waited for her to reply, amber eyes not leaving Nova's for a single moment.




---


604
____
---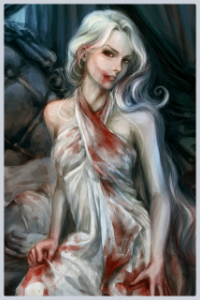 Haka Osada, the Aranean Queen
"Those born as monsters fear not becoming one."

🕷 Webs of Fate
🕷 Tools of War

🕷 Rise of the Tyrant
🕷 Torment of the Fallen



The Spider School
"Your soul, ours to bind. Our power, yours to unleash."

🕷 Spider Island
🕷 The Spider Clan
🕷 The Nightmare Court