1 Oomukade Clan on Thu Mar 29, 2018 8:06 am
Kyorinrin
Genin
Clan Name:
Oomukade
Location:
Scattered
Specialization:
Ninjutsu // Medical Ninjutsu // --
Elements:
土遁l Doton // -- // --
Members:
--
Clan History: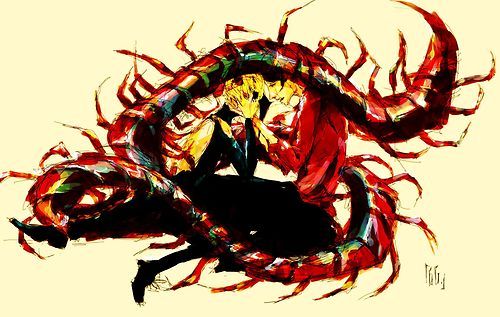 Not far from Hamamatsu, a town located east of Kyoto in the province of The Land of Demons at the east road of Susuki, ruled by princess Shion. There's a town called Tschitta. The length of this bridge seems even more remarkable as it is cut into two parts by an isle in the river, which cuts the coutry in half with an adjacent river separating them from the main countries.
Near this bridge, which is called Tschittanohashi (Bridge of Tschitta), because of the close proximity to the village, once lived a very cryptic clan who's pedigree is shrouded in mystery. A people of spectoral complexion, handing down knowledge on harmful spirits as well as the wrath of the centipedes, or, as the their name would avant-courier, Oomukade. Their affinity for centipedes gave the, unstoppable power. This is also why they call the hill they lived on "Mukade-hill." They could call upon larger centipede-like beast, which were said to have even made the dragons cower. Their otherworldly, demonic affinty made the army-road insecure and no one dared to oppose them.
One night, a beautiful woman visited a man from the Land of Demons named Hidesato. She introduced herself as the daughter of a king of Lake Biwa which lived opposite the isle. The king had sent her to Hidesato to ask for his help. Her family was being tormented by the Oomukade clan who lived on Mount Mikami or Mukade-hill. None were allowed to enter or exit through the Tschitta Bridge. Leaving the kingdom straving and without direct help to the army road of princess Shion. She knew that Hidesato must be a brave warrior, because he had so fearlessly trampled the body of the serpent. Hidesato agreed to help the king. He took up his sword and his bow and headed to the mountains.
Upon reaching Mount Mikami, Hidesato saw an enormous centipede coiled around its top. Its was so long that its body wrapped around the mountain seven and a half times. He fired his arrows at it until only one arrow remained, but he was unable to pierce the beast's armor. Hidesato pulled a sacred arrow from his quill, the Mii-dera and said a prayer to Hachiman, the god of warriors. This time his arrow struck true, and he brought down the Oomukade behemoth. The Oomukade, try as they might, were no match for the brave warrior and the army road that could now cross the bridge.
The clan was seemingly wiped out overnight, with all but a few children, non-combatants, and elders remaining. Each, at some pointing, abandoning Mukade-hill, and venturing off to different corners of the world.
Members:
--
Kekkei Genkai Name:
Mukade-no-shinwasei ムカデの親和性
Kekkei Genkai Description:
Mukade-no-shinwasei or "Centipede Affinity" is the bloodlimit that blankets the clansmen. The clansmen gain perks and inherent abilites of their centipede counterparts:
Anthropodic Regeneration
Clansmen can shed their skin, allowing them to mend deep lacerations, severe burns, and bodily traumas.
***Must be acquired at C Rank. And it does as much to ameliorate to Rank A. Results in a permanent 40 point reduction to chakra pool.***
Minor wounds can be recuperated every other post, with the deadlier wounds being healed after a longer time.
At C Rank, wounds of E Rank and D Rank can be recuperated within one post, with the afflictions of C Rank wounds healed every other post. B rank damage is recuperated every four post.

At B Rank, wounds of E Rank, D Rank, and C Rank can be recuperated within one post, with the afflictions of B Rank wounds healed every other post. A rank damage is recuperated every four post.

At A Rank, wounds of E Rank, D Rank, and C Rank can be recuperated within one post, with the afflictions of B Rank and A Rank wounds healed every other post. S Rank and SS Rank damage can only be healed when a thread is departed.

Bloodlessness
The circulatory system of clansmen is of mid-range complexity, similar to a centipede. They have open circulatory system, meaning fluid is pumped through limited vessels and into a body cavities, where it surrounds organs and tissues. There are no vessels, only cavities. The fluid, called hemolymph, then returns to the heart. The heart is a tubular organ in the clansmen, which stretches through each body segment. It contains pores, called ostia, which allow for hemolymph flow.It is not used for oxygen transport due to the anatomy of the respiratory system. Hemolymph serves the primary function of delivering nutrients to organs and tissues in the centipede through direct contact. It is not used for oxygen transport, as the tracheal tube respiratory system directly delivers and removes gases from organs and cells.
(i.e Oxygen is not required with no blood to carry it. Base Speed is D rank, with a 20% WC reduction when training it.)

***This is because of the nonexistence of lactic acid, clansmen generally have almost relentless stamina.
Seismic Sense
Clansmen are able to pick up even the slightest vibrations through physical contact with the ground, enabling them to sense the structure and materials of solid substances, including the presence of caves, material changes, structural weaknesses, etc.
Giving an added +1 tier to their Perception and Reaction Time.
***This makes it difficult to ambush an Oomukade using the ground as cover.***
Kekkei Genkai Training:

Oomukade clansmen cannot train with others will refining their KG, the queue must be completed solo.



Must be aquired in succession. Must be a Chunin before clansmen reaches rank B.

Drawbacks:


Solid Ground: Anything not having physical contact with a solid surface evades detection. Loose matter, such as sand, may distort perception. Ex: Such as the sands of Suna. The +1 tier perk to a clansmens Perception and Reaction Time is also lost when in location where conditions like these are met.



Regenerative Neccesity - Clansmen must take Hesitant (specialization). It cannot be balanced with a positive.



Natural weakness - If user is hit by a lightning style ability, user must wait 2 entire post before utilizing their anthropodic regenerative capabilities. Lightning interacts against them as +1 rank higher. IE: D-Rank acts as C-Rank against a clan member.

The Curse of Oomukade:



Curse of Oomukade - Due to their physiology, Clansmen must take Pharmacophobia. Cannot be balanced.




Curse of Omukade (2) - Their central nervous system is decrepit, and thus all clansmen must take Numb. Cannot be balanced.




Curse of Oomukade (3) - Because of their Numbness clansmen generally have a hard time improving their own raw strength, and thus suffer a penalty of 30% word increase to Strength stat training.







Last edited by Kyorinrin on Mon Apr 23, 2018 5:37 am; edited 19 times in total