Haka Osada
Retired
Invited: Verdandi, Sero
Leaving the female baths through one hallway, Haka's bare feet stepped lightly over the flooring of the manor as she still attempted to mimic the quiet step she had seen Sero perform. Though she had improved somewhat, she was far from reaching the gliding walk he sported but was not about to give up just yet. One day, she'd float through the hallways as if she was made of mist herself. Guiding Verdandi out of the female's section, she returned to the hallway and entered the hallway to the right, moving in quietude until they almost reached the end of the hallway.
Reaching the armoury, Haka blinked when she noticed the door was open. Usually, it was locked, meaning someone was currently inside. Quietly stepping inside, she looked about the room and spotted a familiar man with similar long, white hair as hers. Sero, her Creator, was actually here in this room. As she beckoned Verdandi to come inside the armoury, she addressed the man otherwise known as the Lord of the Manor and the very island they were currently walking on, the right-hand man of the Mizukage, and a power known and feared by many.
"Haka brings a guest who likes weapons."
She took a brief glance at Verdandi before returning her gaze towards Sero. She couldn't say what he would do with Verdandi, but not waiting for him to tell that she wandered off to walk through the armoury by her own, keeping an ear open just in case Sero wanted to tell her something. If not, she'd quietly overlook the armoury to see if there were any new weapons he had brought in, weapons that she didn't know nor understood. Perhaps she could bring it to Verdandi, see if she was able to use it properly. If not, she'd ask the girl to do so with all the other weapons anyway sooner or later as that had been the initial plan of the spider-nin, after all. But with Sero being around, she was just as wanting to know what he did with all the guests that came over, what he talked about or what he promised them.
---
369
____
---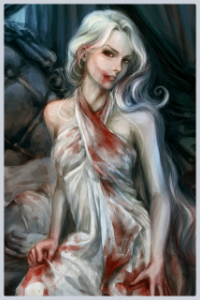 Haka Osada, the Aranean Queen
"Those born as monsters fear not becoming one."
Weaving Fates
Spider's Swarm
Tools of War
Way of the Spider School
"Our power, yours to unleash. Your soul, ours to claim."
Osada Clan
Spider Clan
Spider Island
Nightmare Court