Mission name:
A Call for help (Repeatable)
Mission rank:
C-Rank
Objective:
help the smaller village
Location:
anywhere
Reward:
300
Mission description:
A raven arrived early in the morning from a small village within our boarders requesting some help with a group of bandits raiding their village, you are charged with finding these bandits and dealing with them however you see fit.
Mission details:
The Village is located near to the border of the country and is raided almost every other day by a group of 5 bandits all are low level to where a genin can handle them in a fight and only wield a kunai. mission is repeatable due to multiple bandit groups being able to raid the small village and the small village can be different. when confronted the leader will send in the first to fight when he loses he will send in the second, after which the last two will jump in and the leader will try to escape while you're distracted, do not let him get away for he will go get another group of bandits and come back resulting in a failure. if he is captured the leader will attempt to cut you in on a deal, whether they are all caught or all killed mission will be complete, if one gets away mission failure.



Name: Bandits
Age: N/A
General Appearance: they all wear tan colored clothing with a bandana wrapped around their face hiding what they look like, the leader's bandana is red as opposed to the black the others wear
Personality: self interested
Motivations: gold and all things shiny
Fears: not having shinies
Abilities: basic Taijutsu D-Rank Boxing, and 2 kunai each. The four bandits all have D-Rank Stats while the leader of the bandits have C-Rank stats
Other: only the leader of the bandits actually talks all the others only make noises like whooping and hollering.

1500 WC needed


Last edited by Haka Unmei on Sat May 05, 2018 8:09 am; edited 1 time in total
____
---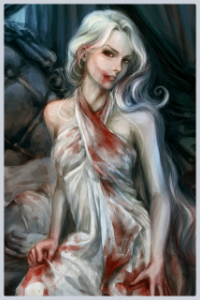 Haka Osada, the Aranean Queen
"Those born as monsters fear not becoming one."
Weaving Fates
Spider's Swarm
Tools of War
Way of the Spider School
"Our power, yours to unleash. Your soul, ours to claim."
Osada Clan
Spider Clan
Spider Island
Nightmare Court