Harichimo
Jounin
This is the new request thread for all the things you could need of the Tsuchikage and otherwise! Post here with the account you're requesting action from and I'll respond as promptly as possible
Formal Thread Request:

Status: Is this a mission, simple social, plot thread, etc...?
Reasoning: General overview of the thread/reason to see the Tsuchikage IC. Just if you really don't feel like poking me on Discord.
Rank Up:


Current Rank: Current Rank of your character.
New Rank: Rank being sought approval for.
Socials: Links to the social threads being applied for Rank Up.
Missions: Links to the place where the missions being used were approved, not where the missions were completed.
Jutsu: Links to jutsu as well as a list of which jutsu are being used to apply for rank up.
Stats: Either a link to the stats page or if profile is updated properly then reference there.
Other: Any additional information, links, comments about your rank up and why you feel it is permissible

Travel Requests:


Destination: Place you are traveling to.
Reasoning: Reason(s) for traveling to place.
____

:5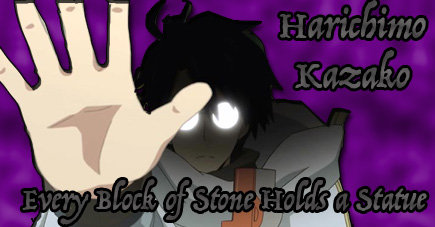 Locker|Info|Jutsu List
|
Theme
Futon: S-Rank | Doton: C-Rank | Katon: C-Rank
Medical Ninjutsu: S-Rank | Taijutsu: S-Rank | Ninjutsu C-Rank
Mission Counter: D:4 C:4 B:5 A:0 S:0 SS:0
Active Passives: +2 tier to Speed (Specialization)