Harichimo
Jounin
Hello there Iwa shinobi (and non-Iwa shinobi that might be prowling around) but I want to take roll call of the Iwagakure shinobi roster! It'll help me plan for the future, see who's active and also keep track of everyone who is active and who plans to be active all the same!

So, if you have an active Iwa character, or an Iwa character you would like to bring back then post here!

Name: (Your characters name, nickname if applicable)
Rank: (Character rank)
Profile: (A link to your character profile if you would be so kind)

And on top of that, all Genin (or Chuunin) who would like to be on a squad, go post in the Iwa squads thread! As well as any Special Jounin or higher that would like to take on a squad of genin, post as well. I'd like to update as much of the village listings as I can.

Spread the word and post below so we can get a head count and find out whom is still active! Thanks for being around and hopefully we can kick things off and start some more threads soon!
____

:5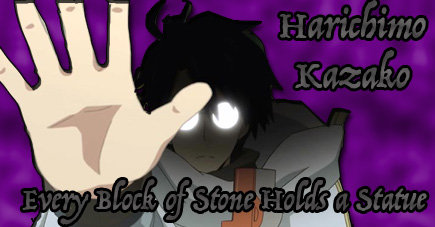 Locker|Info|Jutsu List
|
Theme
Futon: S-Rank | Doton: C-Rank | Katon: C-Rank
Medical Ninjutsu: S-Rank | Taijutsu: S-Rank | Ninjutsu C-Rank
Mission Counter: D:4 C:4 B:5 A:0 S:0 SS:0
Active Passives: +2 tier to Speed (Specialization)