Haka Osada
Evolution Through Envy
"Kuchiyose no Jutsu"
The gloomy world of the Spider Clan revealed itself once again. It had been a year since Haka had set foot in here, but the web-filled rooms seemed to have known no change at all. The crude rooms were as dark as ever, the webs hiding most of its real size, woven in such a way that countless little spiders had their own little pocket to live in. By sheer guess alone, the room Haka stood in could easily count a three thousand of her minor siblings, lurking, skittering, waiting until prey would rush in like a fool. And this was hardly the end of the arachnid's native world. There was a whole forest out there, dense in canopy, unsure whether it was leaf or web that prevented sunlight to enter. Various underground lairs claimed by broodmothers, guarded by their own warriors, rested safely underground, the network of tunnels a real maze to all but those who were born there, or those who had come to be accepted by the clan.
Today, Haka returned to an old familiar area. Her three years old existence as a spider of the clan worthy of great praise since 75% of the spiders didn't even make it through the first year of their lives. The Spider Clan was anything if not cruel in its drive for survival and domination, and this counted double for their own kind. The sheer amount of rivalry just to find a morsel to eat was unbelievable. One prey hunted by a thousand arachnids, yet only one would tell the tale. It was only natural that those of the Spider Clan were remorseless.  Haka was not different, although one could say the human world had made her more... understanding of her surroundings. Not exactly empathetic, but she had perspectives. Here, all but the most foolish or most powerful would oppose her now, her monstrous aura heralding her arrival and expressing her cold-hearted nature and forcing the inhabitants of this webbed room to stay away.
Haka had been 'summoned' here. A call from another great spider of the clan. It was not surprising that summoning Ameya, or any other spider surviving the summon for that matter, would also serve as the eyes and ears of the greater spiders and the broodmother known as Momma - Haka's own mother. The clan would already be aware of what Haka was doing in the human world, the humans she killed, the culling of the weak, the assimilation of more power for the benefit of the Spider Clan. Yes, much like Sero had come to recognise her as his daughter, the clan had come to understand she was deserving of her own little place - if Haka would come to claim it, at least.
Stepping through the hallways of a deeply dug out tunnel network, Haka moved to find the spider named Niamh. A spider, so it was said, with sharp intellect and great envy for a life she couldn't have herself. Niamh would have loved being an Unmei, hold the ease with which they changed into humans and the potential to wander in a world where she would not be recognised. All that for her experiments and games. Catch a prey and toy with his body and life like she was a goddess. A morbid goddess with the dark desire to become human so she could turn them into monsters and little puppets for herself. So it was not surprising when Haka entered Niamh's lair that she found the room riddled with cocoons holding up humans - of what remained of them.
Niamh's room was oddly neat for a spider. Her own web was spread out over the walls much like wallpaper rather than a random heap of webbing. The wall-web was thin in composure but woven tightly together to leave little sight of the original wall that formed this large cavern. On one side, cocooned prey were stabled on each other like flasks of wine - row upon row until they almost reached the ceiling. The other walls were oddly bare, with the exception of one nest that indicated her resting place and a the remains of a cocoon that must once have harboured a nest of her own younglings. Other than that, the room was filled with operation tables and various surgery tools of which Haka was fairly certain humans would be greatly adverse to having those used. Even Sero would most likely feel annoyed at the sight of the rust spots and their dull blades, preferring to melt the tools down in favour of new and better quality.
Niamh herself could not have been any weirder. Haka had expected a house spider, but the creature looked strangely humanoid. It's spindly body was almost anorexic, thin legs hidden by robes and four arms wielding senbon and more than a dozen of nigh-visible thin strands. The way she handled the strands with one hand, wove into the flesh of a human with two other, pressed that same human down with her last hand would have made any surgeon green with envy. She did it with such precision and speed she made surgery look like child's play.
"There, there... It'll be over soon...", she hushed at the moaning man on the table. A specimen having turned pallid in fear, delirious by fever and venom, barely conscious by the pain and the atrocity she was currently making him experience. Niamh was sewing the man back together as microscopic spiders moved about his chest, making him the experimental host of still growing younglings.
"It might hurt a little, but I bred this spiders with the purpose of eating away your worries.", she cooed as she continued her work. "If you're wounded, they'll weave strands so thin no one will see your wounds get knit together. Infections will be eaten, venoms will be absorbed even if it might kill them in the process. You'll be fine though, they are small. Nothing bad can happen from their deaths..."
A soft cry escaped the man. Haka stepped to the side to get a better view of the man, wondering why he wasn't screaming harder. The revelation of his mouth sewn to a close revealed why, leaving the spider-nin questioning if this was a more efficient way than her own fuinjutsu for a moment, until she put it into a battle perspective.
"I call them nanospiders. Don't you think that's a fitting name? Living organisms so small they can live within a host to heal them. They'll probably die in the long run, but such trivial things are but sorrows for later. They are prototypes and in need of testing before I can improve upon them, and you have the honour to be the first one in line to try them out."
Finishing her work, she would instantly turn around to face the Unmei, her arms putting away needles and gathering the remaining strands all together as the man on the table was still squirming in quiet agony. Tears ran from his cheeks, eyes rolled back in his sockets, and inkling of blood quickly cleaned off by the spider surgeon.
"Haka... You look so much smaller than I had expected... Do you eat enough?"
She nodded.
"I guess you do. Look at you... So eager to hear what I have to say. What do you think about the little spiders healing up the human?"
"A weak specimen should not be preserved."
"Oh, but of course... He's just a test subject. A dummy, before I try it out on those deserving proper treatment."
"He won't survive."
The house spider turned around, assessing the man on the table who was already experiencing his death throes before watching the white-haired girl before her.
"Hnnnnnnnnooo... He won't."
"Don't waste time on the weak. Kill him."
"Don't you dare to interfere with my work, Unmei.", she glanced around to see the man already dead on the table. The wound, though sewn, had been healed up by the spiders inside him as Niamh had wanted them to do, but the inhumanity of the surgery and his general weakened state didn't allow him to survive the ordeal. "He's already dead. Only the strong of mind might survive these nanospiders... Perhaps someone stronger would do the trick."
She gave Haka a pointed stare, her meaning clear even to the wolf spider. Haka stared back, disinterest just as obvious.
"You asked me to come."
"Ah, yes, so I did. Ameya brought in a juicy specimen to play with, and as you know I'm quite intrigued to try out a couple of things on these humans. My reserves are dwindling, what remains is old and weak. I require new... potential."
"Haka is no transport."
"Ohoh, I would never suggest something like that even if the thought occurred to pop in my mind. I can't trust you to understand the delicate nature of the DNA I am seeking."
The house spider moved to her remaining cocoons with trapped victims. She plucked a strand of hair from one them, holding it up as if wishing for light to illuminate it.
"All life holds value. A secret locked in every sort of growth. The Unmei already know this, strengthened by the Creator's chakra to take on a human form as they please, but... the Spider Clan, though powerful in its own right, doesn't have that power. We need to discover it for on our own, copy, steal and experiment until we can recreate something similar."
She dropped the hair, walking back to Haka and cupping her face between her two upper arms. A thin, eerie smile would reveal itself as her eight eyes looked down upon the quite smaller human appearance before her.
"Why don't you give me some of your blood? I would be able to analyse it, learn from it, assimilate it to become something more. Certainly you understand my desire to evolve, don't you?"
"Haka's blood is fine where it is.", she replied, breaking the grasp of the house spider. "Power is to evolve by your own means."
"But the Unmei are of the Spider Clan, so your blood is as much mine as mine is."
"Haka's blood belongs to Haka alone."
The aura of the irritated wolf spider would flicker as the hunter's desire to end a rival slowly rose, but the house spider remained unimpressed. In her own lair, she was at the advantage, her webbing by nature stronger than the copied versions of a chakra wolf spider. Niamh merely chuckled.
"I'm a researcher, not a fighter. Let's not start fighting as that might jeopardise my curios. I'd prefer to agree that we disagree on this peculiar approach. Why don't we strike a bargain instead?", seeing the wolf spider not dispute her words, the house spider continued. "You already have a Contract. You have Ameya willing to kill for you, and you showed yourself willing to give a body once in a while to appease her. Rumours have it that you're growing stronger, but some say there are humans stronger than you still... Humans able to wound you..."
The house spider would gauge Haka's reaction, which seemed to grow colder by every word spoken. She disliked the idea of being defeated even if the humans had proven too weak to finish her off so far. Her understanding of the 'claws of man' was going too slowly to her liking, always ending up short in knowledge or insight on how to deal with them in an acceptable fashion. She hated it, but she equally learned ways to grow stronger and evolve from it. It was only a matter of time before she figured out a means to nullify weapons completely.
"So here's the deal. I'll tell Noiralane you can summon me to heal you, or whoever you find interesting enough to preserve, torture, or whatever you wish to make of it. But anytime you do... I take something for myself to continue my experiments. A mutual benefit, if I do say so myself"
"Why would I want this?"
"Survival, growth of the Spider Clan. Just two spiders contributing to the greatness of our own clan, each in our own way. Think about it, come back later. For now, I have other matters to attend to."
At those words, the house spider walked over to her stash of humans once again, pulling one of them out with relative ease despite her seemingly weakened body, and dragged it over onto the table. Barely covered by rags, the countless cuts the woman suffered were apparent, her conscious too barely present as poison and medicine sedated her. Once set, Niamh would wave Haka away, urging her to be left alone with her next research.
---
2166


Last edited by Haka Osada on Tue May 15, 2018 9:24 am; edited 1 time in total
____
---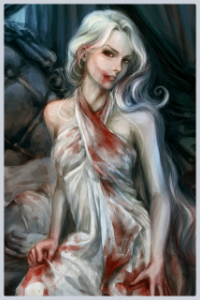 Haka Osada, the Aranean Queen
"Those born as monsters fear not becoming one."

🕷 Webs of Fate
🕷 Tools of War

🕷 Rise of the Tyrant
🕷 Torment of the Fallen



The Spider School
"Your soul, ours to bind. Our power, yours to unleash."

🕷 Spider Island
🕷 The Spider Clan
🕷 The Nightmare Court