Haka Osada
Mission name: Verdant Vistas, pt II - Rumble in the Jungle
Mission rank: C
Objective: An artist has requested you to be his bodyguard during his search for a muse.
Location: Any non-Village
Reward: 300 Ryo for 1500 wc (+ 25 for 100 wc, up to max of +300 ryo for +1200 wc)

Mission Description:  An artist is in need of a new muse and has requested you to guard him on his journey through the nature's untamed environments. The artist admits to have little knowledge of wildlife or survival, hoping you'll be the guiding hand during this journey.

In part II, the time span is from noon to evening. After a brief meal and having caught his first muse on paper, the artist now wants to catch a moment of glory to remind himself the Arts are a noble cause, indeed. As such, you two venture forth to find a beast worthy of your combat prowess - yes, yours. For this part, you are to slay a powerful animal and pose to claim your sweet victory and glory as the artist captures the imagery on paper.

Don't forget to protect the artist though...

Mission Details:
The animal you'll confront is a fine specimen of the following sort (pick 1): Lynx/Bobcat, Wolf, Jackal, Boar, Snake (strangling kind) or anything in that size range.
The animal's stats are all at C-1.


Name: Machi
Age: Between 27 yrs
General Appearance: Simply dressed, with a splash of creativity in the clothes - style and paint marks alike.
Personality: First and foremost, the person is a creative person with a knack for artistry: sketching, drawing or painting. So absorbed in his desire to find a new muse, the artist is a bit of air-head, lacking most sense of danger and any sort of general knowledge of survival in wildlife. The rest is up to the undertaker's choice.
Goals: Finding a new Muse for artwork
Abilities: "Super Beast Imitating Drawing". The artist is able to bring back to life simple drawings (twice a mission) as assistance. While offering great versatility in utility, any one hit is enough to disperse the technique. The artist offers no offensive power.
Items: Any utensils required to sketch, draw or paint.


____
---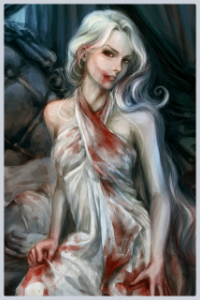 Haka Osada, the Aranean Queen
"Those born as monsters fear not becoming one."

🕷 Webs of Fate
🕷 Tools of War

🕷 Rise of the Tyrant
🕷 Torment of the Fallen



The Spider School
"Your soul, ours to bind. Our power, yours to unleash."

🕷 Spider Island
🕷 The Spider Clan
🕷 The Nightmare Court