Maigo
Mission:


Mission name: Find the Village
Mission rank: C-Rank
Objective: Discover the Location of the Lost Village
Location: The Forest
Reward: 300 ryo + 1 EP
Mission Description: You were told there is a village out here, now you just have to find it. Stay on the path, or you might find yourself lost.
Development References: Death Camp, part II
Mission Details: Lost in the middle of the Dead Forest is a Village; you must find the village, however this is no ordinary forest you will not want to be out here after dark so you better hurry or risk spending the night with the dead. The village will be in the middle of the forest and will be easily found so long as the play stays on its path, the village itself looks to be the Ruins of Kirigakure.

The village was different, it carried itself slightly different and the people seemed changed from what he remembered. Maybe it was he who had changed though? Seeing the world through different eyes than when he had left. The smiles carried and stubborn faces of others stuck out more prominently as he made his way through the village and followed through the small alleyways and streets that he had known. Not all of it had changed, there were some things that remained the same, the graffiti hidden in various places and the shop owners that carried out their various chores and businesses. A smile crossed his face as he pressed to the edge of the village and remained memorable of all of the different things that his village had offered him since he was a child.
Still, his smile faded away as he reached the edge and looked out to the wildlands outside. There was a calling to him in the back of his mind. He needed to repent for time lost to his nation and there was one person who would set him on that path. Perhaps it would be inappropriate to call him a friend but more of a mentor than anything. The quick flashback to their last encounter, Maigo pinned to the ground and cursing his existence. His teeth grit as he felt the anger boil up in his mind again, the pain and regret of loss ran rampant but he was mostly changed. He'd learned about failure and loss that day but more so since then, he'd learned to embrace loss as a shinobi. Far more painful deaths ran in his mind that were caused by his own hands and not his own failure.
It wasn't a sense of forgiveness that washed over the emotion that came to him. Regret, of course, stuck out prominently in his mind but a feeling of understanding dulled the vibrant colors of his emotion. Understanding that it was what needed to be done. The simple path, and the path of the shinobi to guarantee their existence and continued thriving while punishing those criminals. He was far from forgiving Sero for his actions but he understood more of what had taken place that day.
And now, he needed to find him. To announce his return to the village officially and start on a path of protecting the village and their people regardless of the cost. To seek justice for those too weak to seek it on their own.
Maigo's legs carried him out of the village and into the surrounding islands around him. Various mists twisted and turned the image of the landscape around him and the cool humidity carried him calmly as he descended further into the surrounding islands to probably the last place he would want to go to in this whole country. His grey cloak flapped in the wind as he pushed across a desecrated bridge with his zanbato strapped to his back and the rest of his gear carried in various pouches and holsters around his person. Armored out as he imagined many scenarios with Sero that he would need his weaponry outright.
Still, as he arrived on the island, he quickly found that he wasn't alone. Seeing a few others walking in a group ahead of him. Not the type that he would imagine coming to a place like this but seemingly... normal? Maigo would press himself near a dead tree and hide himself from view as he followed them on the path towards a meeting and gathering of others.
The crowd that formed seemed disparate from the location they were at and even more disparate from the normal person that would arrive on this island. Maigo would pause a distance away as the crowd whispered and muttered around itself while he took a position in a tree a few meters off, hiding near the trunk and waiting to see what would happen. A nervous pose and heartbeat would carry over him as he waited for whatever danger would have brought all these people and ninja around here.
Moments later would pass and the familiar face that haunted his recent memory appeared in the center of the crowd. Maigo's hand achingly and shakily reached towards one of the kunai holstered at his leg as he waited for something awful to happen but only words followed suit. A test of some kind? What sort of test could he have imagined up and what was the purpose of it? No, it was a need for those skills and not a test?
Still, as the archway went up and Sero entered in, Maigo watched hesitantly as others turned back and some others entered in. One at a time and in various groups, even one ninja who seemed rather normal but wearing a Konohagakure headband caught his attention. After a few more minutes passing Maigo decided to follow. A need for skilled fighters and to find Sero. It would be an excellent beginning step for reacquainting himself with his village.
Dropping down and passing the remnants of those who sat around or may have been hesitant to decide on whether they would go or not. It was a scary feeling to pass into the unknown but Maigo was past that, and with confidence he would step through the archway and pass into an even more dead and despaired forest with a singular path ahead of him. Mysteriously he arrived and there was nothing behind him to show that he had arrived in this place.
On the path ahead of him it was empty except for a singular person he had caught out of the crowd. A ninja who was a long ways from home and here to help out his village. Maigo would begin walking forward, hopefully to catch his attention and find out what was truly going on here.  
[985 words]


Last edited by Maigo on Fri May 25, 2018 5:38 pm; edited 1 time in total
____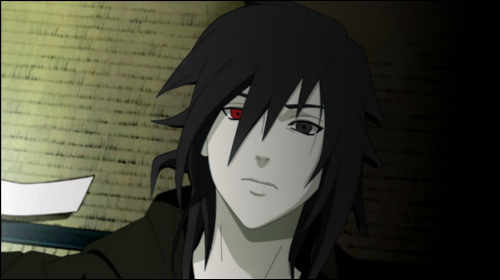 I was trying to figure out which was worse, Ignorance or Apathy. And now I realize that I don't know and I don't care. - Maigo Mugetsu