Maigo
S Rank Quest Mission - 5500 wc:

Mission name:

Rise of the Swamp Shamblers

Mission rank:

S

Objective:

Stop the invading force!

Location:

Forest

Reward:

2000 ryo + 1 EP

Mission description:

Shinobi have reported the advance of a remarkably large monstrous army. By whichever nefarious powers, the swamp itself seems to have come to life to reclaim the constructions of Man and return it to the earth and waters they consider their realms.  Whatever their reasons may be to come knocking on Kirigakure's doors, it's better to stop them before too much damage has been done.

Development References: Death Camp, part IIMission details:

Monsters once content to remain hidden in the depths of seas and lakes have gathered an army powerful enough to become a significant threat to Kirigakure. Being the supreme powers within their own domains, their need for expansion has driven them to raise their gaze towards the lands. The dark desire to lay ruin to Kirigakure's well-constructed buildings, expansive hunger reflected within their black eyes as a feverish madness, fuels this horde of powerful creatures to stop at nothing until their goals have been achieved.

Scattered through the forests, the vast army of three (3) behemoths and thirty (30) horrors is steadily advancing and thrashing anything that dares to come within its vicinity. While the monsters are not organised enough to gather up all together, they easily group up in drafts of 5-10 units, working together much like a pack of wolves would do, with a cunning intellect that rivals that of strategic shinobi. The Behemoths function much like a jounin and greatly improve upon the efficiency of the nearby horrors. They have A rank stats across the board, all suiton and doton library jutsu available and fight with claws and whip-like arms that go through flesh as if it was made of butter. The horrors are special jounin equivalent, having B rank stats across the board and use similar claws and spears that leave 3 inch deep wounds. They are limited to all A rank and lower suiton library jutsu.

Swamp Troops:

Name:

Behemoths

Age:

???

General Appearance:

Brown scales with black eyes and light armor equivalent natural armour.

Personality:

Driven to rule, Refuse to surrender

Motivations:

Serve the queen. Conquer in her name.

Fears:

An enemy force discovering the location of the queen. Disappointing her.

Abilities:

All S rank stats, All suiton and doton jutsu library techniques, claws and whip-like arms (25m reach) that can pierce clean through an enemy.

Other:

Reference:

Name:

Swamp Horrors

Age:

???

General Appearance:

Gills and leathery skin with scales and a leather armour equivalent natural armour

Personality:

Obedient and savage

Motivations:

To conquer and consume the humans

Fears:

Darkness and the unseen. Bleeding.

Abilities:

All B rank stats, all suiton library jutsu up to A rank, claws/spears which pierce 3 inches deep.

Other:

Reference:
What Maigo faced as the pair descended upon the village seemed like some back drop to a nightmare. It felt colder and the air was painted in deeper hues of blue and purple, as if the forest had moved its darkness to reach up and drown out the sky they had seen earlier. The ruined and crumbling buildings barely held on to their form and as Maigo watched with near open mouth as they entered the front gates of the village and passed fully into its border; nothing seemed to change. The stone was far more grey and worn upon than most stone roads and cracks of grass and dirt split it as it hadn't seem to be kept up with in near as long a time as anything else in the village.
With every step the surreal nightmare was like every bad dream Maigo had of returning to Kirigakure opened up in front of him and every bad dream he'd had in training to protect his home. So many seemingly ridiculous scenarios of returning home to a village in shambles where he could have done nothing to help it while he was gone and yet, when he returned it was just  fine. Now he was getting a direct look at a fear that he carried throughout himself and his sigh of relief seemed withdrawn and pushed back within the forming pit in his stomach. Not knowing whether it was nervousness or fear that was beginning to build in the put of his soul would carry with him as he watched the area.
It haunted him and was probably growing obvious on his expression, especially if Nayoko was truly a jounin. He would turn to Nayoko after a moment and speak up solemnly, "I wonder if they just need our help evacuating this place..." he would speak as his eyes would trace away watching overgrown trace the rooftop of one shop that appeared to have been a tea house. Nearly rotted out and abandoned right near the face of the village, it didn't seem like anyone had been in there in a very long time.
Still, the village wasn't completely silent as in the streets and passed their arrival there were some people hustling about to and fro. A mother grabbing her child's hand and pulling him away from the streets and down the road against his wishes and complaints. A few people lingered about in the streets, those that looked like shinobi and carried weapons at their hips waited diligently in the street with their eyes focused on the pair that had clearly just arrived.
Maigo would continue to walk forwards and push into the street, almost heading directly for the first person that looked like they knew what was happening and didn't seem to be running before the night took over the area. Before his footsteps could even bring him close enough within speaking distance, the shinobi would speak loudly towards him, "If you're new here you'd better hurry up and find somewhere to hide tonight! Especially tonight since it'll be rougher than normal..." he blasted out from the bottom of his diaphragm in a voice that tried to compensate it's weight a bit deeper than normal. As if it was supposed to intimidate Maigo into action or response? It ended up being annoying more than anything, over confidence from someone who by the sweat of his palms, shaky stance, and loose hand hovering near his katana showed that he was more fearful than anything.
Maigo tilted his neck a bit and let it crack, playing off his own fears and worries to reverse the bit of intimidation. A single word would leave his mouth as he quipped back to the shinobi, "Genin."
The word rang quietly through the immediate area as Maigo's honey colored eyes would rest on the shinobi while his head remained tilted. The shock and anger in the other shinobi's face would carry for a moment as he immediately stepped towards Maigo and let his worry subside for an instance, "You got something to say to me?"
Maigo would lean in a bit back towards him with an unwavering gaze as he would mutter back, "No, not to you at least..."
The pair would hold their staring contest for a moment while ignoring the outside world, letting Maigo's childish side carry his own action for a bit. Then with a sudden jerk back and a smirk, Maigo would continue on, "Look, I don't have time to deal with you. Just tell me where Sero's at so I can figure out what's going on here..." he waved his arm a bit to wave away the thoughts and presence of the shinobi in front of him.
The other shinobi leaned back as well though and scoffed, drawing Maigo's dagger-like gaze back down upon him, "You think you can just go talk to Sero... he's busy! You know, dealing with that incoming army and everything else going on here. Why don't you go be useful where you can and pick up trash somewhere!" the shinobi went on, his voice returned more to normal and his young age showed through in his voice. Probably no older than 16 or 17 but still there he was in the midst of it all, reminding Maigo a bit of himself but instead, Maigo's attention focused on the talk of an army approaching.
"Wait a second, you said an army? Like, lots of enemy troops incoming? Where at??" Maigo broke the tone and pacing of their original argument to get the details on this new assignment. If he knew Sero, and it was the same man that had taken him and so many others into missions head on, then Maigo had a solid chance of finding the captain of the seven swordsmen going to meet this army head on. Not to mention that his first real act of repentance would be well served protecting this place from whatever invaders were coming after him.
The shinobi almost sneered at him again as he rolled his view past Maigo and towards the surrounding forest, almost a giveaway in itself but Maigo focused as the boy went on, "What do you think it matters, we're here to defend this place! We don't need the help of some moron like yourself!" he rattled off and turned towards Maigo as he continued his jeering.
Maigo blinked for a moment and reached his hand out quickly to grab the face of the young ninja tightly and pull his face to meet Maigo's gaze. Maigo's eyes would flicker for a moment in a flash of red and black spinning tomoe, "You can either talk, or I'll have you tell me..." he finished and let his eyes roll for a moment as he stared at the boy intensely. Giving him a moment to think it over as the boy raised a shaky hand before pointing in the direction of the forest.
Shaky words followed quickly after, "They're someway that way! The others were talking about it, it's supposed to be huge and full of monsters! Don't be an idiot! he stammered out at Maigo. Maigo replied in a smirk and let him fall to the ground as he released the boy's face and let him drop down in stance for a moment before backing off.
Taking a step away, Maigo would turn towards Nayoko while holding his smirk, "What do you think? I imagine two jounin of the two great nations can handle a few simple monsters..." he would carry on smiling and turn his attention towards the direction they were pointed out. His arm was itching to draw at his sword or his shoge, begging to be tested out in combat that he'd missed for so long since he'd left Kirigakure. It felt like home again, a horrible place with a horrible mission while left with nothing but the comrades that would follow to cover his back. His smile was that of pure excitement at the very thought.
[1371 words]
290/300 Chakra:


-Three Tomoe Sharingan used for 1 post (-10 chakra)

____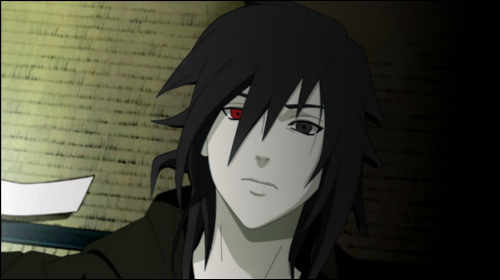 I was trying to figure out which was worse, Ignorance or Apathy. And now I realize that I don't know and I don't care. - Maigo Mugetsu