A casual day in Kirigakure. Mist clung to the ground as was usually the case, the people walking in the streets without a care. It wasn't a particularly crowded day, but the daily routine had to be done. In between those people walked a young girl, about fifteen years old. Her black hairband adorned the long, white hair that draped over her cloak. The black cloak in turn covered the blue sleeveless sweater pulled over her white shirt, and the black skirt under it. A school girl, at first glance, but something was definitely off. People avoided her, the distress of her monstrous aura apparent in their eyes as they went out of their way to walk around her. The apathy in her red amber eyes told them everything. She didn't care how they felt.

The spider was out and about for a couple of things. As always, 'humanity' was a concept to her which was always in need of new lessons. Gallivanting through the streets was but one of them. Checking the shops' display windows to see what currently made the hearts of Mankind tick was a necessary analysis if she wanted to make sure her looks blended in fine with society. After all, she was a spider by nature, not a human. The same was true for the smithies and armourers showing off their craft. The 'claws of Man' as Sero had called them were produced in mass quantity and with a versatility equal to that of the people walking the streets. Haka found weapons to be the disgrace of Human kind as they revealed to her how much Man was in need of tools to sustain its own power. Unlike the Unmei, who relied on their own natural weapons and talents. But there were a few that had proven she would be foolish to underestimate those select few that knew how to wield weapons properly. Haka had been forced to accept it was better to learn about weapons rather than to disregard them. Just one of the many lessons about humankind.

But there was also Kirigakure's history as the Bloody Mist that piqued her interest. Even if that period had long been shut down, there was no sun chasing away the lingering misty wisps of its existence. The Bloody Academy and the Bloody Cemetery were two remaining proofs of that ideology. A physical reminder of what used to be. The rumours and hushed whispers continued their tales. For this reason exactly, Haka decided to visit the graveyard of old. It was said that visiting people eventually showed up dead here. Though Haka cared little for the dead, she wanted to know if the rumours were true. Was visiting this grave a death sentence? Did it invoke ghosts and murderers alike? There was only one way to figure it out.

Feet following the step stones that laid to the grave, she would eventually stand on the dark and dirty soil which formed the cemetery. The grave stones that riddled the area all had a name etched in it, some even having a small statue perched over it. An angel, a gargoyle, a rose. Decoration for those who would never speak again. To think Haka's name came from these very same resting places. It was almost amusing were it not that her predatory instinct honoured it quite well. The wolf spider hunted, killed. She was the very tomb of the prey she devoured for sustenance.


---


580
____
---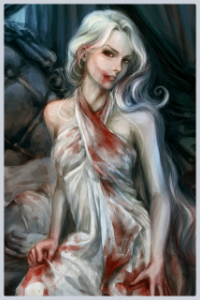 Haka Osada, the Aranean Queen
"Those born as monsters fear not becoming one."
Weaving Fates
Spider's Swarm
Tools of War
Way of the Spider School
"Our power, yours to unleash. Your soul, ours to claim."
Osada Clan
Spider Clan
Spider Island
Nightmare Court