Mission:


Mission name: Operation: Desert Lotus
Mission rank: D
Objective: Hunt down and Deal with a known bandit threat.
Location: Suna; What Lies Within
Reward: 150 Ryo + 1 EP
Mission Description: Kirigakure have enacted a vicious operation within the sand nation to push bandit groups to retreat in hopes of finding their bases of operations. Intel has been given to the ninja on the suspected location of suspected Bandit groups. Locate and identify the targets and engage with extreme prejudice, but in such a manner to force them to retreat, so that they may be followed.
Mission Details: The low level bandits that the forces of the mist are targeting aren't pushovers, they're veteran thieves and racketeers that have been preying on the poor for a some time in the absence of the Sunagakure ninja forces. The attackers will come face to face with at least 10 C Rank bandits with C-1 tier stats as well as B rank light armor and weapons with the base defense / damage for equipment of their rank.

Could tree roots be found buried in sand itself? Was this terrain hospitable to any form of life? As Maigo had traveled and wandered into the desert, he began to question whether anything could really come of this place and between the gusts of wind that seemed to peg the land perfectly and the constant barrage of sand dunes and sedimentary rock; it didn't seem like much the place for life to take hold. Yet, for all of that, here Maigo was as an emissary of Kiri to deal with the threat of bandits and whatever else had taken hold in this land. It seemed all too coincidental and surreal that as he was tracking down his own set of criminals, the Land of Wind would be called to have their own threat of bandits and criminals to deal with.
Perhaps of a similar breed or even connected, there were answers to be had and Maigo vied heavily to work his way up the list eliminating any threat that would stand before him. Still, for his own village it was about earning a favor from Suna they could levy later on. For Maigo, his own personal goals and leanings made him all the more eager to traverse this land and scour its problem of crime in search of his own criminals.
His silver-grey cloak flapped in the wind calmly with each seemingly focused gust of wind, occasionally blowing back to reveal his clothing underneath and the various pouches and holsters that carried whatever weaponry and tools that wouldn't fit in his backpack. Maigo's larger sword would stay strapped across his back with a leather strap over his cloak across his chest. His sandals squished into the stand with each step that went forward and his hood blew over his face partially with the wind, obfuscating just a portion of his vision as he pushed his way into a nearby town on the outskirts.
The town was small, maybe tens of low hundreds of people that lived there and it seemed poor on top of it all. It wasn't so different from the outskirt towns of the Land of Water in that regard either. The buildings all seemed to match and blend in with the general color and fixture of the rock around them with the sand lining everything on the street on top of that. As Maigo would press into the town he wouldn't find anything in particular identifying anyone of importance, just a few villagers that seemed to shudder away and turn their heads to look at him from the corner of their eyes as he entered into the town. There didn't seem to really be any fighters or warriors among the townsfolk either; a few men and women here that might have fit the mold if they had been trained for it early on but it seemed there were more elderly than anything here. It was a peculiar matter but became easily clear why they were using Kiri ninja to seek out and destroy these pests.
There was another matter on his mind though, outside of using this place as a sort of psuedo camp ground and base of operations. The person or persons that would be joining him on his task. Truthfully, Maigo wasn't told much outside the possible location of a bandit hideout and the need to have it eradicated. For Kirigakure it amounted to a D rank mission. If going forth to eliminate these bandits would be that easy, then Maigo found it in his own self to handle it alone. He wondered if he'd have to lead some random group of genin into danger as he'd done so many times against weak groups of criminals in similar situations just like this. Maybe it was his own apathy that prevented him from getting the full details of his mission or asking the question of who he would be working with but he hardly seemed bothered by any of that.
Maigo made his way roughly one hundred feet into the village, sticking out like a sore thumb the entirety of it, before finding a small shop that lined the center street of the town. A simple tea shop with two other people sitting at a table outside of it, just waiting and talking to each other. Their eyes would glance towards Maigo as he turned his person and stepped in towards the shop, their conversation hushed for a moment as they watched hesitatingly about him. His footsteps carried him away from sand to a softer wood, the transition of his footsteps from crunches to more subtle taps as he approached a counter with an elderly women behind it.
As Maigo approached, he could see a smile come about her face and a quick greeting that he returned with a nod and a smile.
"What can I get for you?" she would hesitate and look at him peacefully while wiping her hands on a small hand-towel.
"Just a tea for now while I wait." Maigo would grin back and leave.
The elderly women would nod quickly in return, "Coming right up dear." she would turn her back and begin pulling out a ceramic cup and setting it on a plate when she would ask again with her back turned, "Tell a nosey old women though, what are you waiting on?"
Maigo would blink for a second as he had pushed his cloak back and sat down to lean his elbow against the counter while looking outside. "Oh, I guess you could say I'm waiting for my squad?" he would say but carry a heavy uncertainty in his tone as he let his words linger in the air between them.
"Oh?" she would ask back over her shoulder as she rolled and crushed tea leaves in her hand.
"Yeah, we've been contracted to hunt down some bandits that have been plaguing the area recently." Maigo would leave off while waiting calmly there.
"I see, well I wish you luck. The criminals have gotten so much worse lately since the village took such a huge toll." The women's voice seemed to drop into melancholy as she was thinking into it. For a brief moment, Maigo felt the sting of embarrassment as he realized what a touchy subject that might remain for the people of this land. How seeing foreign ninja walk in to deal with their problems would be such a strange and even insulting sight to the prideful.
Maigo sighed calmly to himself before apologizing, "Sorry, I don't mean to drag something like that up. I imagine it's weighing heavily on everyone. They all seem so... distant, and it makes sense."
The old women's tone was less cheery than it had been before as she began to heat up the kettle of water over a small flame while talking, "I wouldn't worry too much about that. It's just distrust. After all, it was foreign ninja who merely walked into their land and caused so much trouble by ripping the roots of their system up. I don't mind though, seeing Kiri ninja come to help is almost a welcome sight to these old bones..." she would leave off with a sigh having turned to Maigo. She offered a small smile as she waited for the water to heat up properly but Maigo's eyes would lighten up a bit in curiosity.
"How did you know I was from Kirigakure?" he would leave off, paused almost completely while watching her carefully.
"Oh, it's obvious! Who else would send ninja into our country to hunt down criminals? Iwa was always so kept to themselves and Konoha got involved but not as killers..." Maigo would blink for a second, absolutely shocked and carrying the look on his face as she rattled on. "Well, don't look so surprised! You don't get to be as old and experienced as I am without learning a thing or two..." In that moment though, as she drew attention to it, Maigo realized that she was truly old. Not in a sense of just getting past the mid point of her life but well into her twilight. The wrinkles in her skin carried age and yet she moved nimbly for her age around that small kitchen.
"Fledgling ninja like yourself might have power but back in my day, we could carry ourselves quite easily."
"You speak like you were yourself a ninja?" Maigo would offer back with a raised brow and leaning back in his seat slightly.
"Of course I was. A fine medic at the time too. I battled a lot of enemies both large and small but it takes a toll on the body, and the mind." The women chuckled a bit, in a weird fashion that made Maigo think of how much the mental toll had really taken on her sanity. Still, she quickly pulled the kettle away from the fire as it whistled from the ejecting steam and quickly began to pour it into the cup with the tea leaves. The moment carried on as she finished with her preparations and Maigo watched carefully, almost wondering about the history she carried and the experiences she had.
Still, as the women dipped the tea bag up and down, she turned towards him and placed the steaming hot tea in front of him while speaking up. "It's been too many years though and I'm not a fraction of what I was then. My art remains in making tea and enjoying my time left on this planet while I still can..." The same peaceful smile carried back over her and Maigo couldn't help but smile back. It was an odd feeling, to realize that a place like this had people that weren't so different if only divided by boundaries between nations.
Maigo cupped his hands around the mug and blew a bit of the steam away as he thanked her for the tea. Bringing it up quickly he took a sip of it and let the hot liquid draw to the back of his throat. Hot, indeed but at the same time it was unique and flavorful, offering a profile he hadn't had before in Kiri or in Kumo. Possibly a unique blend for the nation but he didn't make much comment of it, instead offering his compliments on how good it was.
The women smiled and nodded proudly, "Of course I know it's good. Thank you though, it means a lot to know I'm still doing one thing right." Maigo would chuckle a bit in response while risking taking another sip against burning his tongue or mouth on the heated liquid.
"I am sorry though, I haven't seen anyone else come around here that might look like they would be with you." she offered and seemingly shrugged.
Maigo set the cup down and nodded, "That's alright. I'm sure if they're here already I'll see them soon or if not, then I'll see them when they arrive. Either way, I just plan to enjoy this tea and relax before getting dragged out into that desert again..." he would offer his own form of a joke while staying seated at the counter and slowly sipping away at his drink. Ready to wait and carry on this conversation until the rest of the team for this mission would arrive or find him sitting around at this shop.
[1935 words]
____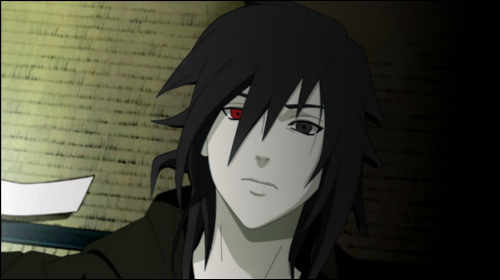 I was trying to figure out which was worse, Ignorance or Apathy. And now I realize that I don't know and I don't care. - Maigo Mugetsu