Haka Osada
A shinobi is like a treasure trove on information. Talents, skills, knowledge. A thousand ways to deal with a single situation pumped into a single man or woman. These people are trained since they are kids with a set of dark goals in mind - infiltration, espionage, assassinations. The shadows are a dark place to be, but these people learn to wield it as a weapon. So when a camp full of these treasure troves gather together, forging plans to sabotage the progress of other Villages, sharing information and insight, it is no surprise counter-initiatives occur. A shinobi camp is not fail-proof. Shinobi opponents make for worthy adversaries in a came of intrigue and espionage, after all.

Kirigakure's camp was simple. Not quite as organised as that of Kumogakure, but certainly not bewildered. They held the militaristic discipline of well-trained shinobi in equal measures to the privateer's heart they carried as the born and bred sailors livings in the Land of Waters, even in a dried up environment as the deserts of the Land of Winds. They grey and blue tents of the Forces of Kirigakure looked like a brooding mass in the gold and white of the sands and was thus easy to spot for those interested to take a bite out of the treasures they offered.

The 'Golden Scarabs' was a rag-tag band of greedy people. Missing-nin, former Suna-nin, ronin. They had gathered together to create their own fame and riches. They had predicted the forgotten ruins of Sunagakure's country would draw in those hungry for expansion, and they had been right. The facade of 'offering help' was just an imagery held up for the gullible so the Villages could continue their actual agenda. The Golden Scarabs had been right, and they would now pluck the fruits of their long-term anticipation. Their own agenda wasn't difficult. It mattered not who came here, nor who would win. All they wanted was to infiltrate the camps and gather as much sensitive information as possible - names, ranks, talents, plans for the future, battle strategies. They had come to gather all sorts of information and sell it to rivalling Villages for a healthy amount of ryo.

One by one they had entered Kirigakure's camp as refugees. No weapons, barely any clothes. Just keen perceptions and cunning intellect. Things that couldn't be detected at the gates and would effortlessly be carried inside the camp. These agents had stayed quiet for days, contenting themselves with listening in on stories, eating grub and trying to get some much needed position such as cook or clean-up crew. In doing so, they had picked up a lot of drifting information already. Worthless to many, but valuable for any of Kiri's opponents. However, the surface was not enough. Such information was cheap to sell and easy to procure, the ryo they'd get barely worth to cover their effort. No, the growing greed to find more sensitive information and cash in big was an itch that grew with every passing day..


---


Haka had guard duty this evening. Wearing her leather battle armour, the dark and light grey of her outfit allowed her to blend in with the grey and blue of the camp and the darker shade of doton walls that formed the edge of the base. The job was considered a bore by many and some would go so far as to say this sort of duty was unfit for a daughter of Sero's, but the spider didn't mind walking on and off the walls slowly. Mostly by her own, it allowed her some time to reflect on her future as a kunoichi of the Village. She had been a chuunin for a while now. Administration had hinted it wouldn't take too long for her to rank up, others had nudged she'd make a fine Hunter-nin or ANBU. She generally cared little for gossips of that kind, but she couldn't deny that joining the Hunter or ANBU factions were an interesting nudge in the direction of what she liked to do as a wolf spider - hunt down prey.

Eyes open, apathy reflected in the red amber colour of her lookers, she watched left and right to see if there was anyone wanting to crawl over the wall. Anyone she could kick back off or web to the ground to have them apprehended. So far there was no one. All she could see was the bustle of the day slowly setting to sink behind the surface and throw the whole camp in darkness. Guard duty just having started, that meant Haka would be around in the first part of the night, meaning the moment when things went bump she'd be one of the shinobi ready to take down intruders. She'd do so gladly, since they would be just like little flies in the eyes of the wolf spider.

Her point-to-point wandering did make her wonder what a Hunter or ANBU truly did behind the screens. Hunting was a simple thing to her but she knew humans had an odd sense of making things far more complicated than was needed. Often, it got so complicated they couldn't handle it by themselves anymore. Such information was kept away from prying spiders as her, however. All she got to hear was a generalised idea of what they did but the intricacies remained unanswered, meaning she would either take a risk or figure it out herself - the latter much preferred. The spider-nin just needed to figure out how she could catch a Hunter-nin or ANBU and pry loose the information.


---



956
____
---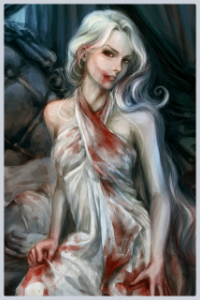 Haka Osada, the Aranean Queen
"Those born as monsters fear not becoming one."

🕷 Webs of Fate
🕷 Tools of War

🕷 Rise of the Tyrant
🕷 Torment of the Fallen



The Spider School
"Your soul, ours to bind. Our power, yours to unleash."

🕷 Spider Island
🕷 The Spider Clan
🕷 The Nightmare Court