Maigo
OOC:
Things unfolded quickly and yet it seemed to phase at the slowest pace, every detail of everything was crashing down onto his conscious but it didn't feel overwhelming in any sense as the masked Uchiha's eyes scoured across the field in front of him. Lady Ayakashi's infamous Alpha squad was already at the point of meeting this new chakra along with others that arrived into the scene. Nearby ANBU were assisting the scene and trying to recover wounded while maintaining the barrier at the same time. It was chaotic but from Maigo's vantage off the main path of the battlefield, he was just waiting like a spider, for some prey to fall into his range.
Despite the short moments of waiting, his mind couldn't help but feel the tension and anxiety about all of the incredibly powerful people, along with someone powerful enough to challenge Ayakashi directly. Maigo was doing his best to control his breathing while crouched at the top of the small hill that they had perched themselves on. His concentration was unwavered but with so many combatants and so much happening, would he ever find the chance to interrupt and enter combat? The concepts and situations of the fight barreling towards him and Nayoko began to spin in his mind, how he would respond and what approach he would take before his concentration was interrupted.
"Change of plans." the voice crawled next to him as a figure flickered to join his crouched position overlooking the majority of the scene ahead of him.
"There's enemy forces coming in, we're gonna pull back and try to get a message off to the encampment itself for reinforcements." the voice rang out quietly as two more masked figures flickered in behind them. Maybe it was an obvious tactic, send a message for more help and to report on what was happening thus far but it seemed... stretched. The masked figure that spoke kept his eyes not on the combatants directly in front of him but in the distance, where Lady Ayakashi would be fighting and around that, knowing that a large force was going to be making its descent upon them soon. Maigo would simply nod with a single spoken,
"Alright."
before turning to make sure that Nayoko were alright with their new plan and had no objections to it.
It was like a slowly building figure in the fading sun as Maigo looked into the near distance and saw the images of enemy arriving onto the battlefield, soon their descent would clash with the ANBU protecting the barrier and sabotaging their efforts in this land. Spilled blood would soak into the sand and Maigo's grip would tighten on a now empty fist as he would feel the regret of not being able to meet this enemy head on into combat. Dead comrades and dead dreams would be the only thing left in the wake here, toyed with like the very nation itself. Rolling back into the heels of his feet, Maigo would seamlessly move into standing and turn away from the scene while dashing backwards to the encampment.
More forces would arrive for sure, but to contain this, they needed a show of force and power. Messages needed to be sent and orders arrived, the squad of Hunter nin would fall back and take up some position closer to the encampment itself despite being a few kilometers away. Their specialty wasn't direct combat against a horde of enemies, it was elimination of specific and direct targets, like those that would slip through the cracks and continue the onslaught towards the village. With Nayoko's clearing, the squad would advance onwards and begin dashing through the desert in the shape of a spearhead while the sun seemed to further apex in the sky and bring more heat down upon them. Arid was beyond them but Maigo's position in the right wing gave him some buffer from any enemies that might chase them directly. With a sensory ninja in the center reading out and marking what he could at the very center, focusing his chakra and the ANBU sensory technique to feel out what he could for while they made their retreat.
Maigo drew forth his Kyoketsu Shoge though, holding the blade itself in his hand with the blade pointing down from his palm while his footsteps burned through the desert in their destination. If all went well, it wouldn't take them but a few minutes to get to their new position but the better question would be, who would contest their exit?
[772 words]
Additional Notes:

-There are three additional Hunter Nin NPC's in tow with them:

http://www.narutosaga.com/t19528-hunter-ninja

-Hunter Nin Captain is a Hozuki w/ Water and Lightning style, Bukijutsu focus (carries basic katana) 250/250 Chakra

-Sensory Hunter Nin is clanless w/ Water and Wind style, Sensory/Taijutsu (speed/striking) focus: 230/250 Chakra for ANBU Sensory tech to be maintained

-Hunter Nin 3 is an Aisu w/ Hyouton and Taijutsu (strength/grappling) 250/250 Chakra
Jutsu:


-Sensory ANBU:
Name: ANBU Sensory Range (Chikakya: ANBU ~ 知覚野・暗部)
Canon/Custom: Custom.
Rank: B.
Type: Supplementary.
Element: N/A
Range: 100m.
Specialty: ANBU Only
Duration: Maintainable (-10 per turn)
Cooldown: 5 posts.
Description: A technique which allows ANBU members to be able to keep track of the village and their surroundings. These tactical ninja are able to see over long distances with hawk-like eyes, able to pick up the finest of details, from residual chakra from techniques even as faint as the Supernatural Walking Practice, as well as personalized chakra signatures, down to recent footprints and other tracks in broken shrubbery or other environs.

This jutsu gains 100m in range when used in the "-gakure no Sato" or "The Wilderness"forums of your home country.
If there are multiple users in close range (less than 5m), they can add their ranges together to extend the sensing area of this jutsu (so two ANBU in their home country could have a combined 400m sensory radius).

____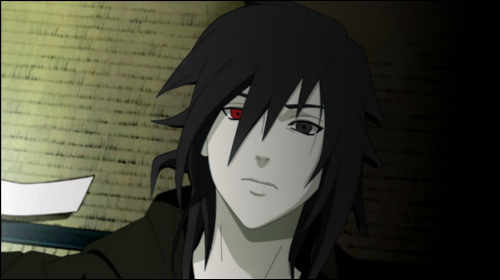 I was trying to figure out which was worse, Ignorance or Apathy. And now I realize that I don't know and I don't care. - Maigo Mugetsu