Haka Osada
Mission name: Skirmish on Spider Island (repeatable)
Mission rank: B
Objective: The unification of the Unmei and the Spider Clan is about to happen!
Location: Any
Reward: 500 ryo

Mission Description: Spider Island has become a battlefield. Powerful Unmei refusing to acknowledge Sero and Momma as their creators have gathered members of the spider clan and/or a small entourage of weaker Unmei, believing they can wrest control over the clan from the Creators.

Mission Details: 2500 wc
The enemies has twenty (20) D-rank equivalent spiders, ten (10) C-rank spiders and two (2) B-rank Unmei. The spiders either use weak venomous bites (bites pierce 1.5 inch flesh) that inflict their prey with a debilitating venom that reduces perception and reaction by -1 tier for one post (stackable in duration) or webs that slow movement by half for a single post (stackable in duration). The Unmei use a variety of ninjutsu: any two elements are possible up to B rank.
____
---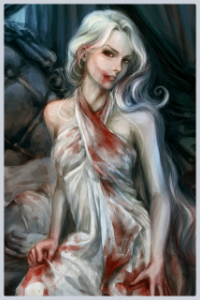 Haka Osada, the Aranean Queen
"Those born as monsters fear not becoming one."

🕷 Webs of Fate
🕷 Tools of War

🕷 Rise of the Tyrant
🕷 Torment of the Fallen



The Spider School
"Your soul, ours to bind. Our power, yours to unleash."

🕷 Spider Island
🕷 The Spider Clan
🕷 The Nightmare Court