Haka Osada
Mission name: Target: Shikkan (One-time)
Mission rank: B
Objective: The unification of the Unmei and the Spider Clan is about to happen!
Location: Any
Reward: 500 ryo

Mission Description: Take down Shikkan, leading the Hone faction of white skull spiders

Mission Details: 2500 wc
Shikkan is a cannibal. A ruthless leader with just one thought in mind, devouring. Devouring to the point he can become, if not replace, the 'demi-god' of the Unmei known as Vilemaw. He wants to be heard, reigning over his faction of spiders with a deep sense of terror until his reputation is widespread enough so he can no longer be denied. His reign of terror inspires fear, but the false power also attracts followers among the spider. His death is needed to prove a point.


---


Name: Shikkan
Age: 5 (spider age)
General Appearance: [x]
Personality: Ruthless, monstrous, savage, powerful.
Goals: Becoming a god of dread.
Abilities: B rank ninjutsu, genjutsu & Unmei KKG, B rank suiton
Strength: B-2, Endurance: B-2, Speed: C-2, Perception: B-0, Reaction: B-0
Items: -
____
---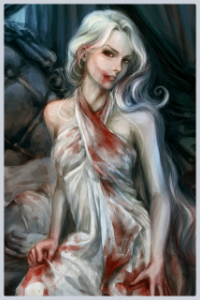 Haka Osada, the Aranean Queen
"Those born as monsters fear not becoming one."

🕷 Webs of Fate
🕷 Tools of War

🕷 Rise of the Tyrant
🕷 Torment of the Fallen



The Spider School
"Your soul, ours to bind. Our power, yours to unleash."

🕷 Spider Island
🕷 The Spider Clan
🕷 The Nightmare Court