Haka Osada
Jounin
Mission name: Target: Shi (One-time)
Mission rank: B
Objective: The unification of the Unmei and the Spider Clan is about to happen!
Location: Any
Reward: 500 ryo

Mission Description: Take down Shi, leading the Okami faction

Mission Details: 2500 wc
Shi is a reputable hunter caring little for the rising Unmei politics, but he and his small group of spiders are territorial. They hunt humans, they hunt Unmei, they hunt spiders. Anything that enters their little realm of webs and traps ends up as food. They are a tactical elitist faction with a hunter's pride and a brotherhood philosophy. Tackling them will not be easy.


---


Name: Shi
Age: 6 (spider age)
General Appearance: [x]
Personality: Cunning, strategic, organised
Goals: Protecting their home, surviving.
Abilities: B rank ninjutsu, iryojutsu & Unmei KKG, B rank suiton
Strength: B-2, Endurance: B-0, Speed: B-0, Perception: B-2, Reaction: B-0
Items: -
____
---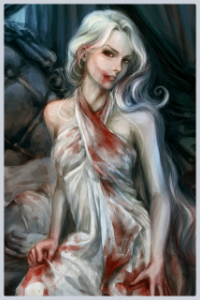 Haka Osada, the Aranean Queen
"Those born as monsters fear not becoming one."

🕷 Webs of Fate
🕷 Tools of War

🕷 Rise of the Tyrant
🕷 Torment of the Fallen



The Spider School
"Your soul, ours to bind. Our power, yours to unleash."

🕷 Spider Island
🕷 The Spider Clan
🕷 The Osada Clan
🕷 The Nightmare Court