Haka Osada
Mission name: Target: Dainashi (One-time)
Mission rank: B
Objective: The unification of the Unmei and the Spider Clan is about to happen!
Location: Any
Reward: 500 ryo

Mission Description: Destroy Dainashi and his gang (5 men, C-2 stats)

Mission Details: 2500 wc
Perhaps the most successful of the rogue Unmei, Dainashi commands a small group of mercenaries that are most of the time keeping themselves busy picking up missions where they can find them. The times he doesn't, he's much like a kid expecting attention by wiping out villages, attacking caravans or taking out patrols just to kill his boredom. Aside from being a liability in the eyes of Kirigakure, he resents Sero for not acknowledging him when he mastered his shapeshifting ability.


---


Name: Dainashi
Age: 5 (spider age)
General Appearance: [x]
Personality:
Goals: Avoiding boredom, discovering the limit of his power
Abilities: B rank ninjutsu, taijutsu & Unmei KKG, B rank katon, doton, raiton
Strength: B-2, Endurance: B-1, Speed: C-1, Perception: C-2, Reaction: B-1
Items: B rank heavy armour
____
---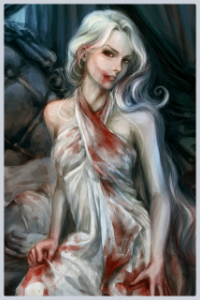 Haka Osada, the Aranean Queen
"Those born as monsters fear not becoming one."

🕷 Webs of Fate
🕷 Tools of War

🕷 Rise of the Tyrant
🕷 Torment of the Fallen



The Spider School
"Your soul, ours to bind. Our power, yours to unleash."

🕷 Spider Island
🕷 The Spider Clan
🕷 The Nightmare Court