Haka Osada
Retired
Mission name: Target: Dainashi (One-time)
Mission rank: B
Objective: The unification of the Unmei and the Spider Clan is about to happen!
Location: Any
Reward: 500 ryo

Mission Description: Destroy Dainashi and his gang (5 men, C-2 stats)

Mission Details: 2500 wc
Perhaps the most successful of the rogue Unmei, Dainashi commands a small group of mercenaries that are most of the time keeping themselves busy picking up missions where they can find them. The times he doesn't, he's much like a kid expecting attention by wiping out villages, attacking caravans or taking out patrols just to kill his boredom. Aside from being a liability in the eyes of Kirigakure, he resents Sero for not acknowledging him when he mastered his shapeshifting ability.


---


Name: Dainashi
Age: 5 (spider age)
General Appearance: [x]
Personality:
Goals: Avoiding boredom, discovering the limit of his power
Abilities: B rank ninjutsu, taijutsu & Unmei KKG, B rank katon, doton, raiton
Strength: B-2, Endurance: B-1, Speed: C-1, Perception: C-2, Reaction: B-1
Items: B rank heavy armour
____
---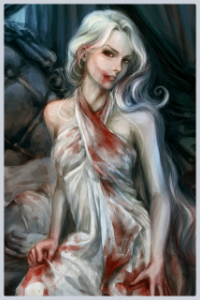 Haka Osada, the Aranean Queen
"Those born as monsters fear not becoming one."
Weaving Fates
Spider's Swarm
Tools of War
Way of the Spider School
"Our power, yours to unleash. Your soul, ours to claim."
Osada Clan
Spider Clan
Spider Island
Nightmare Court