Haka Osada
Retired
Mission name: Target: Kagami (One-time)
Mission rank: B
Objective: The unification of the Unmei and the Spider Clan is about to happen!
Location: Any
Reward: 500 ryo

Mission Description: Take down Kagami, 'twin' Unmei leading the Kossetsu faction.

Mission Details: 2500 wc
Kagami could, aside from the ice blue hair, be considered a twin to Haka. The resemblance with her and with Sero is so striking that she truly believes herself to be the both of them, among other Unmei bearing a resemblance. Kagami, always talking in the plural form believes it is her rightful position to be Sero, seeking the destruction of his offspring until she has achieved the power to replace him. Perhaps it is no coincidence to find her out on the battlefield with this eerie perfect timing.


---


Name: Kagami
Age: 3 (spider age)
General Appearance: [x]
Personality: Cold, apathetic, suffers from dissociative identity disorder
Goals: Becoming Sero.
Abilities: B rank ninjutsu, genjutsu & Unmei KKG, B rank suiton
Strength: B-0, Endurance: B-0, Speed: B-0, Perception: B-3, Reaction: B-2
Items: -
____
---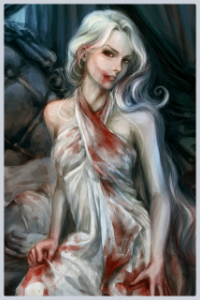 Haka Osada, the Aranean Queen
"Those born as monsters fear not becoming one."
Weaving Fates
Spider's Swarm
Tools of War
Way of the Spider School
"Our power, yours to unleash. Your soul, ours to claim."
Osada Clan
Spider Clan
Spider Island
Nightmare Court