Haka Osada
Mission name: Target: Fuhai (One-time)
Mission rank: B
Objective: The unification of the Unmei and the Spider Clan is about to happen!
Location: Swamp of Sorrow (Kirigakure)
Reward: 500 ryo

Mission Description: Hunt down Fuhai

Mission Details: 2500 wc
Fuhai is an 'old' Unmei following spider standards. She is an Unmei living in the Swamp of Sorrow, a recluse that wants to have no dealings with humans or Spider clan as she considers herself an abomination unfitting of either sides. Most of the time she remains in her lair, sleeping or talking with her puppet. A little crazy, Fuhai is actually not a danger to the human species unless there is little else to feed upon. When being hunted, she will be comprehensive of her faith but will not go down without a fight.


---


Name: Fuhai
Age: 7 (spider age)
General Appearance: [x]
Personality: Reclusive, insane, associal, withdrawn.
Goals: Survival
Abilities: B rank ninjutsu, kugutsu, genjutsu & Unmei KKG, B rank suiton, raiton, fuuton
Strength: C-2, Endurance: B-0, Speed: C-2, Perception: B-2, Reaction: B-2
Items: B rank puppet
____
---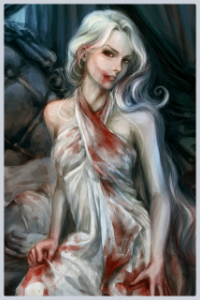 Haka Osada, the Aranean Queen
"Those born as monsters fear not becoming one."

🕷 Webs of Fate
🕷 Tools of War

🕷 Rise of the Tyrant
🕷 Torment of the Fallen



The Spider School
"Your soul, ours to bind. Our power, yours to unleash."

🕷 Spider Island
🕷 The Spider Clan
🕷 The Nightmare Court