Mission name: Target: Doku (One-time)
Mission rank: B
Objective: The unification of the Unmei and the Spider Clan is about to happen!
Location: Any
Reward: 500 ryo

Mission Description: Recruit or kill Doku

Mission Details: 2500 wc
No interest in improving the Spider Clan, Doku left to carve her own path. Her fascination for the Unmei's ability to transform and the Henge no Jutsu has driven her to become a hobbyist tattooist as well as a surgeon with a mastery in face changes. Living the rogue's life she has not looked back one time from where she came, preserving a neutral and mostly uncaring stance about her origins.


---


Name: Doku
Age: 5 (spider age)
General Appearance: [x]
Personality:
Goals: Reputation
Abilities: B rank ninjutsu, iryojutsu & Unmei KKG, B rank fuuton, doton, raiton
Strength: B-0, Endurance: B-0, Speed: B-2, Perception: B-0, Reaction: B-0
Items: A set of B rank senbon
____
---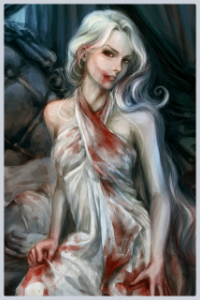 Haka Osada, the Aranean Queen
"Those born as monsters fear not becoming one."
Weaving Fates
Spider's Swarm
Tools of War
Way of the Spider School
"Our power, yours to unleash. Your soul, ours to claim."
Osada Clan
Spider Clan
Spider Island
Nightmare Court