Haka Osada
Jounin
The Ballroom
Sitting on the stone throne in front of the giant scales sat Haka, wearing a simple yet elegant white dress, one leg resting over the other, feet bare. Her head rested on her hand as the crimson eyes gazed before her without any particular focus. Sunken in thought as the aranean queen brainstormed about the future of the Spider Clan. The construction of the underground lair was an endeavour not to be taken lightly. Giving shapes to the rooms was not the hardest part for the spider in human form, but there was a need for knowledge she didn't possess - architecture. Simply digging under the foundations of the manor was not an option. She could not afford the building to collapse due to careless constructions, leaving her with the problem to find an architect in Kirigakure brave enough to step on Spider Island and expendable enough to have his secrets be taken to his grave.
Her stream of thoughts would only briefly be interrupted by the piano music played at the hands of her Shadow clone. The clone translating the monster's true nature and aura into sombre, hair-raising tones of predatory music notes vying on the ears of those within its vicinity. A hobby the arachnid had picked up a year ago. A strangely humane pass-time for the spider otherwise abiding by the hardships of the Spider School, as taught by Sero Osada.
The Lord of this mansion was currently occupied with his own studies, searching for answers on questions Haka knew nothing about. Father and daughter showing a similarity in purpose as both were now working on preparations for their future trials. Ironically, this left the spider to deal with possible visitors seeking lessons whereas this task was generally undertaken by the Spider Sage himself. Another curious shift of power on Spider Island that left the arachnid guessing to what Sero was up to...
---
319
Piano music:





Last edited by Haka Osada on Thu Oct 18, 2018 5:38 pm; edited 1 time in total
____
---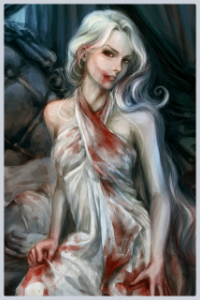 Haka Osada, the Aranean Queen
"Those born as monsters fear not becoming one."

🕷 Webs of Fate
🕷 Tools of War

🕷 Rise of the Tyrant
🕷 Torment of the Fallen



The Spider School
"Your soul, ours to bind. Our power, yours to unleash."

🕷 Spider Island
🕷 The Spider Clan
🕷 The Osada Clan
🕷 The Nightmare Court