Haka Osada
Jounin
The Ballroom
Kaito wrote:
Suffering was a unique thing, terrifying in a way, it could break a person as easily as it could force them to learn how to persevere. It was the later that made the art of suffering beautiful. Anyone could no suffering, anyone could grow because of it, even Kaito. He wasn't without his experiances with it, even at his young age he'd seen suffering, perhaps more than most genin even, considering the years he'd watched people suffer and die for no discernible reason in the hospital. Was he ready to experience suffering? That had been what the woman in front of him had asked, as if the personal suffering of a person was something that could be measured against another's. Suffering was relative, what felt like the end of the world to a small child was nothing more than a scraped knee to a shinobi, a annoyance at most. No, this woman wasn't asking Kaito if he was ready to suffer, he had done that before, she was asking him if he was ready to expand his understanding of suffering.

All shinobi had to be ready to suffer, to fight, kill, and die for their village. It wasn't meant to be an easy life, and Kaito hadn't shied away from that when he entered into the medical-nin program. His mother had always told him that medical ninja were the most important to the village's safety, because it was their job to protect the other ninja so they could protect everyone else. She had forgotten to tell him what it would feel like the first time a patient died in his arms, or how much it would hurt watching people, old and young alike, wither and fade into a shadow of themselves before death took them. Kaito's mother had most likely been a Hunter-nin, despite Kaito's lack of evidence to support the claim, yet his mother had never told him death could be far greater a mercy than life. To live was to suffer, to die was to pass that suffering onto your loved ones. Kaito had no desire to hurt those he loved, assuming he had children one day, he'd lead by example and if he died in the process, so be it.

Today was not that day, Kaito would not allow himself to die, he could not allow himself to fail, to disgrace himself and the legacy his mother and foremother had left him. He was a shinobi of the Hidden Mist, suffering was his heritage, by blood and by murder, the people of the Hidden Mist had endured since before the Hidden Mist had even been founded. It was who they were, who Kaito would yet become, who Kaito wanted to yet become. He would charge himself with the duty to carry forth that mantle, until the day it was time for him to hand it off to the next generation and train them in the ways of suffering, of perseverance, and the way of the Hidden Mist. He would not meet his end here, on this island of illusions and nightmare. Kaito wasn't afraid of the dark, nor that which hid within it. If anything, Kaito would reach into the shadows of this island and greet the suffering that awaited him.

The Osada Clan might be one of the most well respected clans of the Hidden Mist, but if they thought that they were the only ones in the world that knew anything of suffering then that was their own shortcoming, it wasn't Kaito's job to sway Haka's mind on the matter. Let her meet her end at rope of her own shortcomings, Kaito was more interested in learning of her strength than anything he could do to help her. As it was, she had very nearly admitted she cared not for Kirigakure or the Hidden Mist, but at least she respected, or at least feared, her father to listen to his will on this matter. It didn't bother Kaito if Haka didn't want to help him for the sake of strengthening the village, so long as she did it anyway. Let her hurt him, let her make him suffer. In doing so, Haka could only make Kaito stronger. Regardless of her reasons or his, the end result would be the same. Kaito would make sure of it.

"Seeing, suffering, and studying are the three pillars of learning, I have come to your island, I have seen some of what it has to offer, if I want to learn anything of value, I need to suffer first, and then to study my suffering so that I might learn to persevere from it." Kaito was beginning to see this woman for what she was, she would surely enjoy making him suffer, but deeper than that, she had once been in his shoes, she had to learn through suffering. That was what made her strong, and that strength is why Kaito had come to this place. In spite of her demeanor, Kaito was beginning to lose the edge of fear that had kept him on his toes. Haka would not harm him, at least no more than necessary, and pain was not something that made Kaito squeamish.

Kaito stood there for a while, watching the woman coldly, waiting to see if she would ask more questions or simply accept his resolve for what it was. Honesty. He wasn't about to panic and run from the manor, or from Spider Island for that matter. Kaito might have only heard rumors of Spider Island and the Osada Clan, but he wasn't about to let his chance at becoming stronger escape his grasp, even if it meant a little pain. Whatever nightmare Haka thought up for him, Kaito would just have to find the will to overcome it, to push himself past any notion of a limitation he thought he had in order to increase not only his abilities, but also his will to survive. It was the acceptance of death and the refusal to die that made made a shinobi what they were.

"Shall we begin then?" Kaito asked with a sharp breath of air, meeting Haka's eyes as he waited for her to provide him either with his orders or for her to strike out at him. In all truth, Kaito wasn't sure which one he'd prefer, to face such an overwhelmingly difficult opponent in combat, or to be tested to the breaking point. Didn't really matter in the end, he'd meet either challenge with the same ferocity to survive the coming suffering. Kaito's will demanded him to outlive the nightmare soon to befall him, but that would come at a later time.

---
Continued from here:
[x]
____
---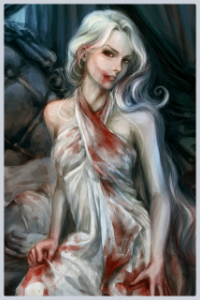 Haka Osada, the Aranean Queen
"Those born as monsters fear not becoming one."

🕷 Webs of Fate
🕷 Tools of War

🕷 Rise of the Tyrant
🕷 Torment of the Fallen



The Spider School
"Your soul, ours to bind. Our power, yours to unleash."

🕷 Spider Island
🕷 The Spider Clan
🕷 The Osada Clan
🕷 The Nightmare Court