Kaito Osoroshi
Chuunin
Mission Details:

Mission name: Secret Supply Lines (Repeatable)
Mission rank: C
Objective: Plant a Kiri sigil stone on the Kiri boarder to signal the entrance to a new, safe, alternate road into Kiri.
Location: Kiri
Reward: 300 ryo
Mission description: "Kiri is surrounded by small isles, which are well defended, some, barren and void, others have small towns, head to the kiri boarder and place a stone imbued with trace chakra, which will signal a safe entry way and identify entrants as allies."
Mission details: "The ninja will travel to the boarder of kiri territory, and place a small stone upon a pre marked location. Though, as they travel they will encounter several unaligned ninja (2-3), each of genin rank and skilled in taijutsu (C rank), and each possessing all academy jutsu.
~Receives one Chakra imbued rock with Kiri's sigil for the mission.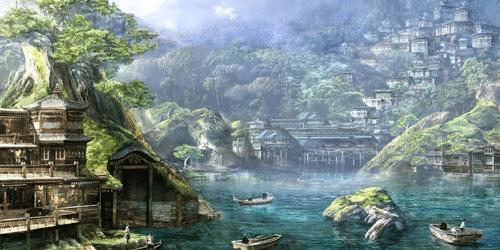 Mizu no Kuni - Surrounding Islands
~ Theme Song ~
Their mission was a rather simple one, only really being considered C rank because of the distance of travel and the risk that being this far from the village could pose. A run to the border and back, what could be so difficult? Besides, it was a nice break for Kaito, he didn't mind the walking and it gave him the perfect opportunity to get to know the young shinobi from Konoha. Kaito had never been all that interested in traveling the world, but he knew it would happen at some point in his career as a shinobi. Sachihiro also made for a nice enough traveling companion. Kaito had first met the Konoha ninja at a social gathering he had set up near his home on the beach. While Kaito held no prejudice towards any village, it was nice to see a foreign shinobi enjoying what life in Kirigakure could be like, who knew what sort of turmoil awaited them back home. With that in mind, Kaito's main goal for asking Sachihiro to travel with him, was to show the boy more of the beauty that was Mizu no Kuni in the hopes that perhaps Kaito could convince the young shinobi to stay in Kirigakure longer, perhaps even indefinitely.
As luck would have it, the island they were traveling to was one of the most beautiful locations in all of Mizu no Kuni, and perhaps even the world. The village only housed a few thousand people, but the island as a whole was a popular tourist attraction, getting visitors from all over the world nearly year round. The mountain that made up most of the village was said to have been a volcano, and the number of local hot springs seemed to suggest the same, making the village a tourist destination not only in the warmer months, but the colder as well. Kaito had only ever been here once with his mother, but he looked forward to having Sachi try the spiced squid and mackerel soup. Candied squash was another common treat found among the street vendors.
"Isn't it beautiful here Sachi? There is a set of three waterfalls on the other side of the mountain facing Hi no Kuni. You know, I guess right now we are closer to your home than to mine." Kaito asked the boy as the ship they were on began to make it's way into port.
This had really been the perfect mission for the pair of them, to get paid to come to such a beautiful place, and on top of that the supply line they were suppose to be securing was one of the many trade routes between both of their nations. In effect, they were helping each of their villages by doing this mission. The amount of synergy Kaito had managed to swing into the mission had him rather pleased with himself, but he just hoped Sachihiro was as happy to be in this place as he was. Perhaps after the mission they could go sight seeing, it'd been a long time since Kaito had come here and he didn't remember much other than the delicious food.
Their ship docked next to what looked to be a boat of Sunagakure refugees. Kaito looked them over while he and Sachihiro waited for their turn to get off the boat, as they were just two amongst dozens of passengers. There didn't look to be anyone injured among the refugees, and they were being greeted by a small number of the locals standing nearby with food and gifts. It was nice to see the people of the Land of Waves being so welcoming to those in need, especially to those that came from such a tragedy. It wasn't much longer before the genin were able to go dockside, Kaito loved his nation, but it was always nice getting back on land after a long trip over water.
"We need to get this Sigil Stone to the other side of the island, luckily, there is a hike path that will take up most of the way. Our destination is also near those waterfalls I told you about." Kaito didn't want to tell the Konoha-nin that they would also be walking through the old cemetery along the way, but Sachihiro was young and more than likely easily frightened by such things. No reason to scare the poor boy.
Adjusting the satchel slung over his back, Kaito began to move off toward the market district. They would be able to to find a gondola there that could take them most of the way towards their destination before they had to hop on the hike path. From there, it'd only take an hour or two before they made it to the cemetery, and the waterfalls just past that. It was a simple mission, and Kaito doubted much of anything would go wrong. "Hey, want to pick up some food along the way? You can pick something out for us at one of the street vendors, my treat. I'll go pay for a gondola." Kaito offered, handing Sachihiro sixty Ryo, knowing that the food prices were a little higher do to the tourism traffic.
WC: 877