Kaito Osoroshi
Chuunin
Artwork: Shotei Takahashi: Village in the Rain- Igusa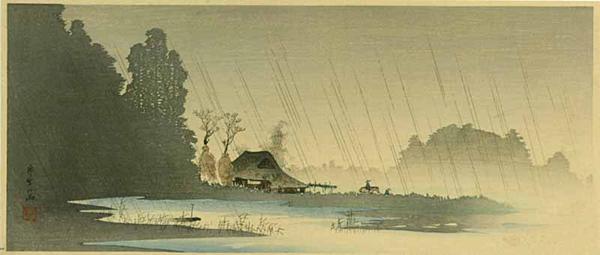 Mizu no Kuni, The Lake
~ Theme Song ~
The rain drifted down from the heavens above, the sky a dull grey that comforted the young shinobi. As he walked through the mug, his geka keeping his feet as clean as possible, though Kaito knew he knew he would need to clean his feet and sandals once he arrived at his destination. Coming to a stop over a kill to take in the view of the lake, Kaito breathed slowly, closing his eyes as the sound of seagulls called out overhead, their squalling piercing the sound of the rain every few moments.
"Kaito, Kaito, don't stand on that rock honey, we don't need you breaking your arm." His mother shouted at him from where she sat on the beach with her own mother. Of course he hadn't heard her and climbed the rock anyway, standing next to his best friend Asahi as they looked out over the lake together.
The memory faded and Kaito opened his eyes, a saddened smile on his face at the almost forgotten memory. Asahi had always been there whenever Kaito came to his grandmother's house. They had been best friends quickly, as only small children seem to be able to manage. Kaito couldn't remember the amount of times he and Asahi had ended up with red ears from his grandmother scolding them, but it had always been worth it when he was with Asahi. Letting the memory slip from his mind, Kaito turned and continued onwards to his grandmother's house, not wanting to stand out in the rain for long, lease he caught a cold.
The young shinobi had recently come face to face with something that he needed to confront. Kaito had questions, and the only two people that could give him answers were dead. Osoroshī, Akaihana, Kaito's mother, had disappeared on some mission, having been declared KIA, though if Kaito's theory was true, his mother would have never told him what he needed to know. Osoroshī, Kirura, Kaito's grandmother, she was the one he needed right now. His grandmother, not matter how strict or at times cruel, had always been there for Kaito when he was little.
"Baba, Baba!" Kaito screamed his little lungs out. The old woman with the white hair appeared a moment later, pulling the door open and slipping into the room in her nightgown. Kaito had been having nightmares every night for a week. His mother had gone off to some minor village to provide medical aid after a natural disaster and it was the first time Kaito had been without his mother for more than a day or two. It'd be another couple months before she would return, but Kirura held her grandson every night as he cried. There was nothing to be said to the child, Kaito had to learn to cope on his own, but Kirura made sure she was there for him every night, always waiting outside his door for him to call out for her once the nightmares began.
Kaito had been having similar nightmares as he had back then. The had started once his mother was declared KIA, and mostly consisted of nightmares of his mother's restless spirit wandering forever unable to find peace due to not being buried. Kaito accepted his mother was dead, knew it in his heart to be true, but not being able to bury her was more than he could bare. Osoroshī, Akaihana deserved to be buried next to her mother, as was their family's custom. If nothing else, Kaito hoped to put his mother's memory to rest so that she might know peace.
Kaito had felt a strong urge to revisit his grandmother's home on the lake. It had been years, around the time he'd joined the academy that he had last come to this place. His grandmother had been a cruel woman at times, always chastising him with a switch or the occasional backhand. But Kaito had been a well behaved child, so it had been rare for his grandmother to feel the need to discipline him, and even though he feared the old woman to an extant, Kaito had also known the love she felt for him.
Kaito could still hear his mother and grandmother arguing when they didn't think he could hear them. Both had wanted the best for him and both of them had different ideas on how to go about teaching him the path of the shinobi. Still, both woman had been loyal shinobi themselves, and they had each showed Kaito what they expected from him even at a young age. From his mother's lessons on responsibility and dedication to the people of Mizu no Kuni, his grandmother had told him stories of war and battle, attempting to mold his young mind into that of a warrior.
Their family had always been shinobi of the Hidden Mist, even when the village had first formed all the way back during the warring states period. His grandmother had always told him of stories of the Osoroshī before the founding of the Hidden Mist, and how they had been wanderers. The Osoroshī had never been a large or well known clan, their most famous feat was literally surviving a genocide to find acceptance in the Land of Waves as shinobi of the Hidden Mist village. After what Kaito experienced on Spider Island, he knew there was more to this story, and he had come back to his grandmother's former home in the hope that he might find something there.
Whatever it was that had happened on Spider Island had changed Kaito, awoken something within him. He had no one left in this world to show him what these abilities meant or how to use them. Kaito had already decided on a path forward, he would do as all shinobi must, study and develop his skills to refine them into something useful to the Hidden Mist. It didn't matter if he had to walk the path alone, or if he never managed to get the answers he sought. The legacy of every shinobi was meant to be one of despair.
WC: 1034