Haka Osada
Jounin
Wearing her personal armour, Summoning contract attached to her belt, the whole covered by her black spidersilk cloak bearing the purple Unmei kamon, the Tyrannis sat upon the Clydesdale horse known as 'Tribute', watching the skittering masses of spiders and Unmei that were her sisters and brothers. Her right hand, Ameya the black widow, standing at her side, the horse kept a stable position though restless in spirit before the mass of devourers within the Spider Lands. It's dark eyes perceived the masses remaining at a distance before Haka that were kept at bay by her monstrous aura asserting her dominance and claim as their rightful ruler. The Aranean Queen, superseded only by the Spider Sage who created them and the Spider Sage Animal that had born them. Uniting them all under her banner yet under their will.
"Times will become lively soon, my brethren. That which the humans call the Chuunin Exams will draw attention away from our Islands and thus away from our watchful gaze. This may sound like moments of peace for us but it is at such times that most infiltration and power claims occur. Evolve further, grow stronger still and remain vigilant even then. We must preserve the integrity of our Creators."
Her gaze would glide over the massive darkness that formed the clan of Spiders, the large cavernous room harbouring the spiders that had covered ground, wall and ceiling with their presence. The Realm of Spiders, belonging to Momma before she had moved to live with Sero, was a ruthless land of darkness, countless tunnels creating an eternal maze without an exit, with very little to feed upon. While most spiders did not understand why Momma had left this area for a newfound hunting ground, Haka certainly could see its limitation. Even then, most of the greater powers lived here, watching and waiting until someone with Kuchiyose would dare to venture within their home realm.
"I will leave it to the brood mothers to shape you up but expect to be summoned as Unmei will move to extend our range of awareness. You better be prepared as I will not tolerate failure nor weakness."
Having shared the information and her expectations, she'd sign Ameya and nudge her horse to return home. At the very moment they vanished from sight, the swarm scattered from their gathering, a rush of skitters and hisses breaking lose to haunt the network of tunnels navigated by Haka and her right hand. Finding one of the few exits, the eternal night reigning over the Realm of Spiders would greet them. Moments after, Fuinjutsu Seals would form and bring them back to the Realm of Men - Spider Island.
~ ..:: ::..~
Back home, Tribute seemed to regain some of his comfort, the terror of Spider Island being nothing new to the horse considered pony. A test of courage for the horse - passed. Now a new test awaited a member expected yet to arrive - Kyutai.
Newfound powers were always a thrill but one's true nature grew old quickly. As quickly as survivalist tended to grow comfortable in a life of comfort. Kyutai might have earned his place among the Unmei, he had still a long path to walk before he'd be able to claim a position of power and demand authority and respect from the others within the Clan of Spiders. Though the road to domination was his to walk, Haka expected her clan to grow and evolve beyond mere men. Even the weakest among the masses was to become better than the weakest among other spider sorts living outside of Spider Island. Yes,
her
spiders would be nothing less than better. Better than spiders, and certainly better than humans. Kyutai would have to live up to those expectations just as much, even if he had come to consider Haka as his mother.
"You're training the fangless personally?"
"Yes"
"Why?"
"He will compete in the Chuunin Exams."
"You want him to win?"
"Victory is of no concern. He will be given a task."
"The fangless is a waste of time, Tyrannis."
"So is your unasked opinion, Ameya."
The black widow hissed in disdain, her petite figure - to the Unmei's giant spider standards. She still had a terrifying 7 ft in size  - did not do her vehemence credit, the natural assassin one of the more ruthless killers walking among the Spider Clan. She too had been trained by Haka personally, Ameya once having been not that much stronger than Kyutai himself, but such a time was gladly forgotten as it reminded the black widow of an undesired dependency on Haka.
Much like Ameya had become a tool with a specialised task, and much like the Nightmare Guard had been given life and purpose, so too did the assassin understand that Haka was about to shape 'fangless' Kyutai into a strategic pawn she deemed necessary for the benefit of the clan.
"Such is your right, but if he fails you i'll be ripping him to pieces."
Haka remained quiet, the wolf spider acknowledging the assassin's rights as the executioner of the clan. Together, they'd be waiting patiently for arrivals, time of no concern to spiders.
---
867
OOC: Blurred text is 'spider speech' - the native speech of Unmei.
____
---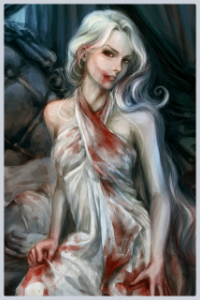 Haka Osada, the Aranean Queen
"Those born as monsters fear not becoming one."

🕷 Webs of Fate
🕷 Tools of War

🕷 Rise of the Tyrant
🕷 Torment of the Fallen



The Spider School
"Your soul, ours to bind. Our power, yours to unleash."

🕷 Spider Island
🕷 The Spider Clan
🕷 The Osada Clan
🕷 The Nightmare Court