Mission Details:

Mission name: Dissidents in the Ranks

Mission rank: C

Objective: Resolve the Issue

Location: Kirigakure no Sato

Reward: 300 ryo

Mission description:

There has been cause for concern amongst Genin and Chuunin amongst the streets of Kiri, some believe them to be forming an almost socialist gang. Disperse them.

Mission details:

There have been a gang of Genin/ Chuunin running amok causing trouble around people who have traveled to Kiri, find them, and scare them so that they do not try this again. The movement seems to be growing under the threat of war and distrust, crush it. The number of them is up to the taker of the mission.

Can be threatened, fought, reasoned with, caught or arrested.

Leader:

Name: Chuunin
Age: 15-19
General Appearance: Wears uniform kirigakure flack jacket which resists 1 rank of buki/ taijutsu, has 5 kunai and 10 shuriken, with dark hair and fair skin.
Personality: Harsh, and semi nazi like, though reasonable, he has a superiority complex.
Motivations: Kirigakure for kiri nin only, no trade, no visitation.
Fears: He's still just a kid, a kid with some power, but only a taste, he fears pain, and getting into big trouble.
Other:
C rank ninja with C rank Tai and Ninjutsu. He has C rank Fuuton and Suiton with all academy skills and C rank and lower skills from the Library.

Others:

Name: Genin
Age: 10-15
General Appearance: Kiri genin, dark hair dark eyes and fair skin wearing ninja robes and a kiri headband.
Personality: Some are pulled in by friends, others are just bullies.
Motivations: Most just want to be cool and are being lead on by other members.
Fears: Getting into big trouble, pain, death,
Other:
Each have either a set of 10 kunai, and D rank Taijutsu and Ninjutsu. Each with D rank Suiton and D rank and lower library Suiton jutsu and all academy Jutsu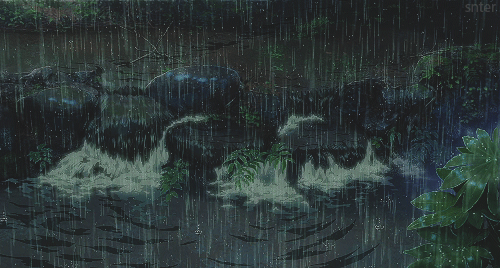 ~ Theme Song ~
The harsh orange glow of the street lights overhead was only made worse by the reflective surface of the puddles beneath. The dark clouds over Kirigakure poured their contents onto the Hidden Village in sheets of water reminiscent of waves on the shore. Kaito stood on a branch of a tree overlooking a gathering of his fellow shinobi, mostly genin seeking some sort of comfort from the harshness of the world they were born in. So many in this village had been made to suffer at one point in time or another, and many of the ninja here had entered the live of a shinobi thinking it'd be all roses and sunshine. They had been wrong, in seeking to run from the troubles that plagued the everyday citizens of the Hidden Mist, the instead found themselves on the frontlines of those problems, standing vigil over the village to keep out the worst kinds of sorrow and cruelty.
Being a shinobi wasn't easy, it wasn't meant to be, but many of the ninja here had failed to understand that and had come hoping the words of one voice might show them an easier path. Kaito didn't blame them, not really, they had been fools when they signed up to the academy, fools yet still when they ignored the warnings of their teachers, graduating and entering the world of death, lose, and pain. They weren't criminals in and of themselves, just lost sheep looking for someone to guide them. Weak perhaps, even fools, but they were still citizens, and despite the headbands many of them wore, they weren't real shinobi, so how could Kaito hold them to such a standard?
In truth, it was the one they were all listening too that was to blame, the younger individuals here were seeking soothing words to comfort them in their delusioned lives, but it was the one they were listening to that was the real criminal. While the many had been blind to their own reality, the one standing and preaching out now was the lier, the voice ringing out to summon any they could sway into doing their bidding. Whatever the reasonings of the leader of this little gathering had for speaking ill of the Hidden Mist it didn't matter to Kaito. This was not the way to effect change, throwing the village into chaos would only lead to more problems, more suffering. It wasn't like Kaito didn't care about the people, but he also understood what he had gotten himself into, had witness the world as it was and felt the sting of it's cruelty. If Kirigakure was to stand as a bekon in the darkness, it could not stand divided. The voice calling out here tonight had to be silenced.
Hours before, Kaito had been standing in the mission assignment office, debating whether to take up a mission in the village or another one farther away. To be honest, he'd missed the village for the past few weeks, having only just returned for the chunin exams and being sent out on a mission to a farming village on a small island a few days from Kirigakure, he hadn't really had much chance to get resettled in his shoreside home. There were fresh new genin running about, and newly promoted chunin, of which Kaito himself was one. All of these shinobi ready to take on missions and forge new bonds of friendship and rivalry. Kaito had already met two such shinobi, Kisuke whom he had traveled to the farming village with to deal with a group of bandits running amuck and held up in some old watchtower, but there was also Michibo, older for a genin to be sure, older than Kaito in fact, but the reluctant Kayuga showed promise as a shinobi, and Kaito wanted to invest in that potential. The gap between them wasn't large enough for a sensei and student relationship, but that wasn't really what Kaito wanted either. Kaito was just skilled enough to push Michibo further then the genin would achieve on his own. Perhaps showcasing the gap in skill between them would cause Michibo to become frustrated enough to make and attempt at rivaling Kaito. The fact they were both students of Haka Osada would only made their rivalry that much more useful to the two of them.
It was for these reasons Kaito persuaded one the jonin responsible for assigning missions to place Michibo and Kaito together on an assignment. Once again the rumors of someone preaching the old ways of the Bloody Mist seemed to pop up, supposedly meeting just outside of the village near one of the training grounds in the forest. It wasn't a real threat, at least not yet, but if such a voice was allowed to continue to speak out unchecked, it would only lead to more brazen attempts at undermining the village's structure. It was always amusing for Kaito to hear a person's reasons for wanting to return to the days of the Bloody Mist, since in many ways Kirigakure had never truly lost it's old ways. The problem hadn't really been with the methods used in the old days, but in the misunderstanding of the philosophy behind the Bloody Mist. Too often the excuse of weeding out the weak had been used by Kiri-nin to make grabs for power, attempting to do nothing more than increase their own station. They had been the weak ones, so selfish and futile. The truth of the Bloody Mist was meant to make Kirigakure stronger, and the constant infighting had only weakened the village and it's people, sowing seeds of hatred and suffering that culminated in the mascusure of kekkei genkai users.
Those that preached a return to the old ways of the Bloody Mist wanted little more than personal power, and with that desire they tricked and lied their ways into the minds of others, using them like pawns to cause chaos in the hopes that they would somehow come out on top. Such people cared little about the village or it's people, and thus were useless to Kirigakure and their fellow shinobi. Together, Kaito and Michibo would have to intercept the coming gathering this night, likely fighting their way through a few of their fellow shinobi in order to take down the leader of the group.
Kaito knew Michibo would be itching for a fight, but he also had alternative motives for having Michibo join him with this task. First, he wanted to see how Michibo felt about the dissenters and secondly, would Michibo have the self restraint not to kill anyone, which would cause them both to fail the mission. After all, taking the leader alive was of top priority, even if it meant others got away from the Mizukage's justice. Thus, both young shinobi found themselves standing in the forest along the pathway leading to the training grounds. "I'm going to get a better look, we need to wait till everyone has gathered before we make our move." Kaito spoke with a hint of joy on his tongue. Stalking his prey before striking was always his prefered method of taking someone down.
Utilizing the rain falling from the sky, Kaito began to jump upwards, small puddles of water forming under his feet with each step until Kaito was high enough to land on a branch of a tree tall enough to see the training ground in question. Sure enough, dozens of people could be see, but Kaito began scanning the gathering looking for those that weren't necessarily paying attention to the figure standing on the rock they were using as a makeshift stage. He counted half a dozen at least, genin by the looks of them, all scanning the crowds as if they anticipated an attack. Kaito looked forwards to giving them just that. "You ready for some fun Michibo?" Kaito asked coyly once he'd jumped back down.
WC: 1346
WC Goal: 5400
Jutsu Used - 300/305:

E Rank Water Release - Rain Hopping:

Name: Rain Hopping | 雨飛躍 Ame Hiyaku
Canon/Custom: Custom
Rank: E-Rank
Type: Supplementary
Element: Suiton
Range: Self
Specialty: Ninjutsu
Duration: Maintainable
Cooldown: 1 post
Description:
This technique allows the user to jump in midair, using Suiton chakra to solidify the liquid in the air for a temporary platform. This technique is incredibly simple and does not require any hand signs, just that there is at least a normal amount of moisture in the air and the user can manipulate Suiton chakra. The user gains three additional jumps in this manner per post, and five in areas of mist or rain.