Daximus Maximus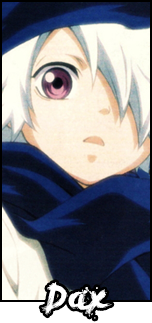 Genin
Dax sat and let his feet hang over he side of the dock. A piece of paper floated carelessly in the hands of Dax. Dax looked down at his feet and let the swing back and forth. The waves crashed and went inward back into the sea. The sight was something amazing. The sea breeze let the salt air blow strong. Dax looked back and forth of the dock to see various people walking by. Dax eyed each and every person trying to figure out if the one he was waiting for was a part of the crowd. Looking back at the paper that was resting in his hands, Dax located the name on the mission form. The name was Nana. Dax sat and looked up trying to figure out what the name could have meant and who the person could have looked like.
Dax first pictured a women that was tall and a little bit skinny with a kind smile and an amazing personality. In fact it could have been anyone. Then he thought that it could have been a male. The thought of a male would have been scary. He thought of a male with a girls name. The thought sent shivers down his spine. He could have been a cross dresser! A even colder chill hit his spine. He had to get his mind off the topic. But what could he possibly think of to do so! He wanted to meet the person that they were supposed to meet for the mission but what could he do. They had to meet the person together. Dax looked off to his side to look at his ninken. The small wolf pup was laying down on the ground with his head resting softly on his paws. His violet eyes darted back and forth as he watched the fish swimming around the dock.
The dog kept still until he heard some of the fishermen and sailors walk on the dock. When this occurred he sat up. His head darting from side to side. Dax smiled at his pup and rubbed his head. He knew Fubuki like the sea. It was something different from the cold snow from the mountains. But still it was quite boring just sitting here and waiting. He needed to move along! He wanted something to do! He needed someone to play with! HE did this mission because his sensei told him to! He only liked doing missions because it made him have something to do during his free time. They dont have that many group meetings and not to mention his Sensei was busy with his kids. It was rather sad actually. Him being all alone, but then out of no where he gets a message from his sensei to do a mission with this person. Dax looks around and tries to locate this person once again.
484/600:


Mission rank: D
Objective: Help the crew of a merchant ship unload the cargo.
Location: Village Dock
Reward: 70 Ryo
Mission description: Meet with the captain of the ship and aide the crew with the unloading of the cargo. Just be sure to avoid the mazes of ropes and such on deck.
Mission details: Anti-nausea pills would be helpful. Any damage to the ship is deducted from the award.

NPC
Name: Captain Yusuke
Age: 40
General Appearance: Scared right cheek. Wears the usual merchant captain uniform; Which tunic and tan trousers. Wears a small pack on his belt containing a compass and watch.
Personality: Rarely talks, but when he does his voice carries like someone used to shouting orders over howling winds. Calm, unsure of people not part of his crew, but friendly enough.
Motivations: Staying on schedual.
Fears: His ship being damaged.
Other: He enjoys a good joke.