Owydelu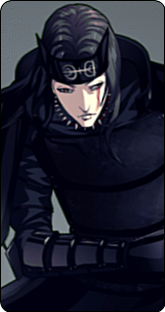 Genin
It was just a normal day for Owydelu. He woke up, as he does everyday, just to eat something and then sleep some more. He was a Sannin now so, there were no worries for him. Maybe, once in a while, there would be an S Ranked or an SS-Ranked mission that would call for him, but, except those things, Owydelu was kind of pretty free. He didn't really train too much in the last days. He was like a slacker. Nothing was done pretty much by Owy, but, instead he was eating and sleeping like he was training everyday. At least, he was on the right path, on the right way. He was on a whole new level now, that he was almost at the point where his Mokuton would reach its heigher level, the Rank known as SS. No one made it this far except the legendary Hashirama Senju, the first user of the Wood Release.

Owydelu woke up for now....for now. He got to the shower, trying to get himself a little energy for the training that was to come. The shower, as always, was a warm and relaxing one, thing that was everytime putting Owydelu back on his feet. Owydelu was never completly relaxed, except the times when he sleeps. He is always on guard since then.....since when the last Hokage and the most powerful Uchiha Owydelu had ever met, Uchiha Tatsumaru died right in his face, from an arrow shoot by Tame, a Missing Ninja from the Hidden Stone. One day, Owydelu will be able to get Tame down, by killing him. This will be his final act, where he'll take the revenge Uchiha Tatsumaru needs. Well, at least, that was what Owydelu was thinking of. Even if he'll die, Owydelu will remain in history as someone that sacrificed himself for the good of the others.

Owydelu finally got out of the shower. Almost everytime, 90% of the time Owydelu spends in the shower is for thinking and the rest of 10% is for cleaning himself. Well, this always gets him relaxed and ready for any battle. He got now to the kitchen, where he'll get himself something to eat, something that could fill him up for the rest of the day. He, as always, will eat either Peanut Butter and Jelly Sandwiches or he'll make some Cereal and Milk for this morning. This was his way of not losing the time on unecesarry things like cooking, when he could just take some milk and combine it with cereal, to make a perfect meal for morning. No need to waste time when you can buy more of it. As always, Owydelu ate quickly, without even trying to waste any more time. He was now washing the dishes as fast as he could. The day was short and he knew that.

Oh god, he never saw the dishes being dirtier than now. There a kind of conspiracy here. He was now heading right straight to the drawer where he was keeping his clothes. He wasn't gonna take something that may be too heavy for him......maybe Owydelu will take some light clothes that can both protect him and make him feel free while wearing them. He chose to take his normal training clothes, so he won't get any more dirty clothes to wash. He dressed himself up very fast, in like one minute. He didn't have to get all his armor on him. After all, this day he didn't have any fight planned and if someone would attack him, there wouldn't be any problem. He was powerful enough to take care of himself. This wasn't his way of thinking, too make himself look good in his mind, but he had to have some confidence, thing that may boost his power in any fight.

Owydelu's thoughts of power are kind of different from the others'. He thinks about power as a divine gift from the gods, divine gift that lets the receiver use all the things that are inside the gift. All the things found in that gift gives the user the ability to surpass some natural balances and limits, things that couldn't be done without the help of the Divine ones. Owydelu knew that now. He was thinking too much about these kind of things and he wasn't concentrating enough for the training that he was to make. Why would he do such things like training, just to get himself more powerful, when he had the gift from the birth, gift that may give him more than just ordinary power, but talent also. He had to fully fill his duty as a Sannin, to protect the village from any exterior and interior harms that could cause the village to go down.

Well, good thing that, he wasn't the kind of man that could destroy himself by trying to help the village. The village and his personal life were two different things, that may have never collided themselves and, Owydelu wished that they would never do so. His training was about to start soon and Owydelu was still looking at his ordinary bed, thing that could've made him feel a little sleepy, sure thing. But even if he wasn't in the mood for training, he still had to do it, for the sake of his friends, for his sake and for the sake of the village, for the sake of Uchiha Tatsumaru, that, despite everything he did for the village, he died in a fight, during the Konohagure's invasion. That was a devastating "riot" like attack, that destroyed everything is sight, even the Konoha's most precious Hokage. That man, that miserable missing ninja from the Hidden Stone Village, Tame, had to die as soon as possible. There was no doubt that he had a lot of crimes up his sleeve and he still has them. Owydelu will find Tame one day and he'll make him pay with his most precious things, despite the fact that he may not have this kind of things.


Last edited by Owydelu on Wed Sep 04, 2013 11:47 am; edited 1 time in total
____
|Battle Theme|


"Being the best isn't all it's made out to be. When you're strong, you become arrogant and withdrawn. Even if what you sought after was your dream."
~Uchiha Itachi~