Aiza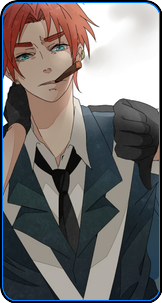 Aiza sat outside of the weapons shop, puffing on a cigarette. He watched carefully as with every puff, the smoke escaped into the sky, fading away into oblivion. His eyes shifted to the shopkeep, who was finally approaching to unlock the front door. Aiza had been waiting there since 6 AM, the official opening time of the shop, but now it was almost 7...he wanted to ask why the shopkeep was so late, but it didn't really affect him, so he continued sitting, smiling at the man. "Alright, Aiza, let's keep this nice and simple. All you have to do is protect the shop. You'll be on the lookout both today and tomorrow. Anything happens, take care of it. Anything non-violent happens, come get me and I'll take care of it. I think that's all you'll need to know, thanks for the help." the man said before making his way back into the shop and to the front desk.

"Yeah, simple as pie. I'll punch the shit out of anyone who tries to break in or steal." Aiza muttered to himself with a chuckle. His eyes darted to a figure that was fast approaching, but after inspection, was just some Genin. He leaned against the wall of the shop and stared out ahead, ready to react to any little stimuli. The opportunity to punch burglars in the face was the reason he'd accepted the mission, and he desired it to happen already...but, with patience came fruition, so he tried to be patient. As something to do while he waited, he created a volume of water in his hand and swished it around between his fingers, bringing it back up to his palm every so often. Within an hour, a girl approached, with a sly smile on her face and something behind her back. She was older than the last Genin, maybe 13 or 14, but she was staring right at Aiza. Something was suspicious.

"Hey, you? Will you quit it? I've got a job to do."

The girl gave him a laugh, quietly at first but then intensifying until it was a maniacal roar. Aiza gave her a blank and unimpressed stare. "Are you done now? I need to focus. I don't want to move you by force, but if you don't comply, I'll have to." She pulled the item from behind her back: a paper bomb. Was this some sort of cruel prank? Aiza immediately tackled her, and took the paper bomb from her grasp, and attached it to one of his shuriken, throwing it as far into the air as possible. Within seconds, an explosion could be heard from the sky; by the time he looked back down and faced where the girl had been, she was gone.

It was a long day, but throughout its entirety, there were no problems in the least, aside from that evil terrorist girl. Not one person to punch, though. It was maddening! Aiza reluctantly entered the store, pulled out a sleeping bag, and took his rest there, waiting until morning for his next shift.

[528]
____
Theme Song | Battle Theme | Closing Song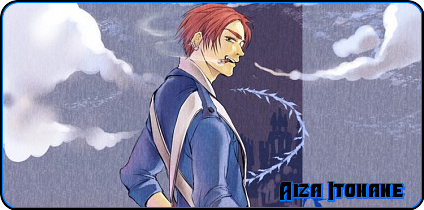 Jutsu List
|
The Gentleman
|
Inventory
ANBU Squad One ~ Codename: Kinryoku [筋力]
Missions:
D:5 | C:2 | B:1 | A:0 | S:0 | SS:0
[Taijutsu: S] ~ [Ninjutsu: C] ~ [Suiton: S] ~ [Doton: D]