Uchiha Izanami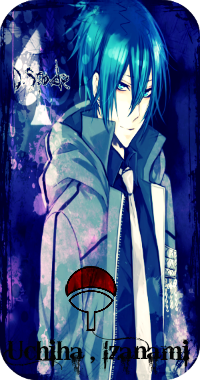 C-Rank
Izanami was walking in downtown market, remembering the time he unlocked his one tomoe sharingan, it happened years ago but Izanami could remember it like it happened yesterday.
it happened so many years ago yet i remember it exactly as if that event had occurred yesterday, i lost my sister and my father, because of my weakness, i refused the power of the uchiha and in the end i was shut by the hands of fate, i was a mere fool, this power is maybe a blessing from the sage of the six paths.
~~Flashback~~
The power of the Uchiha & the graduation

Izanami was born in a small village where he lived and trained there, it was a wonderful day at the academy, so far, i hope i am capable of becoming genin and  pass the test i bet mom and dad are gonna be proud of me, hehe i am so excited i could burst, screw the sharingan i dont need it, i really dislike it, it makes the uchiha hated by others.
Izanami lowered his head as he remembered how some still treat him, and how he was used to be treated by those who are now his friends, the uchihas, wielders of the sharingan, the true power of darkness, Izanami felt ever so bitter because of it, that is why he fights against it, he wants to become the strongest without relying on it, and without even unlocking it.
Izanami was a fool, to the bloodline of the uchiha, he was a mere nothing.Izanami had completely mastered the five E-rank Jutsu, hours passed and he was so nervous he was nine years old at the time,  a fragile child that knew not what might the future hold, an ignorant child, and an idiotic one, to think he could go against his bloodline it was the funniest joke ever heard.
Izanami made it through the test preforming the five E-rank jutsu's he was required, thus passing the test at the top of his class.
The suffering
Izanami often got dissed because of his name, his father thought it was a "cool" name but it was the name of a female goddess, and a forbidden Jutsu of the uchiha, Izanami hated his name, also being from the uchiha took its toll on Izanami, he would often get accused of looking down on his classmates, thinking he was better when he was always an admirer to all of them, he was pushed around and bullied, until one day he lost it and beat the shit out of three punks that wanted to hurt him.He was fed up, trying over an over to fit in, from then he started hating himself, he would go up at the roof of a building and cry, why did he cry ?, simple the kids started avoiding him, and he was pissed off that he felt a portion of hatred towards them, he just wanted friendship but the uchihas paths are all shrouded in pitch black darkness, Izanami still couldn't give in to the blood of his clan, he wanted to be different, but little did he know about what would dramatically change his life.


Last edited by Uchiha Izanami on Tue Oct 22, 2013 12:37 pm; edited 2 times in total