Uchiha Izanami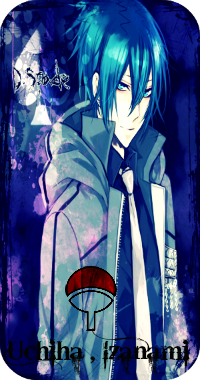 C-Rank
Izanami has taken a mission for kiri, he thought that why not help them maintain order while hes here, the mission Izanami took had simple order, disperse the gang, supposedly a gang of genin led by a chunin has been, running around the streets hindering other people and bothering them. Izanami's orders were simple, disperse the gang, either by using force, reasoning, threatening,  or arresting them, knowing Izanami he would definitely try reasoning with them first if it fails its threatening  if it fails then arresting them would be the safest choice.
Izanami never liked violence, but if he had to get violent, he'd use moderated violence, but if someone touched his buttons, Izanami is happily willing to show them hell.
The gentle breeze ran through Izanami's black beautiful long hair as he turned his head to the back, looking behind him, it was time to take action, he had many things to start on, but he began asking the villagers around the market district, gathering info on their actions, one thing that was shared in each individual's report, they come storm the market district, scaring off people that come from outside of kirigakure, scaring off visitors that come from various villages.
Izanami was pissed at them, such insignificant actions, they seemed like a bunch of brats, showoffs, and a bunch of hood rats, it was discipline time.
I believe that if someone has the power to protect their country that's a wonderful thing to do and have, but to ruin its reputation, that is truly unforgivable, Kirigakure had a wonderful reputation, the glory, the heroes that changed the world, such as their first leader the founder of Mizu no Kun, Iga Kirigakure.
Izanami heard loud shouting
"Kiri for Kiri, strangers leave, rot away from here!"
The party members have arrived, and they seemed as energetic as he had heard, it may be difficult to convince them, they all hate outsiders and people that are not from Kirigakure but are in Kirigakure, basically Izanami, the uchiha knew that he would face difficulties while trying to convince them, but maybe he could use that as an advantage?.
The uchiha made his move approaching them, the leader who seemed to be the strongest around them spoke to Izanami saying "Identify yourself" he spoke in a rough tone, the uchiha replied saying "Izanami, Uchiha Izanami, seventeen years old, Ronin", the leader enraged "you stranger, leave kiri, get the **** out!!".
Word Count:

411/1000


Last edited by Uchiha Izanami on Thu Oct 24, 2013 7:21 pm; edited 2 times in total