Keiko
Jounin
This isn't happening.

Short, panting breaths filled her ears, and for a moment, she couldn't seem to identify the source of the sound. Who was it? Something, someone sounded as though they had been running a marathon, or running for their life, their lungs no longer able to take in the necessary oxygen that was so abundant in the air around them. What could it be that could have a person so frantic, so panicked? And then it clicked. The sound was coming from her own mouth, lips parted for an indefinite amount of time, her body instinctively knowing that if she closed her mouth, she would likely be cutting off an ever greater amount of air that would reach her lungs. She was running, carelessly leaving her back turned against the mass of puppets behind her. It was an elementary know-how that she was simply ignoring, never turn your back on the enemy. Never leave your back open. Always have your back covered. At this point, all she wanted to do was get away. Away to safety.

--

It had started this morning, after apprehending some spies that had apparently been relaying information to … well, whoever was attacking the village. After leaving the group of three that she had been with, she had been exhausted and just about ready to go back to sleep. The mission itself had been a piece of cake, it had been dealing with the ten year old that made her want to rip her hair out in frustration. Metaphorically of course, she valued her magenta-dyed hair too much to actually cause any physical damage to it, however minor and short-term the damage would be. It had been immensely frustrating, the entire mission feeling like some sort of babysitting session instead of an actual task given to them to help in this time of need. She had been momentarily dumbfounded when the child has simply run after the people they were supposed to be trailing. What idiocy. She couldn't fathom why the Academy had allowed such an impulsive child graduate, he certainly didn't seem to possess any of the basic skills taught at the Academy. And to top it off - she was surprised the kid had managed to survive, she herself didn't bother putting any effort in getting him out of the dilemma he had placed himself in - he seemed particularly concerned for her well-being, something she was not okay with. Asking if she had sustained any injures would've been acceptable, but to physically touch her … she still regretted her decision of not smacking him. After rather abruptly abandoning her temporary comrades, she had wandered off in search of other places where she could be of use, all the while hoping that nothing would come up. Even after the brief moment of action, she still lethargic, just wishing all this chaos would end so that she could go back to taking a naps, lounging at the pool, and doing the odd mission here and there. Sleep and relaxation was, unfortunately, a luxury at this point in time. And so, giving up on such a fantasy, she picked a random direction and began to walk.

The part of the village she found herself in was relatively quiet … almost strangely so. But one couldn't exactly expect people to linger around do their usual shopping and browsing when they were under attack. Not even many storekeepers were willing to open shop, wooden doors and barred windows bare and unfriendly, keeping those within it safe - as much safety as several wooden planks could provide - and attempting to keep outsiders out. After strolling down several blocks with not a single soul in sight, it was beginning to get increasingly suspicious. Going to get back up would've been the best idea, but she had yet to truly see a threat, surely she would end up looking like a fool if she simply said she needed help because of a gut feeling. Might as well figure out who or what had terrified the people in this particular corner of the village first, she could always rely on her ice to get her to safety. Settling herself into a chair outside of a closed ramen shop, she made the decision to wait - a course of action that she would ultimately regret.

--

Stupid, stupid mistakes. Even in the severity of the situation, it was quite peculiar how her mind still found the time to berate itself. She had been running on foot for a solid amount of time now, and it was beginning to physically strain her. The time she had spent sitting so casually outside the ramen shop seemed so long ago, even if in actuality it had been no more than perhaps thirty minutes or so. It had taken five minutes for the first of the puppet army to appear, ten minutes for her to eradicate a small troop with slight difficulty. And within twenty minutes, she had been on the run, no longer able to use her Stage of Ice technique for another while because she had made the stupid mistake. While fighting three oncoming puppets, standing four feet in the air on her ice, the technique had deactivated after a blow she had received to her ribcage. It likely didn't leave anything more than immense bruising - nothing felt broken, at least - but the fact that a hit had landed on her while she was midair had caught her so off guard that the ice had simply dissipated on the spot, dropping her four feet to the ground. And so she found herself face to face with the expressionless puppets that seemed to tower over her even though they were pretty much her height, their modified weapon appendages brandished menacingly in front of her. Part of her had wanted to stand and fight, to show that she wasn't going to allow herself to lose to these inhuman beings. But she knew her weaknesses, even if at times she didn't want to accept them. It was a fact that close combat wasn't her forte - forcing herself to try and fight on ground without any distance placed between herself and the increasing number of puppets would have been suicidal.

And that's how she found herself running, weaving in and out of the smaller streets in an attempt to increase the distance between herself and the puppets. As much as she hated to admit it, she needed help, whether it be from backup or by other means. If she moved any further, she could potentially find herself luring the large group of puppets towards a more populated area, resulting in more casualties than her own. Damn it … This really isn't happening. She was certain that by the end of this - if they ever did see the end - she was going to develop an overwhelming fear of puppets.



---

Training: Ice Release: Azure Spiral
1160/1350

____
Kitahara, Keiko (#cc3366)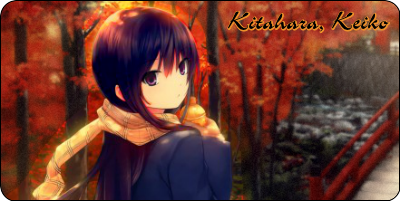 Ninjutsu (S) | Med. Ninjutsu (S) | Bukijutsu (D) | Suiton (S) | Fuuton/Hyouton (S)